Britney Spears Marks One Year of Freedom with New Details of Abuse
'It felt like my dad was trying to kill me,' the singer revealed after being one year free from her 13-year conservatorship.
Can you believe it's been officially one year since Britney Spears was freed from her 13-year conservatorship?!
Brit's journey back to reality is far from over, however. The singer spent the weekend uploading posts to social media, taking them down, re-uploading them, and giving fans more reasons to wonder how free their "Free Britney!" icon really is. 
November 12th, 2022 marked the anniversary of the famous day in 2021, and Spears commemorated the occasion with three screenshots she uploaded from a notetaking app, with new details about life under personal lockdown.
RELATED: Britney Spears Gives Update On AWOL Husband
"How dare a state or nation of any sort grant any man or woman the right to use my possessions in my name," Spears wrote. "Guess it's not that big of a deal!!!!"
"It felt like my dad was trying to kill me," she also revealed. "I've spoken about it several times, have proof, and witnesses of what he did."
"I have the hours I worked on a schedule 7 days a week," Spears continued. "LABOR LAWS. I have proof of all of it … spoke about it live in court during covid."
Transcripts from Spears's appeal to end her conservatorship reveal the wild ride she endured, as reported by Variety. The documents detail how Spears was "forced" to perform at her Las Vegas show seven days a week, while also rehearsing during that time for at least four days during the week as well, with no time off. 
"In California, the only similar thing to this is called sex trafficking," Spears told Los Angeles probate judge Brenda Penny. She also stated that her father "loved the control to hurt his own daughter," and that when she cried on the phone to him, he "loved every minute of it."
Spears' mother was also mentioned in the Instagram post. 
"My mom laughed and said 'I'm so happy the judge didn't stand you up for 3 hours in your room this time then cancel on you like she did last time !!!!'"
A separate post, which has since been removed, recounted how her mother "did nothing at all." Spears compared her mom's actions to a story from her teen years about losing weight while lying on the couch all day. 
"I just need to go buy a red couch and see what it feels like to do nothing all day," Spears wrote in the removed post, which featured an image of her wearing her white butterfly crop top and black shorts.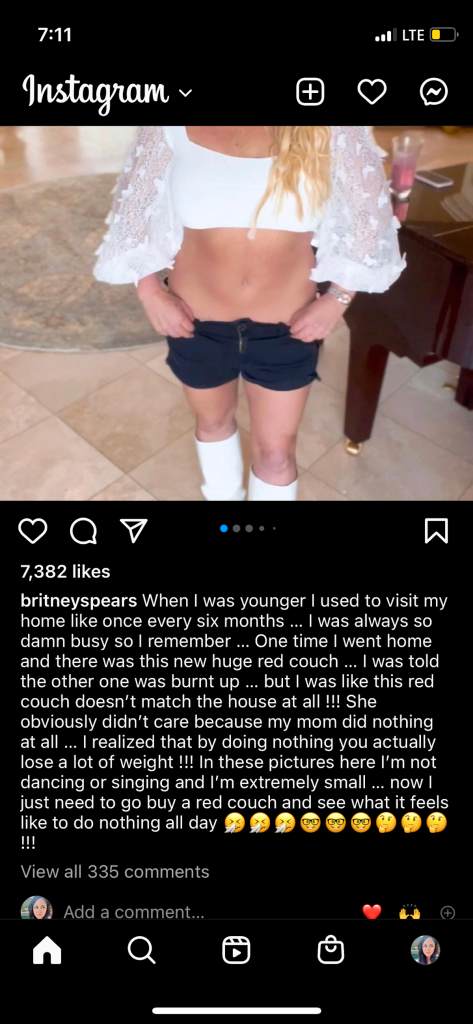 The 40-year old Grammy winner began the initial post with a story about her first chance to buy something with her own money and her own credit card — something she was not allowed to do while under her conservatorship. 
Previously, Spears could only purchase items through security guards she traveled with, who would turn her into a "ghost" once they reached the counter and paid. 
"I ask myself … in a country where this has been done to me … I truly believe anyone going through that situation would never had made it. If I was valued and respected, then my father would be locked up in two seconds !!!!" she wrote. 
Media outlets including Newsweek previously reported that the "Toxic" singer was in legal battles with her estranged father, James "Jamie" Parnell Spears, her sister, Jamie Lynn Spears, and others, for conservator abuse.
However, it's unclear if she's continuing to sue individuals close to her based on the new information in these Instagram posts. Spears explained she didn't want to spend any more time and money "to prove these allegations are true." No new developments on the legal side have been reported. 
Whatever Spears decides to do, she continues to have support from her loyal fans.
"Britney should be allowed to express herself on her page," Instagram user @pepz_javier wrote in the comments. "She was silenced, abused, and mistreated for so long and is still being ridiculed and going without justice. Let the woman have as many moments as she wants."
Instagram user @jaredlips also wrote, "There is a legion of us screaming #justiceforbritney but, as a free woman we will follow your lead."
Congratulations on your one-year freedom anniversary, Britney!
Kat is a born and raised New Yorker exploring the world as she writes, eats, and everything in between.
Read more