Britney Spears Loves to Share Nudes. The Person She Loves the Most… Doesn't
Husband Sam Asghari opens up about his feelings towards his wife's public nudity posts.
Britney Spears is no stranger to the body positivity movement. She's proud to show a little skin — OK, maybe a lot of skin — and shares a lot of love for the way she looks, encouraging others to do the same.
In recent years however, she's chosen to share nearly-nude photos on her Instagram account. While she complies with IG's explicit content restrictions by putting flowers or other emojis over her "bits and bobs," not much is left to the imagination.
Fans (and creepers) might love it, but a common question comes up in comments each time. How does Sam Asghari, her third husband, feel about these super public pics?
RELATED: 20 Best Date Night Movies to Watch With Your Partner
"[I'm] The only person in the world that gets bullied for posting things like this," Asghari responded, in an Instagram Story on his profile from Friday, December 16. The image appears to be a screenshot of a comment Asghari left somewhere, but the exact post he commented on isn't provided.
"I personally preferred she never posted these," he added. "But who am I to control someone that's been under a microscope and been controlled for most of her life."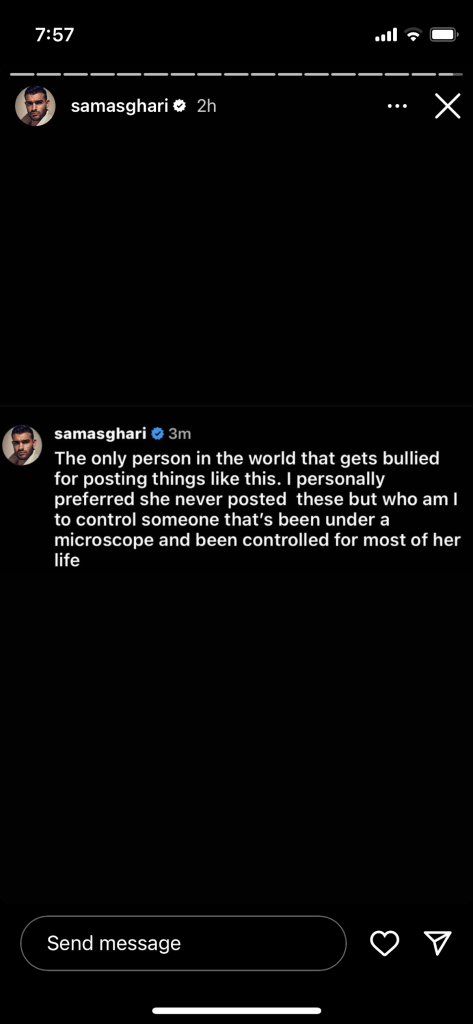 Asghari has been very vocal on social media in terms of how he controls his wife's life. The short answer (that fans see) is that he tries to distance himself from any level of control, especially since it's been only just over a year since Spears was officially released from her 13-year long conservatorship.
A few particularly racy shower scenes taken in a shower were the latest cause for commotion from fans. Known for her erratic posting style, Spears appears to have removed several of the most recent nude IG posts, perhaps in response to her husband's IG Story.
Spears and Asghari have been fooling their fans with fake trip details after the couple announced they were heading to New York City in a recent IG post. Some fans are speculating the pair may be in Mexico, based on some covert snaps.
Asghari also posted a video of Spears and himself dancing, with a caption that read, "Island dance 🌴😁" and a video from what looks like a gorgeous hotel plunge pool overlooking a beach.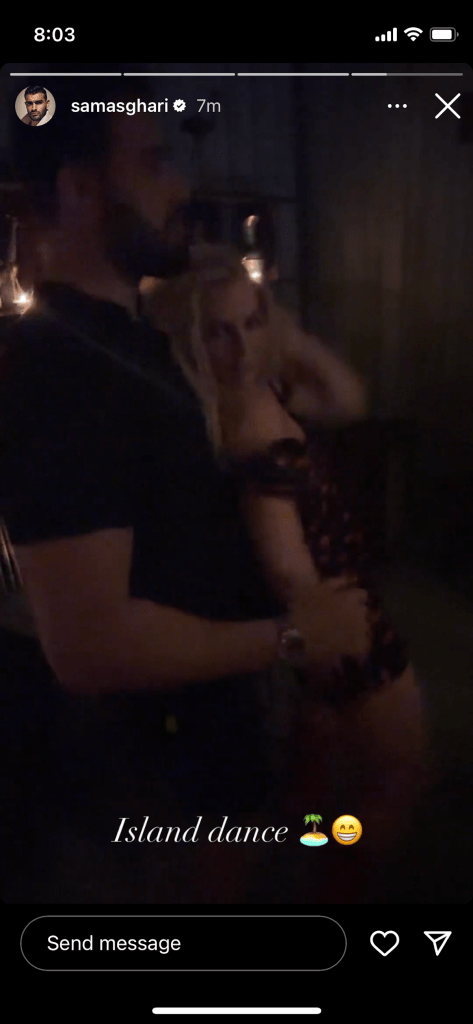 Details on the whereabouts are still unknown, but we hope Spears is feeling more like herself with some much-needed time away from the fan theories. She's posted on the positive ways travel can heal mental health, so if being away from it all is the way to go, we're happy to support her escape.
Kat is a born and raised New Yorker exploring the world as she writes, eats, and everything in between.
Read more