Britney Spears May Still Have Feelings for Ex-Justin Timberlake, New Source Says
It's possible the resurfaced tweet issue between Britney Spears and Alyssa Milano may be about more than just "bullying."
Britney Spears took her hit "Piece of Me" literally, or at least gave us a piece of her mind when she recently caused a stir over an old tweet from Alyssa Milano. The pop icon accused the TV star of "bullying" behavior. However, some insiders have come forward to reveal the post may have more to do with Spears's alleged lingering affections for her ex-boyfriend, Justin Timberlake, than a simple celeb-on-celeb callout.
A source has allegedly revealed new information to UK lifestyle publication Closer, related to the Britney-Justin-Alyssa love triangle.
RELATED: Britney Spears 'Didn't Die,' Shares Rare Video of Herself Speaking on Instagram
"Britney was genuinely upset by Justin and Alyssa," the exclusive explained. "When they ended up dating right after their split, it confirmed her fears."
Spears and Timberlake dated from 1999 to 2002, as their music careers were just taking off. The real reason they broke up however, has remained a mystery. Spears claimed it was media pressure, but cheating allegations that arose on both sides have made some wonder if infidelity was part of the problem.
Shortly after they split, Timberlake took on a new girlfriend in Milano, but their relationship only lasted a couple of months.
The Who's the Boss? star used to think the previous pair were "super cute, super in love," but in earlier interviews, she admitted that "right after Britney broke his heart," she "swooped in for the kill" to have Timberlake all for her own.
"Out of all her fixations with the past, this is the one that's bugging her right now," the source explained to Closer.
Spears has posted about Timberlake a few times on her Instagram profile, and many of the references she's made about him in the past — either via context clues, or naming him specifically — have since been deleted. However, it's been enough to leave fans wondering if she still holds a candle for the former *NSYNC singer (like when some thought her new tattoo was dedicated to him).
"Everyone in Britney's world knows she never got over Justin," the Closer source adds. "When she's feeling lost or low, she still says she wants Justin back in her life."
The source also included details of how Spears has "desperately tried getting in touch" with Timberlake, but nothing more than a quick catch-up seems to transpire.
In terms of her current relationship, Sam Asghari has been more open about things that upset him, such as when the "Overprotected" singer shares nude images. It seems that mentions of old flames make him feel "really uncomfortable" and that he's asked her to put a hold on talking about Timberlake because "he's done feeling embarrassed and awkward" and "wants them both to just focus on each other and their relationship."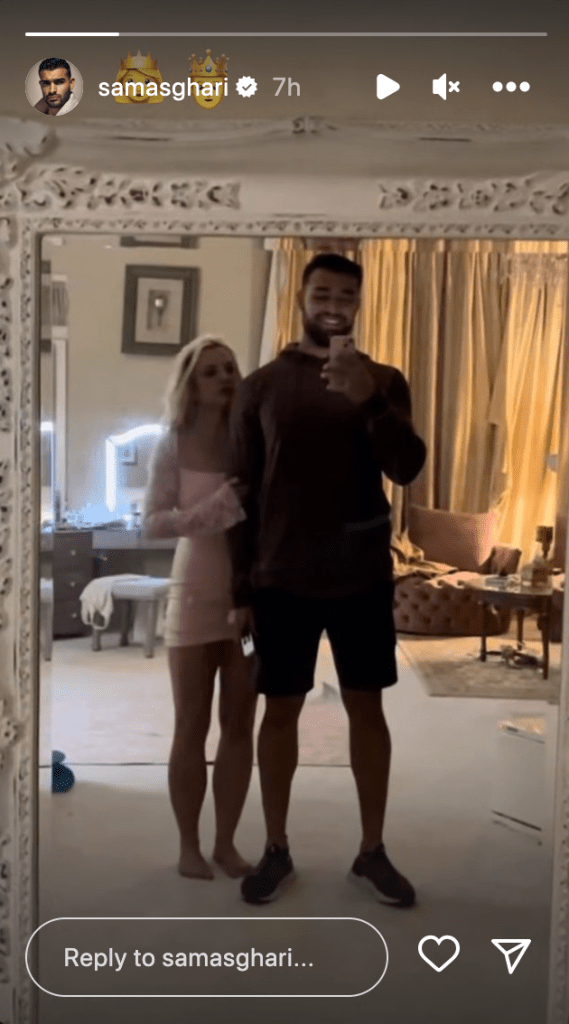 Asghari posted a "mirror selfie" of the pair as an Instagram Story on Feb. 16. Spears has been making more appearances on her husband's social media profile, though he does his best to "respect her privacy" and not post without her consent.
Kat is a born and raised New Yorker exploring the world as she writes, eats, and everything in between.
Read more