Britney Spears and Ex-Boyfriend Justin Timberlake Reunite in Nostalgic Instagram Post
But Spears now says her recent tattoo wasn't about him.
Britney Spears is having all kinds of adventures as of late, both online and in real life. The pop singer's name recently hit headlines yet again after TMZ reported that she had a "manic" episode at an LA restaurant on Jan. 13.
Spears and new husband Sam Asghari have both responded to the event, which was captured on film by a nameless restaurant goer, but it seems the media frenzy continues to leave an impact.
"The best thing about the TMZ video … was the pasta," Spears recalled in a rare Instagram Story appearance on Asghari's profile. She used a face filter that turns you into a white cat, and also added a GIF sticker of some spaghetti and meatballs and a little white cat walking in the bottom left corner.
RELATED: Britney Spears Reportedly Snubbed Beyoncé's Music Video Collaboration Request
"What if I jumped from one table to the next in the video, and I ate the pasta?" She continued. "Would [it] be hot?"
The camera then turns to Asghari, who adds, "Like a cat!" and a meow sound.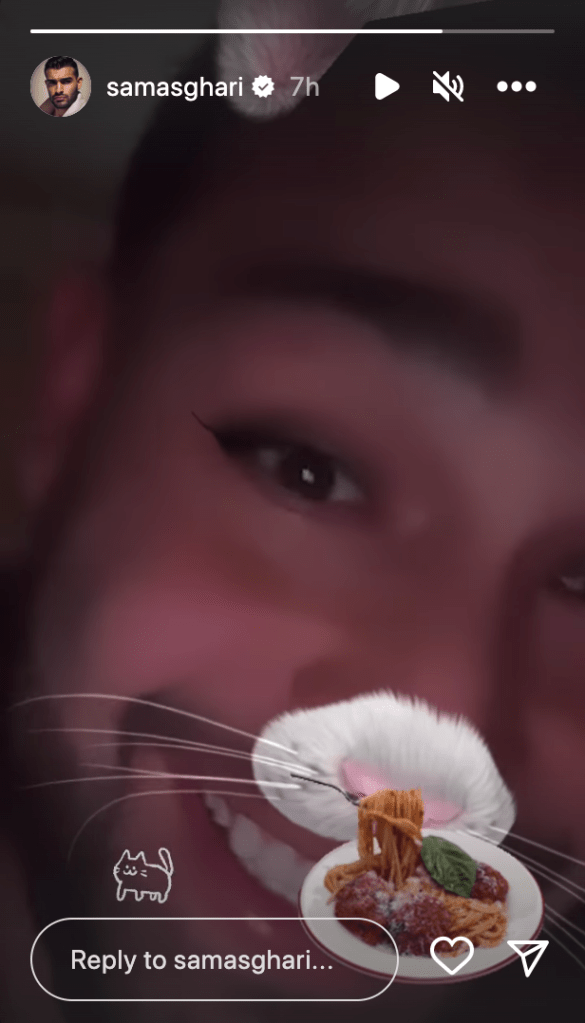 "Meow," the "Circus" singer finished. "I got what I wanted."
JOEY's Woodland Hills, where the scene took place, does have spaghetti and ravioli on the menu. If she's referring to the food seen at the beginning of the TMZ video, however, a closer look reveals it's actually their Blue Cheese Fries she should be drooling over.
Asghari's intimate Instagram Story, posted late on Jan. 17, comes after a new wave of Instagram postings from Spears which have fans trying to guess what she will post about next.
First up was a throwback image of Spears and ex-boyfriend Justin Timberlake, from a charity basketball event that took place in 2001.
"When we used to shoot hoops TOGETHER … that's when miracles happened ✨!!!" She wrote in the caption of the post, which has since been removed. She then went on to discuss the concept of equality with an analogy about how she came out of her "mom's stomach like we all did."
Timberlake has been the subject of previous posts related to industry inequities she's faced throughout her career — how he would get more stage time, for example.
"Why always cast me out ???" she continued in the deleted post. "I'm equal as all !!!"
She also revealed to followers that she added a new tattoo to her collection during a recent vacation to Maui, HI.
"Tattoo time!" She repeats in a video of herself in a hotel room. However, it looks like the design didn't go as planned, as she wrote in the caption, "Can't show it because it sucks 😂😂😂 !!! Like really really sucks !!! Shit 🙈🙈🙈 !!! Psss … I have to fix it 🙄🙄🙄 !!!"
The caption is likely in response to accusations from #FreeBritney fans, who said previously that the Grammy award-winner was using a body double after she posted an images where her tattoos were missing (Spears claims she edits them out sometimes for a cleaner look).
Regardless, it looks as though Spears is using these moments to continue her post-conservatorship healing. "​​I wonder what attention feels like 🤔🤔🤔!!!," she added in the caption of another post from Jan. 17. "Not the kind where you're on defense, but the kind where you learn to sink into your bones and love yourself !!!"
A life lesson we can all learn from the Queen of Pop, indeed.
On Jan. 19, Spears made an extremely rare Instagram Story post to respond to fan theories that her new tattoo was a possible reference to Timberlake.
"My tattoo had nothing to do with an ex in the past!!!" she stated bluntly. "I simply did it because I wanted to !!!"
"The pic with my ex is a time where there was less confusion on what it meant to be together … it is what it is 🤷🏻‍♀️" she concluded. Timberlake himself has not commented on either the Instagram post, or this Instagram Story. At least the pop princess has set the record straight!
Kat is a born and raised New Yorker exploring the world as she writes, eats, and everything in between.
Read more