Britney Spears Is Off Instagram Again, & Her Husband Explains Why
Sam Asghari also shares why the 'Overprotected' singer is never on the red carpet with him.
It looks like Britney Spears has deactivated her Instagram account, which she typically posted from daily (sometimes too much — we can only handle so many nightgown videos).
Every so often she decides to go dark by shutting down her profile completely. It certainly has fans concerned, but new husband Sam Asghari recently laid out some information to hopefully explain what's going on.
"Social media can be traumatizing," he said, in an Instagram Story he posted on December 7. "Sometimes it's good to take a break."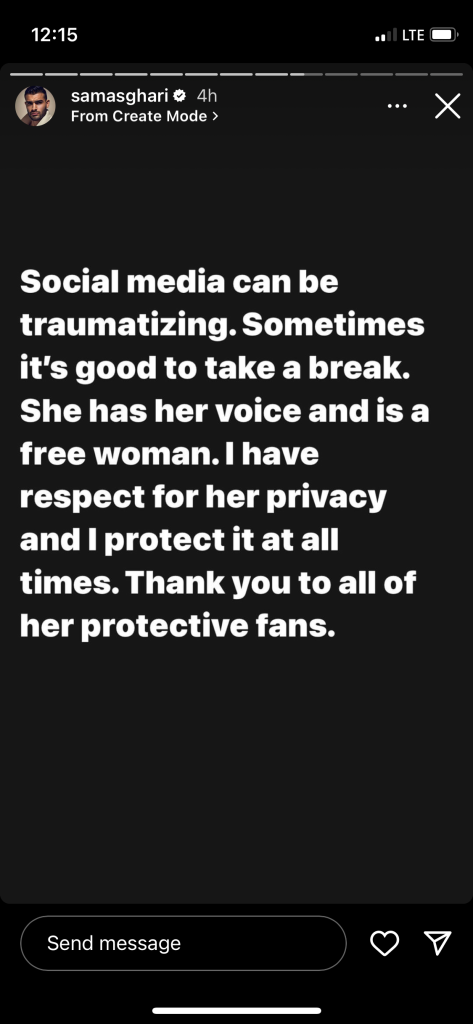 RELATED: Britney Spears Hints at 'Big Fight' with Someone She Loves—And Handles It In a Relatable Way
Anyone who has created a fake account for the soul purpose of lurking on their crush's IG stories knows how obsessive and exhausting using social media can be. For celebrities, the pressure can be even harder to deal with, especially for folks like Spears, whose massive fan base constantly asks about her mental health and wellbeing in the comments on each post.
"She has a voice and is a free woman," Asghari continues, referencing what is assumed to be Britney. "I have respect for her privacy and I protect it at all times."
He also thanked her fans for continuing to honor the pop singer's privacy.
Asghari himself got into a bit of hot water when he recently went on Instagram Live and tried to get his wife to say 'hi' to her fans. The "Overprotected" singer couldn't be seen on camera, but verbally declined in an angry tone.
"I have nothing to say," a voice on the the video declares, which has since been removed. "I don't want to talk to them right now."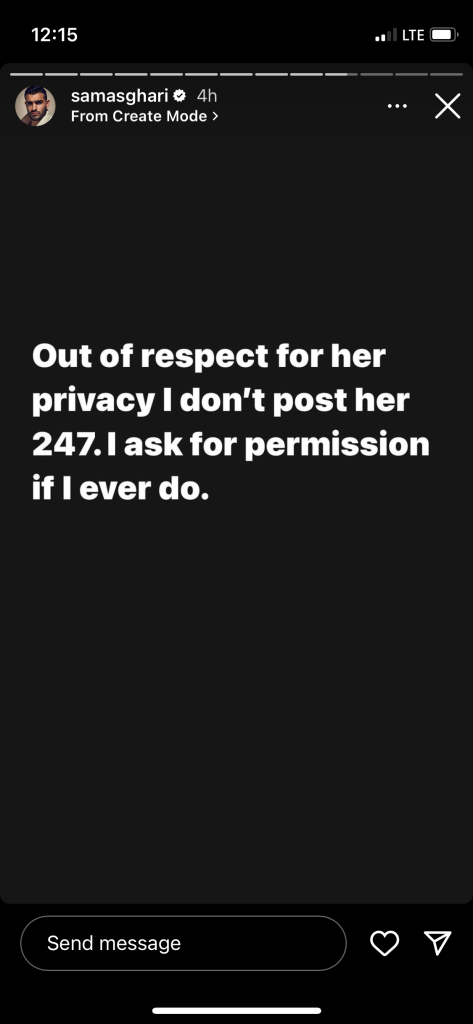 As a result, Asghari mentioned in his latest Instagram Story that he doesn't "post about her 247" and that if he does want to upload something, he asks for her permission first.
The fitness trainer, model, and actor also addressed why he himself is fine posting content out and about, and why a lot of that content doesn't include his famous wife.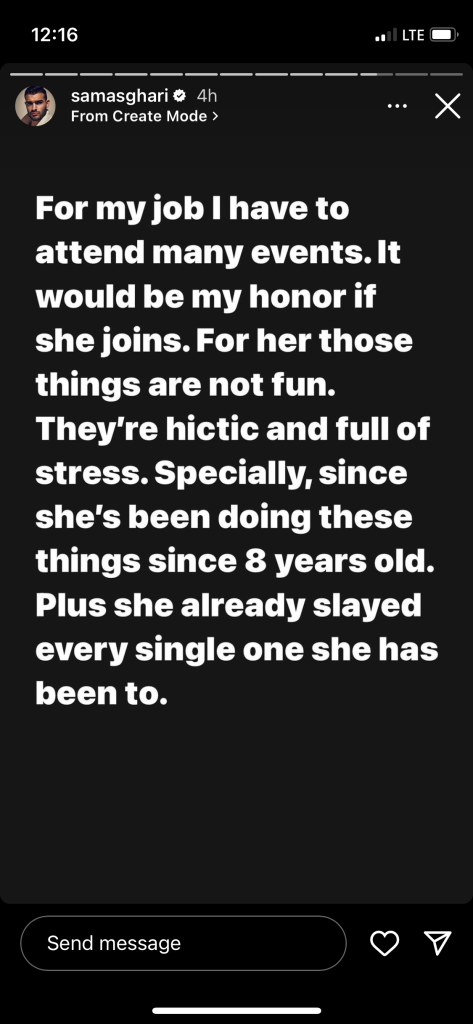 "For my job I have to attend many events. It'd be my honor if she joins. For her those things are not fun. They're [hectic] and full of stress."
A paparazzi dream, Spears is rarely seen outside of her Thousand Oaks mansion, keeping content she posts to the foyer of her living room usually. She has become a much more private person in terms of her public appearances, especially since the end of her 13-year conservatorship from November 2021.
Recently, an alleged account of her dining out — and acting odd — at Nobu LA on the weekend of her birthday has gone viral, and the repercussions of this may have been enough for the singer to go quiet for a bit.
It's a simple example of how her public image can get out of hand even when she's trying to have a private moment.
Asghari acknowledged how difficult Spears has had it while living in the limelight since she was young, but he's also respectful of her not wanting to attend events with him because "she already slayed every single one she has been to."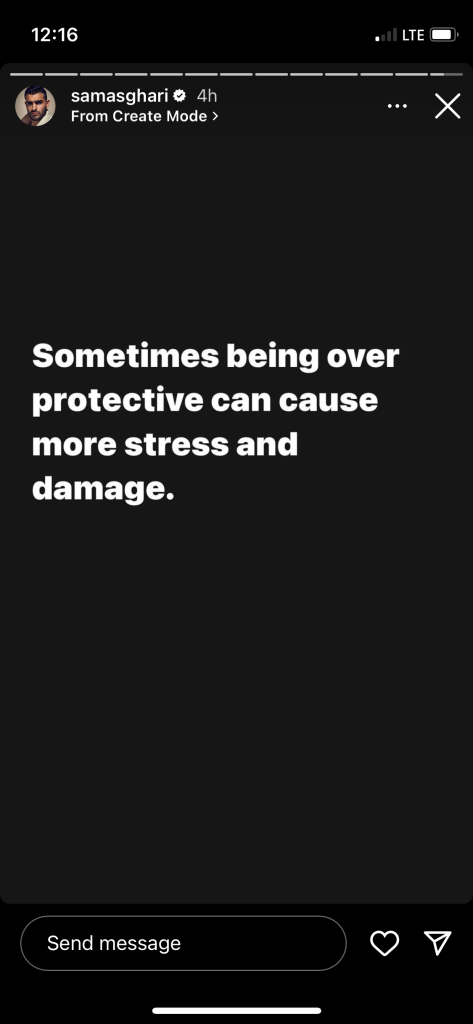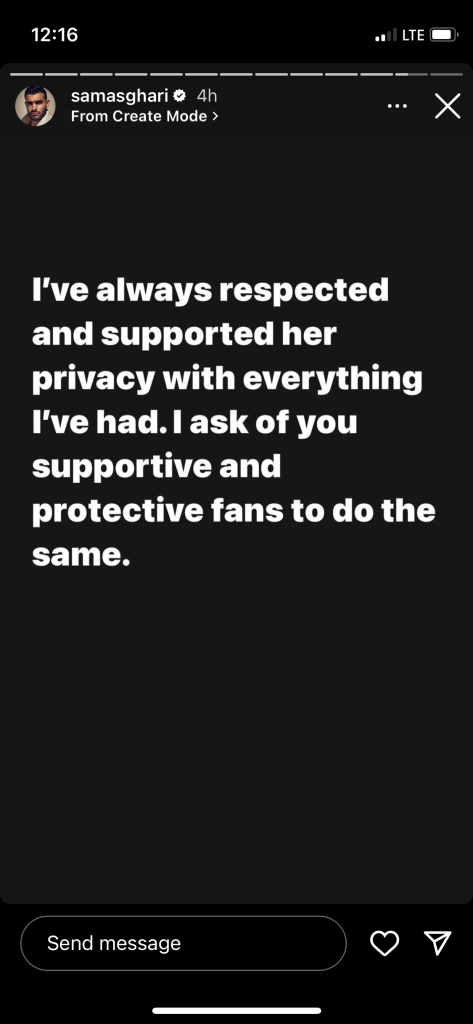 "Sometimes being overprotective can cause more stress and damage," Asghari concluded.
Earlier in the month, Asghari also opened his DMs for fans to ask him questions. He chose a few to answer publicly, including one asking if he controls Spears' Instagram account.
"I would never control someone that's been controlled for 13+ years," he replied.
Another fan asked why she and he were back at "the old house," a big topic of debate amongst #FreeBritney conspiracists, to which he responded, "It was hard for us to adjust. It took us that change [to] realize and appreciate what we had."
Whether you believe him or not, we have to admit Asghari's activity on Instagram is certainly giving us a lot to think about.
Kat is a born and raised New Yorker exploring the world as she writes, eats, and everything in between.
Read more