Britney Spears Tears Into a Jack in the Box Employee In a Deleted Instagram Post
Do *not* talk to Britney Spears while working at the drive-thru. Just don't.
If you ever see Britney Spears at a fast-food drive-thru, just hand over the paper sack and let her do her thing. The pop singer posted a long rant based on an experience she had with an employee at burger joint Jack in the Box, and needless to say, if you see the "Lucky" singer crying, keep your comforts to yourself.
"I'm that meditation b**** now," her Instagram post from December 10, which has since been deleted, starts off. She goes on to explain how her masseuse's mediation practice made her curious, and that hubby Sam Asghari thinks she's "gone bonkers" as a non-meditation fan.
RELATED: Where is Britney Spears' New Husband? Singer Reveals Sad Details of Her Wedding Day
Then Spears gets into some more details around her self-care highs and lows, including a common stress-induced habit for many — forgetting to eat, and getting hangry as a result.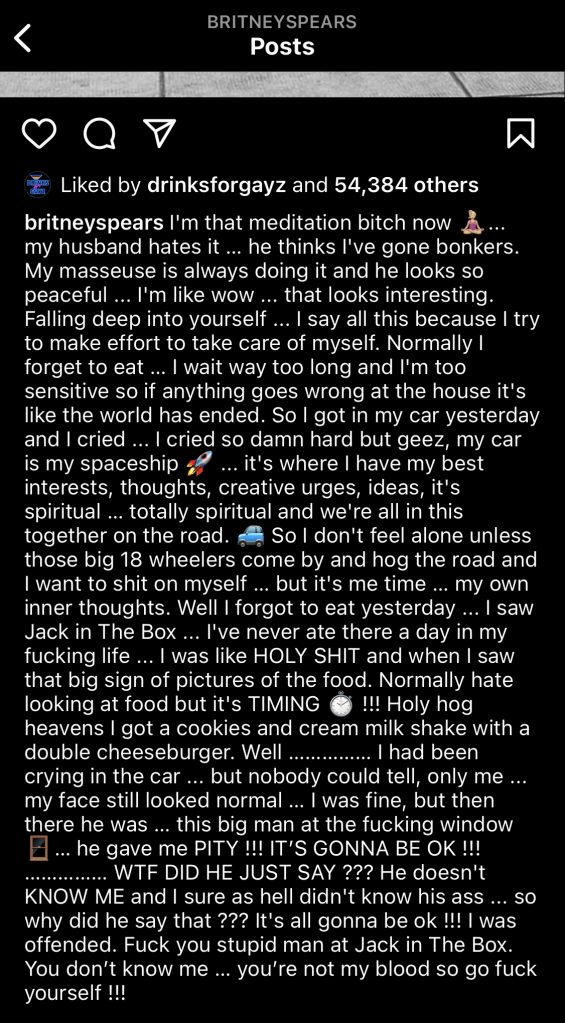 "I wait way too long and I'm too sensitive," she added in the post. "So if anything goes wrong at the house it's like the world has ended."
Who among us hasn't jumped in the car to grab a burger and fries in an effort to satisfy our emotions? Britney Spears is "just like us" in that she feels her car is her safe place (spaceship, she calls it in the post) and that it's where her "best interests, thoughts, creative urges, [and] ideas" come together.
That day, her most spiritual urge involved trying a new dining experience.
"I saw Jack in the Box … I've never ate there a day in my fucking life … I was like HOLY SHIT and when I saw that big sign of pictures of the food…[I] Normally hate looking at food but it's TIMING !!!"
The "Oops! I Did It Again" singer ordered a cookies and cream milkshake and a double cheeseburger, with a side of CRIES — she admits in the post that she had been crying in the car and that "nobody could tell, only me." But apparently, that wasn't the case.
"I was fine, but then there he was … this big man at the fucking window," she continued in the posted. "He gave me PITY !!! IT'S GONNA BE OK !!!"
Spears went on to say how she felt offended by what is assumed to be the drive-thru employee's unsolicited attempt at comfort.
"He doesn't KNOW ME and I sure as hell didn't know his ass," she elaborated. "F*** you stupid man at Jack in the Box."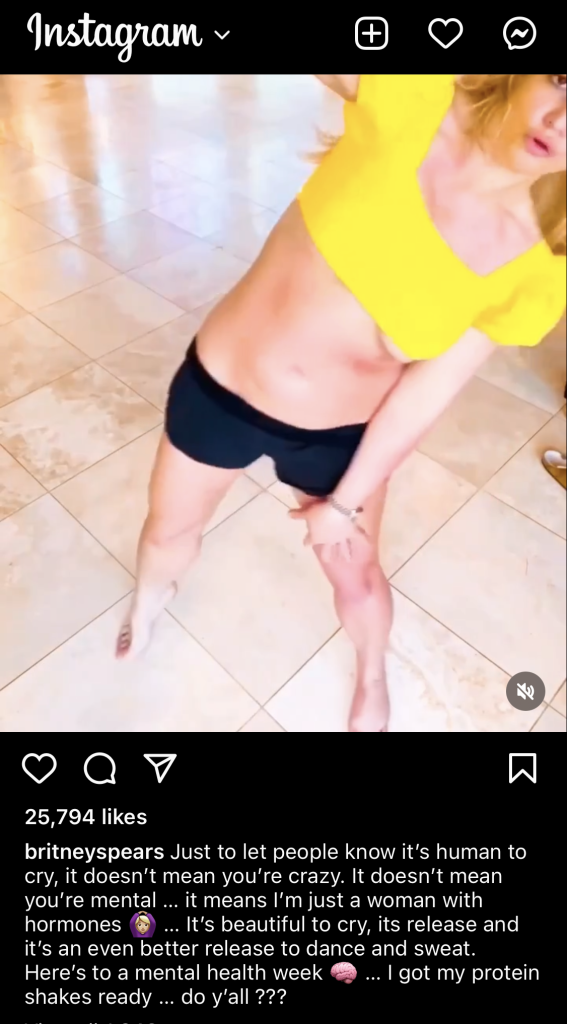 In another post from the weekend that has since been removed from Spears's Instagram profile, she explained how "it's human to cry" and that "it doesn't mean you're crazy. It doesn't mean you're mental."
"It means I'm just a woman with hormones," she continued in the caption. "It's beautiful to cry, it's a release…here's to a mental health week."
The post contained a video of her dancing in her home's foyer in a yellow crop top and black shorts.
The rant caused many to wonder if it was really Brit behind the wheel, as some of her more public appearances recently have been similarly unhinged.
TikTok user @moociao has come forward to claim he was the big man at the expletive window working at Jack in the Box when Britney rolled through.
"I was working the drive-thru…," he explains, adding that she acted "super sweet" when she was paying but that he really didn't recognize her until later on, when she was waiting to drive away and she put her sunglasses on in front of his window.
"As I was handing her the bag she was wiping away her tears," @moociao claims. "I said something like, 'Everything is going to be ok'… and she side-eyed me…it was super awkward."
The TikTok user felt badly about the exchange and asked Spears to "not be mad. One thing is for sure — Britney Spears' first Jack in the Box experience is likely her last.
Kat is a born and raised New Yorker exploring the world as she writes, eats, and everything in between.
Read more