Britney Spears and her family spent the day at Disney World, and it looked like so much fun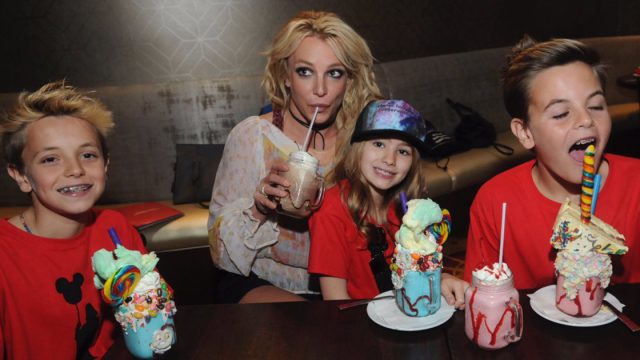 Living legend and pop music icon Britney Spears and her family visited Disney World to celebrate the full recovery of her niece, Maddie, following an ATV accident last month.
Jamie Lynn Spears' daughter, Maddie, was hospitalized last month (February 6th) after becoming involved in an accident with an ATV. The 8-year-old was airlifted to hospital after nearly drowning, and was unconscious for a few days. Luckily, Maddie soon awoke, and has since made a full recovery, with Jamie Lynn sharing videos of her daughter running around like any normal 8-year-old and playing basket ball. It's completely miraculous, and we're so, so, so glad that she's back to being happy and healthy.
https://www.instagram.com/p/BQy-PdNj8Az
Well, it seems following a tough month, the Spears clan have decided to celebrate Maddie's recovery with a family outing to Disney World in Orlando, Florida, and it looked like the most magical day ever.
Along with Jamie Lynn and Maddie was Britney with her two sons, Jayden and Sean. Likewise, Britney and Jamie Lynn's brother joined them for the trip with his daughter Lexi, as did the Spears matriarch Lynne.
https://www.instagram.com/p/BRmhstED4pg
On social media, Britney shared a bunch of adorable photos of her and her family having freakshakes (super loaded milkshakes), riding the log flume, having a go on the tea cups, and riding rollercoasters.
"We had so much fun here 😊 ," Britney wrote, tagging Planet Hollywood who set up the trip for the family.
https://www.instagram.com/p/BRoE_ERAgme
The star, whose "Piece of Me" Las Vegas residency is on going throughout the rest of 2017, also shared a picture of her two boys, 11-year-old Sean Preston and 10-year-old Jayden James, lounging in some grass.
It's so nice to see the Spears family coming together and having fun after what must have been a tough month. We hope that their time at Disney was as fun as it looked!