Britney Spears Calls Out Alyssa Milano: 'This definitely feels like a form of bullying.'
It's not the first time Britney Spears has called out a celebrity on social media, but this one is based on a tweet from 2022.
Britney Spears is back on social media after a brief hiatus, and doesn't seem like she's holding back on the kinds of things she's willing to post. The legendary pop singer uploaded a rare Instagram Story late on Jan. 31, to voice her feelings about an old tweet from celeb superstar Alyssa Milano.
"Someone please go check on Britney Spears," the Who's the Boss? star tweeted back in December 2022. The comment came shortly after Spears went on a trip around late December, when she baffled fans by telling them she was going to New York… and didn't end up there.
RELATED: Stop Trying to Interpret Britney Spears's Mental Health
"It saddens me to see things about me from people who don't know me !!!" The "Womanizer" singer posted, along with a screenshot of Milano's tweet. "This definitely feels like a form of bullying."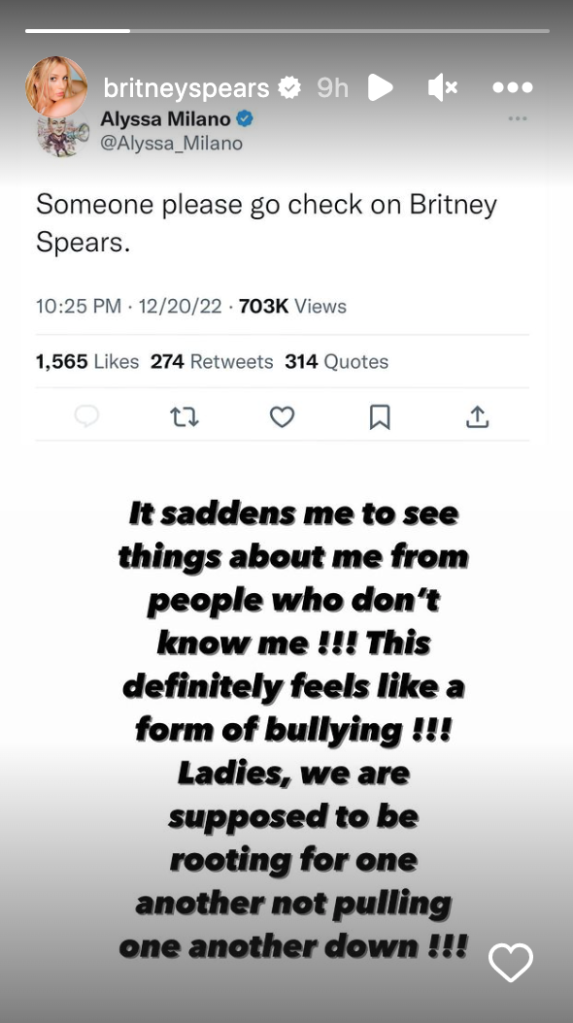 Milano's tweet may have been in response to the #FreeBritney fan rumors, which even had conspiracy theories going after someone created AI images of Spears and new husband Sam Asghari, walking the streets of the Big Apple.
However, Spears herself addressed the rumors in subsequent Instagram posts. "I'm posting these from Mexico 🇲🇽 !!!!" she declared in the caption from one of six new IG posts she uploaded on Dec. 20.
She also used the moment to explain how Instagram seemed to be enforcing their no-nudes community guidelines on her, after she had posted several racy videos and images of herself posing in the shower.
The more curious thing is why the Grammy award-winning singer is calling out such an old tweet from a former TV star. It may have to do with some of the alleged harassment she's been dealing with after a restaurant onlooker took a video of her dining out in Los Angeles.
Whoever took the video submitted it to TMZ, claiming the singer was having a "manic episode" at the time. Spears and Asghari, who was also present, made some attempts to address the incident, but the backlash from fans and other media outlets continued.
Some fans even went as far as to have local authorities visit Spears to perform a wellness check after she deactivated her Instagram account in January. Spears has addressed these events as well, expressing her love for her fans but also that things were taken "too far" in her opinion.
As a result, it seems that the artist now calling herself "River Red" is using her "voice" to help her feel more empowered.
Milano isn't the first celebrity Spears has directly referenced in her social media posts. Spears is often vocal about life under her 13-year conservatorship, which officially ended in November 2021, and sometimes, other media personalities make their way into the conversation.
Jennifer Lopez got a name drop back in a (now-deleted) post from September:
"I'd like to see somebody tell Jennifer Lopez to sit down eight hours a day seven days a week …" Spears writes. "I'd like to see a management team tell Jennifer Lopez to go through what I went through … what the f*** do you think she would do … her family would NEVER allow that."
She also mentioned pop singing rival Christina Aguilera in another deleted post from the same month, where she faced backlash for a caption that appeared to body-shame the "Beautiful" singer's backup dancers.
"If I had Christina Aguilera's dancers, I would have looked extremely small," was enough to reportedly cause Aguilera to quietly unfollow Spears' IG account.
Not all celeb name drops are negative for the pop singer, however. She's a huge fan of Goldie Hawn and her daughter, Kate Hudson, who she often fangirls about on her Instagram account. Spears has also previously posted some nice things related to her little sister, Jamie Lynn Spears, although the relationship with the former trustee is rocky.
Alyssa Milano has not made a public comment about Spears' recent post.
Kat is a born and raised New Yorker exploring the world as she writes, eats, and everything in between.
Read more