Britney Spears' latest Insta #throwback will have you craving the '90s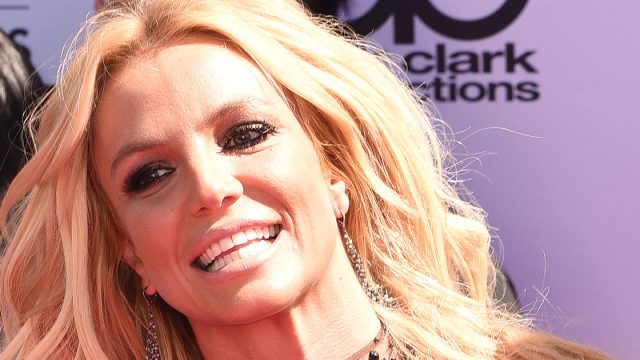 Britney Spears is an expert at Instagram. While the star might not have as many followers as fellow singers like Selena Gomez, Taylor Swift, and Justin Bieber, Brit seems to have got the #reltablemom crowd down, sharing hilarious memes, beautiful scenery, gorgeous selfies with her sons, and sometimes absolutely SLAYS some random choreography.
Britney might be right in the middle of releasing her new album, Glory, which comes out on August 26, but that hasn't stopped the singer and Queen of Las Vegas from delving back into her career and getting hella nostalgic. In fact, she delved exactly 18 years back into her career.
Britney shared the CUTEST #Throwback pic from the set of her first ever music video, the iconic "…Baby One More Time."
"Nigel Dick, director of Baby One More Time. First ever music video," Britney captioned the photo. "18 years ago. Most precious day of my life!!!!" 
Britney also shared the picture to Facebook, where Nigel Dick responded with the sweetest comment ever!
"Thank you for the shout-out Britney," he wrote. "It was a fun three days. At the time there were people who questioned why I would think of making this video for an unknown 16-year old. I told them the song was going to be massive and that you had something special. So glad you showed 'em I was right!" 

Isn't this just the best #throwback in the history of #throwbacks?
Britney released her debut single "…Baby One More Time" in 1998. The song is often cited as changing the face of music, with both MTV and Rolling Stone calling it one of the top 25 songs of all time.
Initially, the concept of the video had a cartoon/Power Rangers theme in order to appeal to a young demographic. Britney hated the original idea, and instead suggested that the video feature her dancing in a high school wearing a school girl uniform.
"Every piece of wardrobe in the video came from Kmart," said Nigel Dick to MTV in 2009, "and I was told at the time not one piece of clothing in the video cost more than $17. On that level, it's real. That probably, in retrospect, is a part of its charm."
They quite literally do not make music videos like this anymore.
Re-live Britney Spears' epic "…Baby One More Time" video below and get your '90s on.
https://www.youtube.com/watch?v=C-u5WLJ9Yk4?feature=oembed