Britney Spears is Back on Social Media, and She's Not Shying Away from Speaking Her Mind
Twitter and Instagram followers saw posts by Britney Spears explaining her social media hiatus, and a whole lot more.
Britney Spears has made a big comeback — on Twitter and Instagram, that is. The pop singing legend spent her weekend explaining why she took a very brief social media break, and threw some more shade at a mystery person she's clearly upset with from a previous post.
First up, the Twitter thread, which included a video of Spears in a fitness studio showing off her dancer's bod.
"Yep that's me … I'm alive and well," she reassures fans and followers, who were deeply concerned after the "Toxic" singer went dark on social media last week. She then goes on to discuss health trends, opting for yoga over health juices, and an ice cream diet later on. Earlier posts have hinted that she's a fan of meditation, and hopefully got a few 'Oooommm's in during her hiatus.
RELATED: Stop Trying to Interpret Britney Spears's Mental Health
"I shut down my Instagram because there were too many people saying I looked like an idiot dancing and that I looked crazy," she continues in a new tweet. "Honestly I was doing my best but it disturbed me to see people freely talk about it on TV … yep it hurt my feelings."
Spears previously wrote about how commentary on and about her posts makes her feel, but that oftentimes she doesn't feel like her concerns are really taken seriously.
"I'm shocked as hell that when I took my Instagram down fans got worried and sent the cops to my house 🚔 … it really was uncalled for," she writes in a separate thread, which is the second time she's posted about the wellness check local authorities made after fans made calls to ensure their favorite singer was ok.
Spears even went as far as to say that "those who did that aren't real fans" and felt more like an attempt to disrupt her public image.
The "Lucky" singer went on to describe how she had an experience involving some intoxicated women who got too close for comfort. The star alleged that they were "so drunk and loud and sat right beside me with that gross smell of alcohol and got right in my face" and somehow, it felt like her third wedding, when she got married to model and fitness trainer Sam Asghari.
"It's Britney Bitch 💁🏼‍♀️ !!!" she wrote in a new tweet, after explaining how she got assertive with the group as a result. Previously, Spears had been the subject of a media frenzy when a restaurant onlooker took a video of her dining out in Los Angeles, claiming she was having a "manic episode" at the time.
Spears and Asghari, who was also present, made some attempts to address the incident, but ultimately, it looks like the "Overprotected" singer is not playing nice anymore when it comes to public interactions.
She concludes the Twitter thread with once again reminding folks she is alive and well. She signs off with, "To my real fans, God bless you 🙏🏻 !!!" Hopefully anyone who meets her out and about will be more understanding of her privacy needs next time.
Then came the Instagram posts.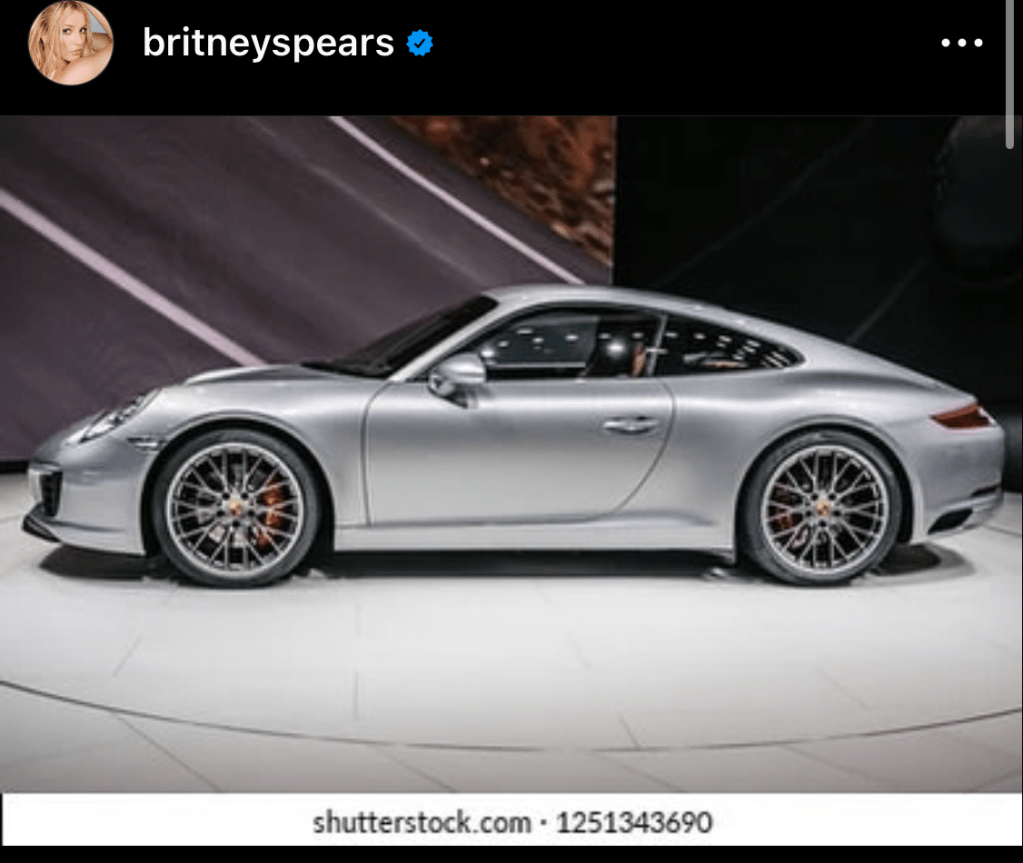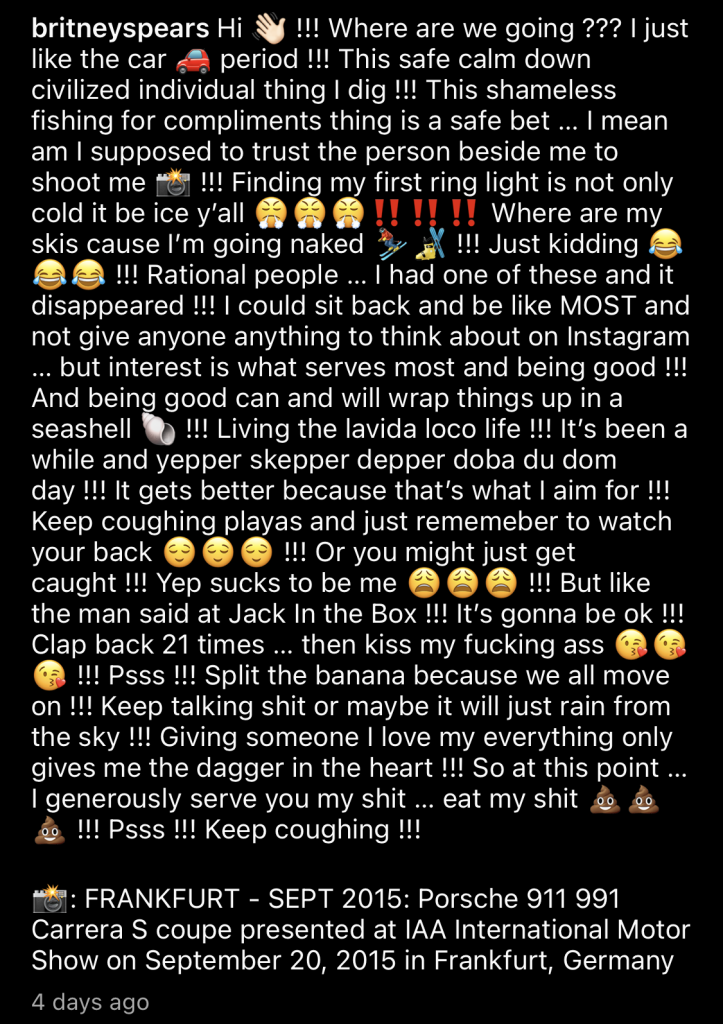 The last thing Spears posted before she shut down the photo-and-video-centric platform was a cryptic post about cars, ice, ring lights, and someone or multiple people making her very, very upset. It has since been deleted.
The aggressive post was the tip-off fans felt was a cry for help after she deactivated her account, but Spears insists there was no cause for alarm.
"Nope I'm not having a breakdown," the Grammy award-winning singer wrote in the caption of a post with an image of a frozen rose.
She also refers to herself as "River Red," a new name change she gave herself on Jan. 19, and how she's using her "voice" to help her succeed after her the end of her 13-year conservatorship, which was finalized November 2021.
"I'm boring as hell and drink hot chocolate at night !!!," she continues in the post. "I've waited nearly 15 years to drink alcohol only to realize I hate it !!!"
It's a reference to some of the rights that the pop star claims were taken away from her during that time, where nearly everything in her life — from her career, her financial decisions, and even the ability to have a cup of coffee — were overseen by appointees like her father, Jamie Spears.
She signs off that post with how she'd prefer to show her true self rather than staying "down and humble."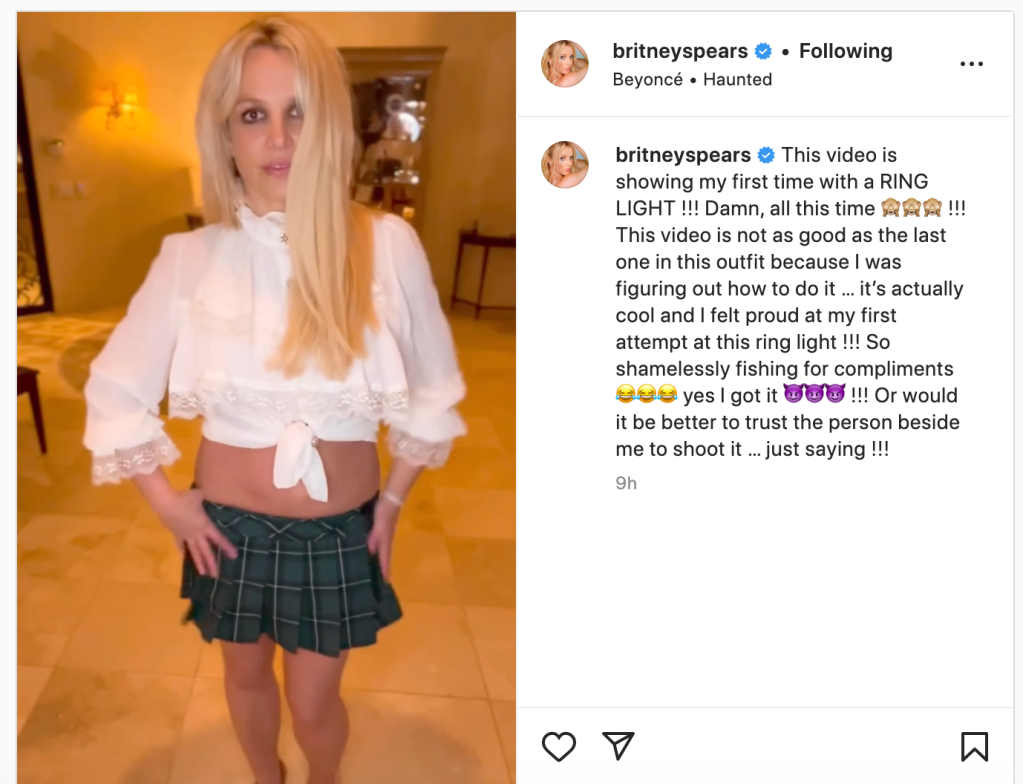 A second post has a video of Spears modeling what looks like a schoolgirl outfit, but in the caption, she references how she figured out how to use her ring light and film it all on her own.
"It's actually cool and I felt proud at my first attempt at this ring light !!!" she explains. "So shamelessly fishing for compliments 😂😂😂 yes I got it 😈😈😈 !!!"
Even the best of us have taken a few selfies to get a positive reaction from followers, but the last part of the post is where things get mysterious once more: "Or would it be better to trust the person beside me to shoot it … just saying !!!"
These are all references to the last post she made before her IG takedown: "This shameless fishing for compliments thing is a safe bet," she wrote in the caption of a deleted post. "I mean am I supposed to trust the person beside me to shoot me 📸 !!! Finding my first ring light is not only cold it be ice y'all 😤😤😤‼️‼️‼️"
It hasn't been revealed who she is talking about but, from everything she's posted so far, Spears is not about to shy away from expressing how she really feels regarding anything coming her way.
Kat is a born and raised New Yorker exploring the world as she writes, eats, and everything in between.
Read more