Britney Spears' iconic "…Baby One More Time" was almost a TLC song, and 1999 would have been SO different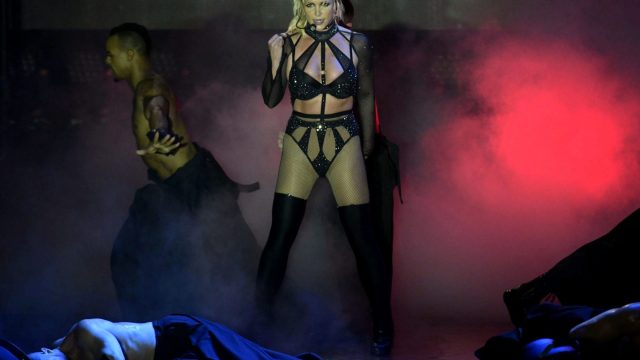 It's been almost 20 years since pop superstar Britney Spears burst onto the music scene with "…Baby One More Time." The accompanying music video, set in a high school, showed Spears clad in a sexy schoolgirl outfit that would quickly become one of her most iconic looks. In an interview with The Guardian published Saturday, August 11th, Spears reflected on her mega-successful musical debut.
"The whole song is about that stress that we all go through as teens," Spears said. "I knew it was a great song. It was different and I loved it, [but] I don't think you can anticipate how a song is going to be received."
As it turns out, the song—which reached No. 1 in the U.S. and sold more than 1 million copies—was very nearly not a Britney Spears number at all. In fact, the single was shopped to another iconic '90s act before our beloved Brit Brit got her hands on it.
Yep, it's true! "…Baby One More Time" writer Max Martin first offered the song to popular R&B group TLC, who rejected it.
"I was like, I like the song but do I think it's a hit? Do I think it's TLC? I'm not saying, 'Hit me baby.' No disrespect to Britney," member Tionne "T-Boz" Watkins told MTV News in 2013, The Guardian reports. "It's good for her. But was I going to say, 'Hit me baby one more time'? Hell no!"
While we love TLC—"No Scrubs" is legendary in its own right—it's hard to imagine "…Baby One More Time" without Britney Spears' signature swagger and seriously impressive dance moves.
Once the song found a home with Spears at Jive Records, the budding pop star went to Sweden to record the track with Martin and co-producer Rami Yacoub.
"I remember being so in awe of Stockholm," Spears told The Guardian. "I was out there for, like, 10 days, but we were so busy in the studio I didn't have time to go out and explore on that first trip."
The song's practically overnight success reportedly took Martin by surprise.
"I don't think we understood what we had done," Martin said in a 2008 Swedish radio documentary, The Guardian reports. "I remember sitting in the studio when they called me to let me know that my song had made No. 1 in the USA. I had so much going on I didn't really grasp the meaning of it."
Brit's instant fan base, though, knew exactly what the song meant for her—and for the landscape of pop music itself. Revisit "…Baby One More Time" in all its '90s glory below.
https://www.youtube.com/watch?v=C-u5WLJ9Yk4?feature=oembed
We love you, Britney!