Britney Spears May Have Received An Apology from Alyssa Milano's 2022 Tweet
A rep for the 'Charmed' actress claims she extended an olive branch, but so far, Britney Spears has not confirmed anything.
Alyssa Milano may not have intentionally set out to hurt Britney Spears' feelings, but that's certainly the message the pop star laid out to fans earlier this week. The "Toxic" singer posted an Instagram Story related to an old tweet from Milano, as an example of celeb-on-celeb bullying, and there's a chance the Charmed actress may have even owned up to it.
According to a rep for Milano who has been in contact with TMZ, the actress reportedly "reached out to Britney privately Wednesday to apologize." The rep also claims the Melrose Place star sent her apology in a "private message," though it remains unclear as to which communication method she used, as well as what the alleged message contained.
RELATED: Britney Spears is Back on Social Media, and She's Not Shying Away from Speaking Her Mind
TMZ also reports that "Alyssa expressed support for Britney in her correspondence," which is a nice gesture on Milano's part, if true.
This news all comes about based on a tweet the Who's the Boss? star sent back in December 2022. "Someone please go check on Britney Spears," Milano wrote, at a time when concerns about Spears' whereabouts were surfacing amongst fans.
Over a month later, Spears posted an Instagram Story with a screenshot of the original tweet, with text underneath. "It saddens me to see things about me from people who don't know me !!! This definitely feels like a form of bullying !!! Ladies, we are supposed to be rooting for one another not pulling one another down !!!"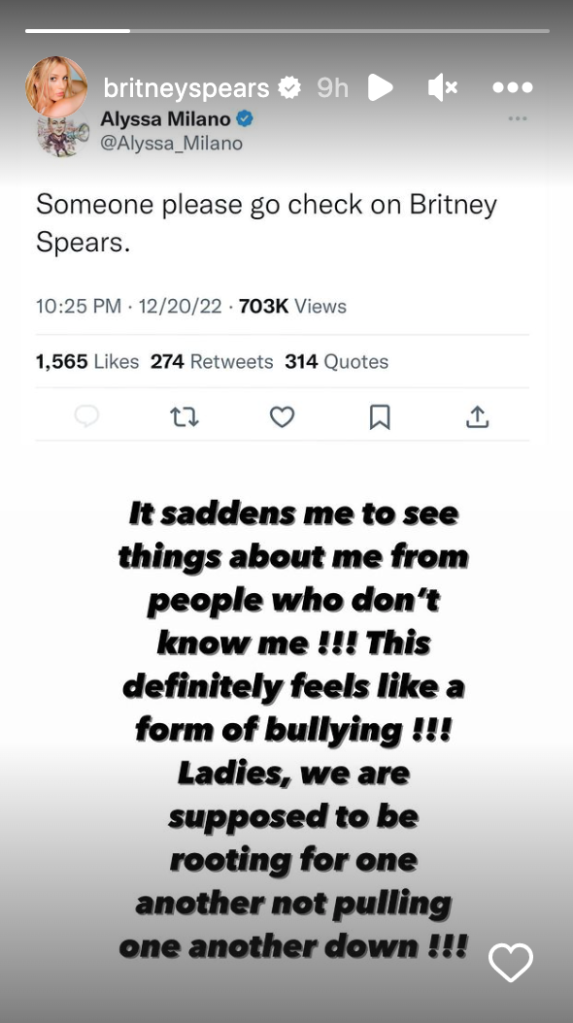 Milano and Spears have an interesting personal connection — they share an ex-boyfriend, who happens to be Justin Timberlake.
There's even a group photo of them (along with Charmed co-star Alaa Mohammad Khaled) Milano posted back in 2015, though the year it was taken is not noted.
Things get even more interesting for the previous love lives of two female stars; Spears and Timberlake broke up in 2002, the same year Timberlake and Milano began dating. But Milano's relationship with the *NSYNC singer was brief, lasting only a few months (compared to a few years, in Spears' case).
The TV star spoke with Entertainment Tonight back in 2015 about how she thought the previous pair were "super cute, super in love." But in a 2013 interview with Access Hollywood, "right after Britney broke his heart," she "swooped in for the kill" to have Timberlake all for her own.
Is there animosity between the leading ladies as a result? That information has not surfaced. Neither has a response come out from the Grammy award-winning singer in response to the Charmed actress's alleged apology.
Spears has only posted a few more videos of herself using her ring light to show off more of her favorite outfits.
Kat is a born and raised New Yorker exploring the world as she writes, eats, and everything in between.
Read more