Britney Spears just tweeted at Adam Rippon, and this is officially the best Olympics ever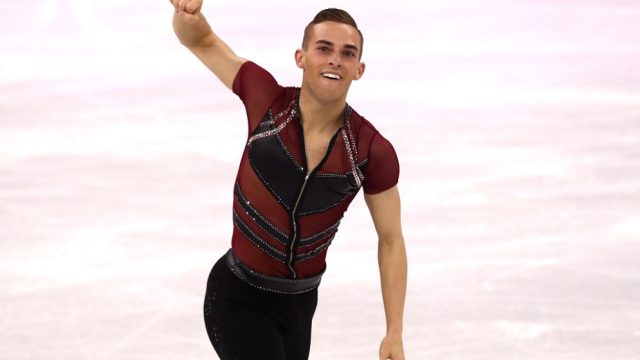 You're not the only person glued to the Olympics — Britney Spears is also watching. And it looks as though Spears, like the rest of us, is a huge fan of figure skater Adam Rippon.
There are plenty of reasons why the whole world has caught Adam Rippon fever. Not only is he incredibly gifted on the ice, but he's not afraid to joke with the correspondents and tell the world how he really feels — even if his honesty isn't always glamorous (when was the last time you heard an Olympic skater say "I want to throw up" on live TV?).
And it looks like Britney's taken note. Fresh after completing her four-year residency in Las Vegas, she reached out to Rippon on Twitter to show her support.
"Hey @Adaripp.... I just wanted let you know that I am a fan, I am not in denial, and that you are THE MOST FUN!! Keep making us all smile at the #WinterOlympics and good luck today ✨⛸" Spears tweeted.
Britney's message is also a nod to a comment Rippon made several days ago when asked about the backlash he's received for saying he'll be boycotting the traditional visit to the White House once the 2018 Games are over. "Haters are just fans in denial," he told reporters.
FIRE!
And here are all of the emotions we felt after seeing Britney's tweet:
We're hoping these two get a chance to meet sometime soon, and we hope there will be photos. Preferably shared on Twitter. Also, um, anyone thought about a Britney/Adam reality show? Just sayin'…