The beauty products a DC-based writer swears by, including serums that give her "Lupita Nyong'o levels" of confidence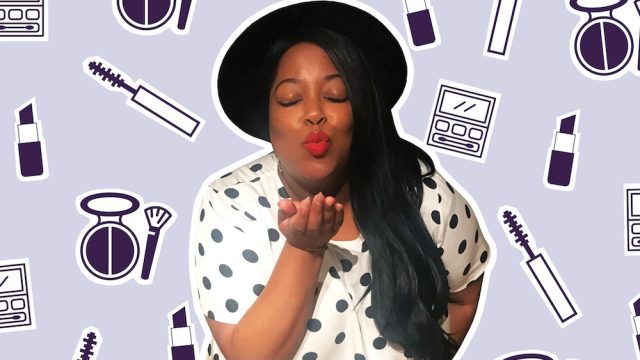 Welcome to The Beauty Files, where HelloGiggles editors and contributors share what exactly they put on their faces, and why. We want to take you on this voyeuristic journey because we believe makeup means something different for every single person — applying makeup is a conscious, intimate decision we make almost every single day, and there's usually a method behind the madness. Join us every week as we spill the beans on beauty products, and feel free to submit your own Beauty File. E-mail us at [email protected]!
I'm Bee Pollard and I'm a writer from the D.C. Metro area. I'm your resident fat babe with a lethal pen, slick mouth, and warm heart. I'd like to think that my beauty routine mimics what I look for in a potential partner: care-free, financially burden-free, reciprocal, and unproblematic. While I can't speak too much for my love life, my skin's definitely abided by these guidelines without a hitch.
I was raised to really understand the importance of proper skin care. I honestly can't afford to. I was born with eczema and have recently developed psoriasis on my legs and feet. Prioritizing my largest external organ is always at the forefront of my beauty routine. My body's been easy to manage. I tend to lean toward natural body butters and essential oils like neem and tea tree to maintain my issues. My face, however, has been quite a journey. Luckily, I'm finding a regimen that really works!
You'll come to find that I'm super brand loyal as you skim through my words. When I find something that works, I stick by it. Don't get it twisted, though. I'm open to testing new, highly-recommended products but my current routine is flaw-free. 7:15 a.m — It's time to start my day.
After hitting snooze on my phone alarm (which I've affectionately set as Kanye West's "Good Morning") for the umpteenth time, I finally open my eyes. I usually start with a light muscle stretch and a quick brain purge in my journal. I've found that it really helps me cleanse my soul's palette and it jumpstarts my day. Before any major money moves can occur, I have to find an ill-ass playlist to score my morning. After that, it's politics as usual.
7:30 a.m. — My morning beauty routine is easy as pie but still jam-packed.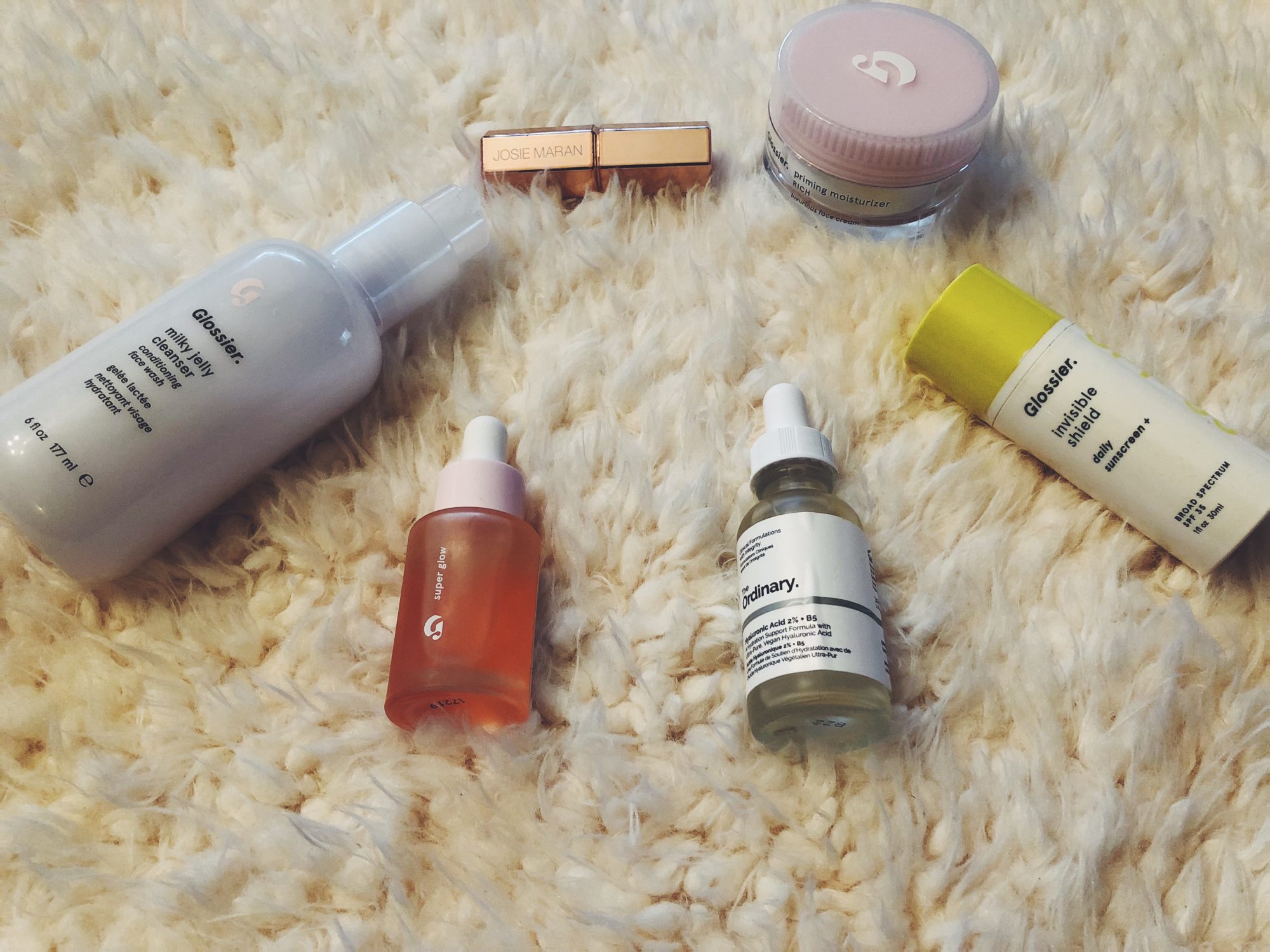 I start off using Glossier's Milky Jelly Cleanser ($18) to knock off my morning ick. It's super light, and it serves as a gentle wake-up call to my face. I've got quite the case of combination skin, so toning is a must. I follow-up with the Thayer's Alcohol-Free Witch Hazel ($6.99), opting for a cost-effective spa experience with the cucumber-infused selection. It doesn't dry my skin at all, which I love!
It's already 7:40 a.m. and by this time, I'm slinking about my bathroom with hips swiveling to a Kaytranada mix. As of late, I've been listening to his flip of Janet Jackson's "Alright." I dig in my pink pouch (courtesy of Glossier) and grab my morning serums. You know the vibe you get when you hear Ryan Leslie's "Addiction?" That's how I feel about serums.
This part of my routine is largely sponsored by The Ordinary. I initially layer my face with the Hyaluronic Acid Serum ($6.80), applying it carefully with sporadic pats. Occasionally, I'll throw on Glossier's Super Glow ($28), which is one-third of the brand's Super serums collective. Layering my serums gives me an effervescent glow; my confidence is on peak Lupita Nyong'o levels after I bless my skin up.
Sunscreen? For black women? Year-round? Groundbreaking.
Up until my senior year of high school, I bought into the myth that because I'm black, I don't necessarily need to invest in sunscreen, much less apply it outside of a beach or pool visit. I couldn't have been more wrong. Naturally, because of my eczema and psoriasis, I need to avoid the sun like the plague. Applying sunscreen to my extremities wasn't up for debate, so my face shouldn't be either. Since then, I've been using moisturizers that included SPF in its ingredients. Once Glossier introduced its Invisible Shield Daily Sunscreen with SPF 30 ($25), it was a wrap. I finish strong with its Priming Moisturizer Rich ($35).
It's 8:10 a.m. and my teeth are brushed. My hair is moisturized with tea tree and jojoba oil and twisted under a black silk hair wrap. My lips are adorned with Josie Maran's Argan Lip Sting Plumping Butter in Grapefruit ($23). However, the true MVP of my morning is Glossier's Boy Brow ($16). A few strokes on each brow and I'm really my best self.
8:40 a.m. — As cheesy as it may sound, beauty definitely starts from within. That's just, like, the rules of skin care.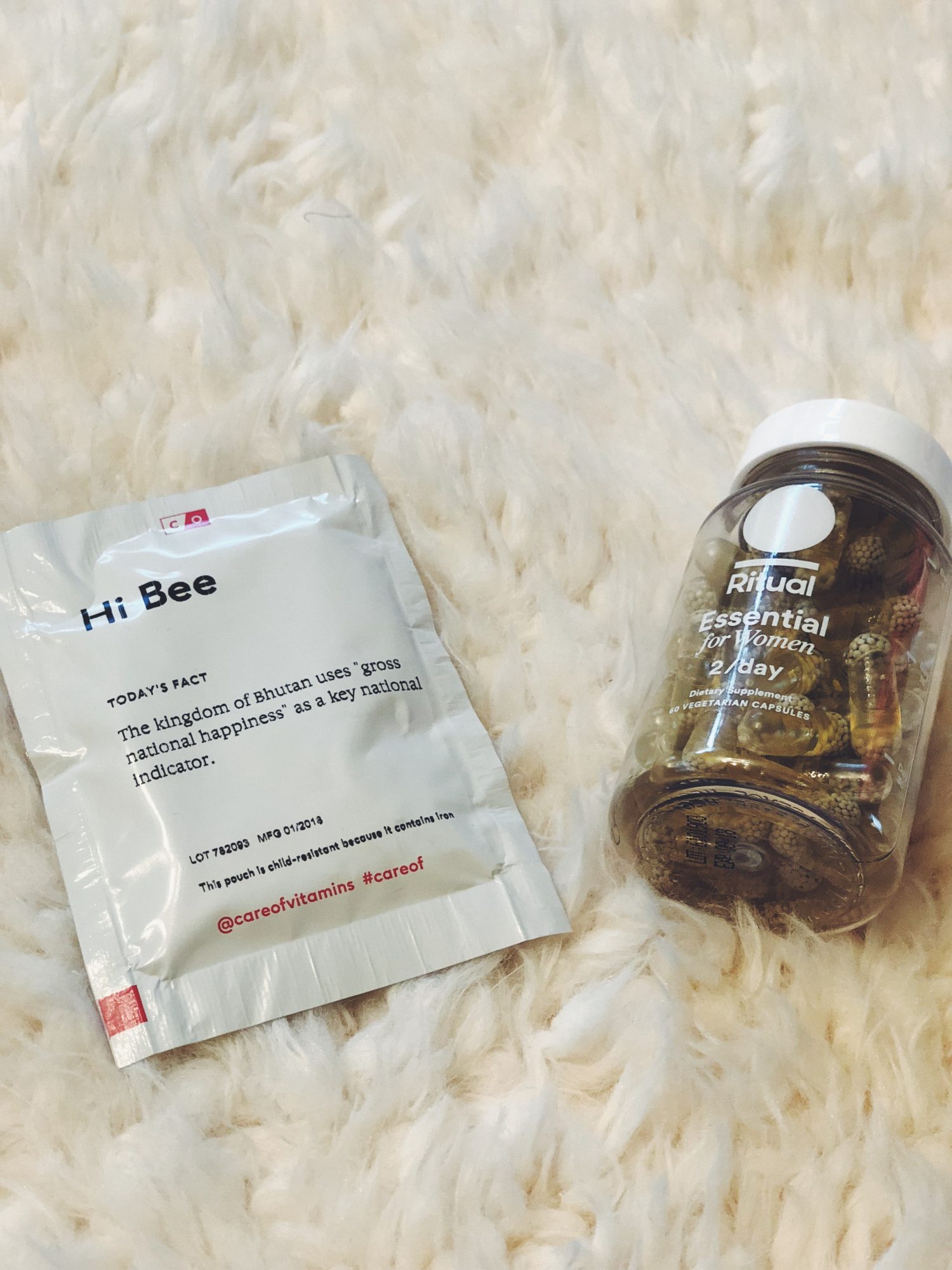 That said, vitamins are a crucial part of my morning routine. I take two Ritual capsules ($30 a month) along with a pack of my personalized multivitamins from Care/Of (price varies). If I go a day without them, my energy and my body won't let me live it down.
9 a.m. to 6:45 p.m. — Full-time journalism student. Full-time writer. Full-time community associate. Full-time exhaustion.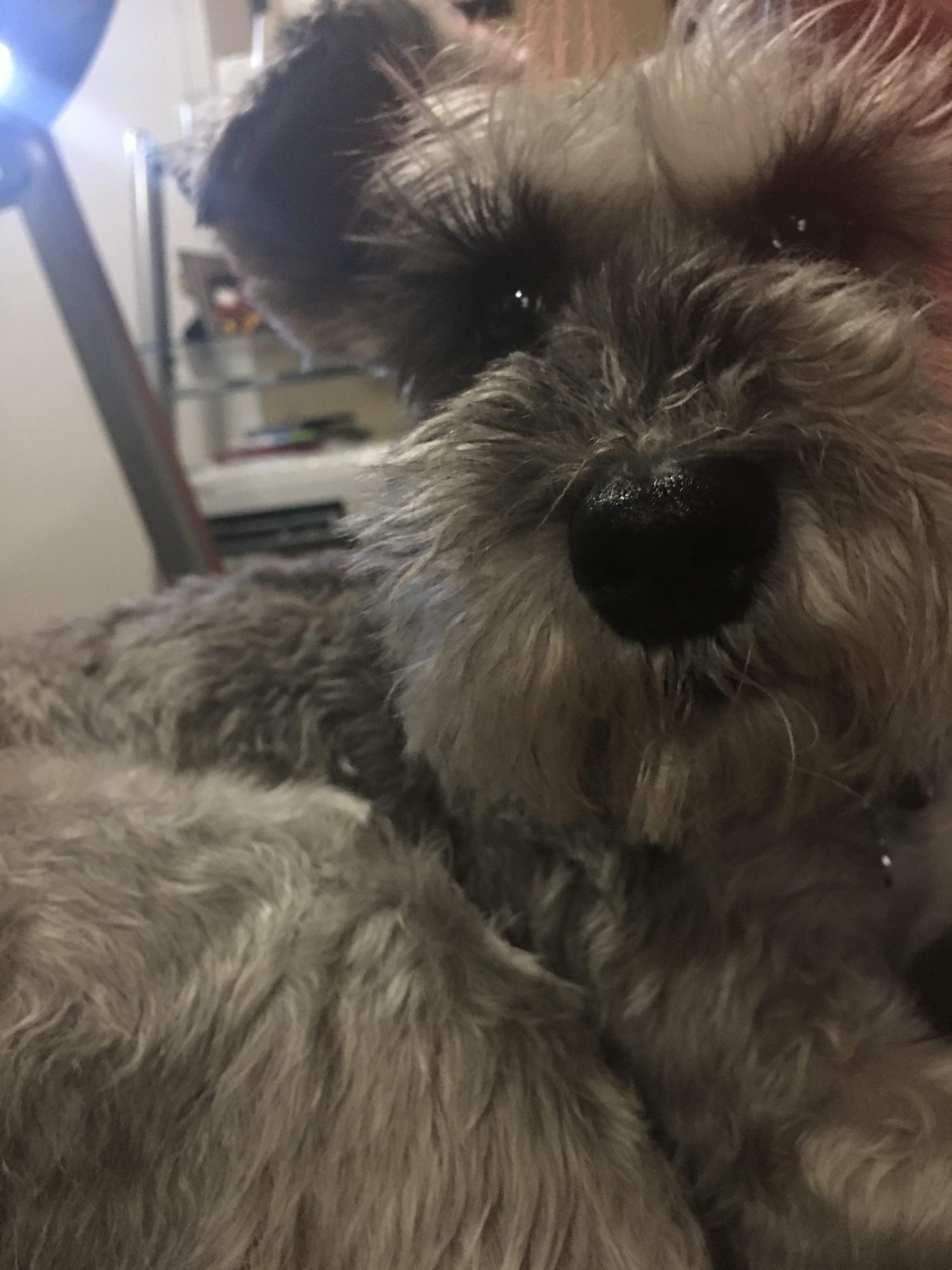 With so many stressors and potential poor lifestyle choices (what's good, carbs and late nights?), I try to stay on top of impending doom by staying hydrated, staying on top of my planners, staying loved by friends and family, self-affirmation, and my baby, Hans. However, a few sprays of Mario Badescu's Facial Spray with Aloe, Herbs, and Rosewater ($7) gives my face a refreshing opportunity as I work through the day.
6:50 p.m. — Every so often, I'll find a way to link up with my girls for an evening out.
Honestly, any reason for me to get super cute and dive deep into some fellowship is a go. I tend to keep my makeup routine just as simple but still statement-making. I use Mario Badescu's Glycolic Acid Toner ($18) to give my skin a quick cleanse before applying any primer or foundation.
I've been team Fenty Beauty since its launch. Grabbing my Pro Filt'r Instant Retouch Primer ($32) and a small amount of jojoba oil, I moisturize as needed. Then, I conceal with the Match Stix in Suede ($25). I definitely recommend investing in the Match Stix Trio ($54) to get more bang for your buck. Add in a light layer of MAC's Studio Fix Foundation in NW48 ($30) and we're in business. Blend, blend, blend. My Glossier Boy Brow comes to the rescue again, giving me full and enviable brows for the masses. For my cheeks, I have a bit of fun with Glossier's Cloud Paint cream-based blushes ($18). The shade Dusk is my go-to because of its warm and natural pigment. I coat my lashes with multiple coats of my favorite drugstore mascara, the Maybelline Define-A-Lash ($6.99). The finishing touches go to a NYX lipstick ($5-$8) of my choice and a highlighter courtesy of Fenty Beauty's Trophy Wife ($34).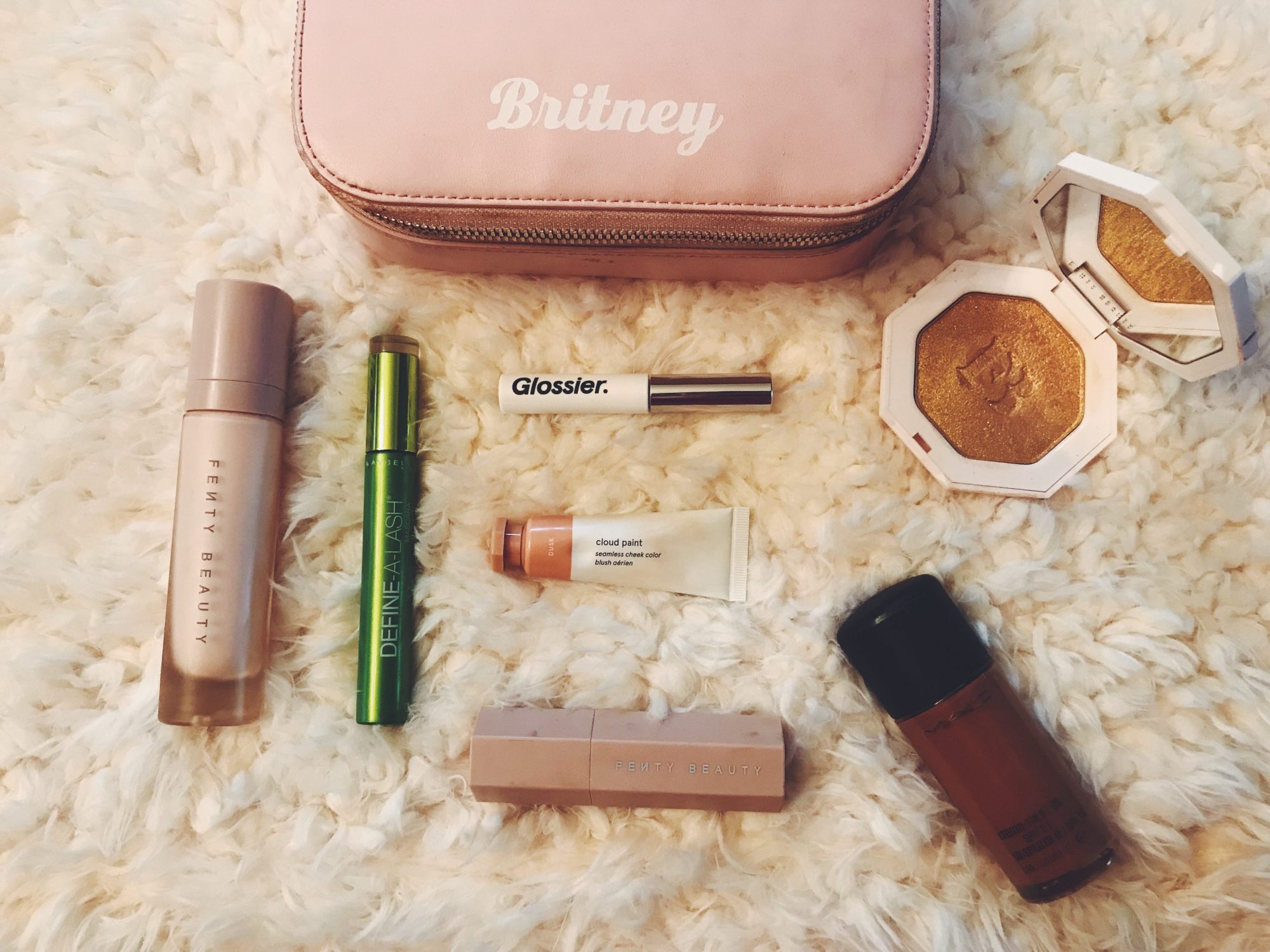 10 p.m. — The nighttime is the right time for self-care.
Honestly, I get super excited when it's time to wipe away the day and channel my inner Donna Meagle with a "treat yo'self" moment. With my hair, I've been keeping it super slight but impactful. Essential oils and shea butter keep my thirsty locks quenched. I detangle about three times a week, using apple cider vinegar to rinse my scalp should I feel the need for a clean. I section my hair into four parts, twisting my hair as much as I can before covering my tresses with a silk bonnet.
As far as skin goes, I just started embracing the 9-step beauty regimen that so many of my favorite beauty bloggers follow. Can't say I'm not believing the hype. For makeup removal, I create up a cocktail of sorts: one part Milky Jelly Cleanser, one part It Cosmetics Bye Bye Makeup Balm ($38). Dirt and grime don't stand a chance with this dynamic duo. Next, I dive deeper with Skinfix's Foaming Oil Cleanser ($22) and a microfiber cloth. Occasionally, I'll add a clay-based mask like the Sephora Yellow Clay Mask ($8) to the mix for added fanciness. Pinkies up.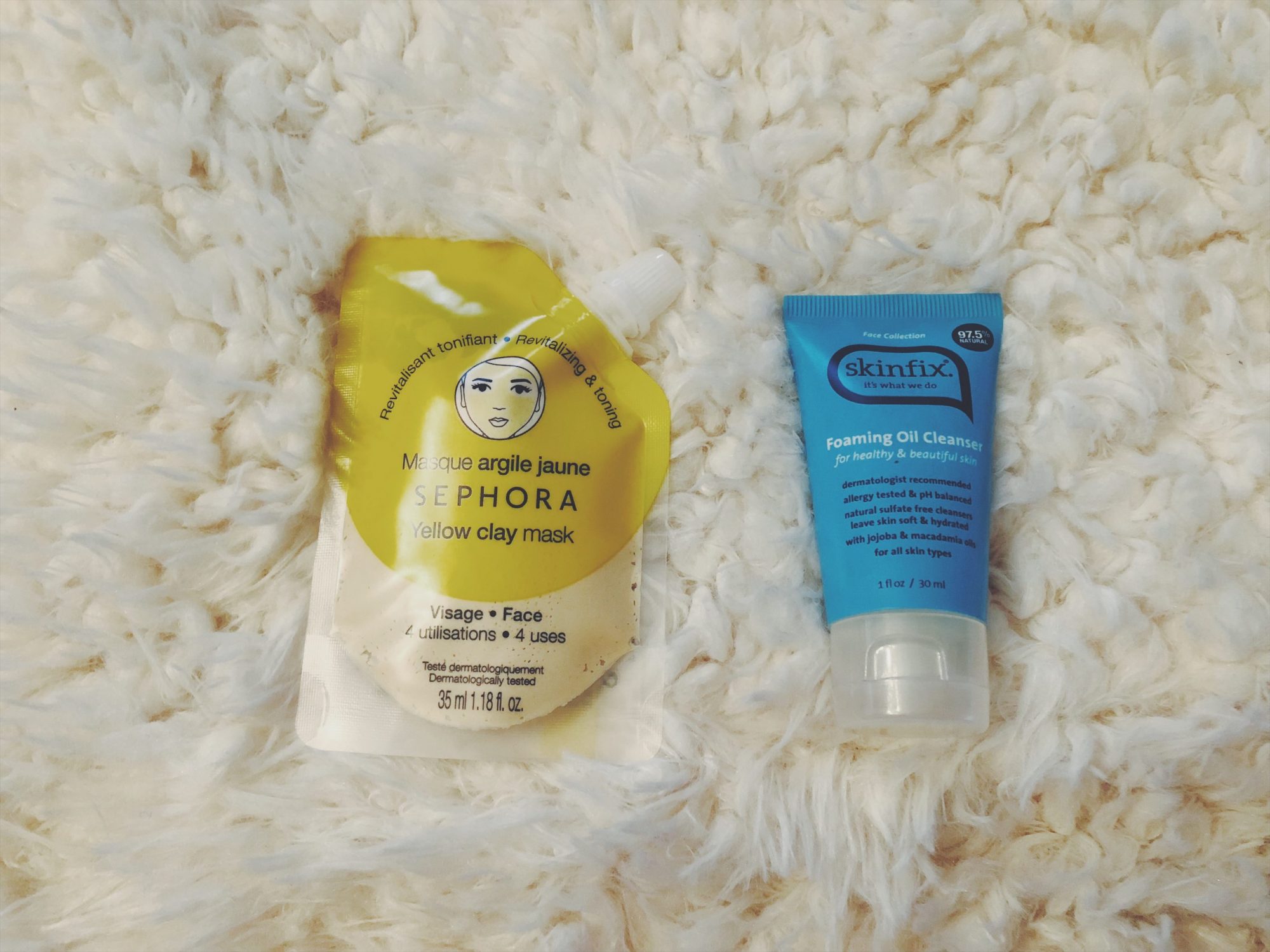 Hypigmentation is my biggest beef with my face.
I, like many others, have to deal with the remnants of adolescent and adult acne. Many of my breakouts from my teenage years can still be found on my cheeks, dark marks dancing on the sides of my face. That's where steps three and four come into play: exfoliation and toning. I just got hip to the gospel of Glossier's Solution ($24). The chemical-based skin perfector is super efficient in its ability to both eliminate dead cells and prevent buildup in my pores. I've only been using the product for a few days, hopeful that it'll join the skin care family I've cultivated on my bathroom sink. I immediately follow those steps with a bit of pure aloe vera for good measure.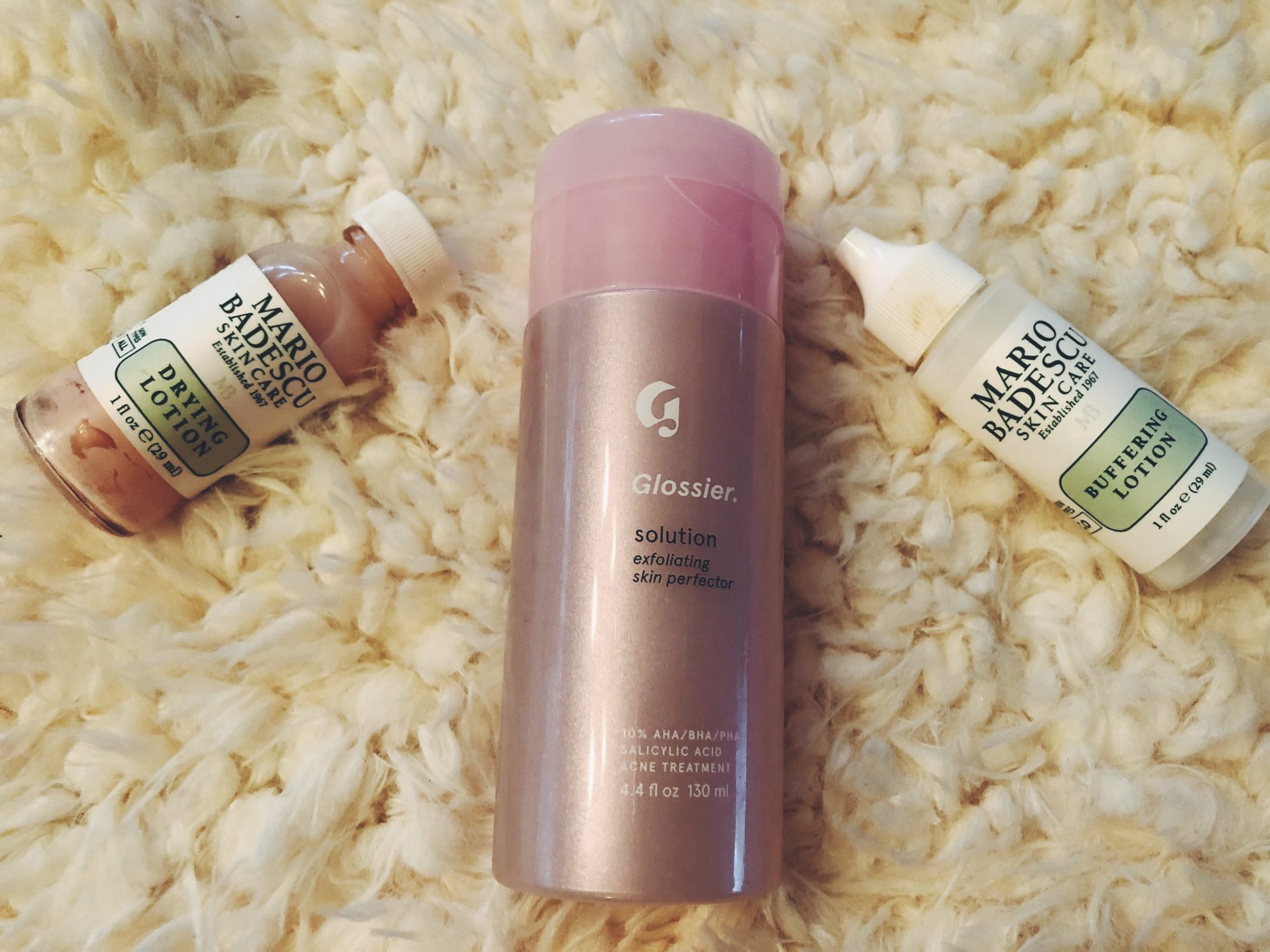 Step five is all about the serums. I try to switch it up from night-to-night but my mainstays are The Ordinary's Alpha Arbutin for Hyperpigmentation ($8.90) and Glossier's Super Pure ($28) for taming breakouts. I also spot treat my blemishes, both surface and impending, with the infamous Mario Badescu Drying Lotion ($17) and Buffering Lotion ($19).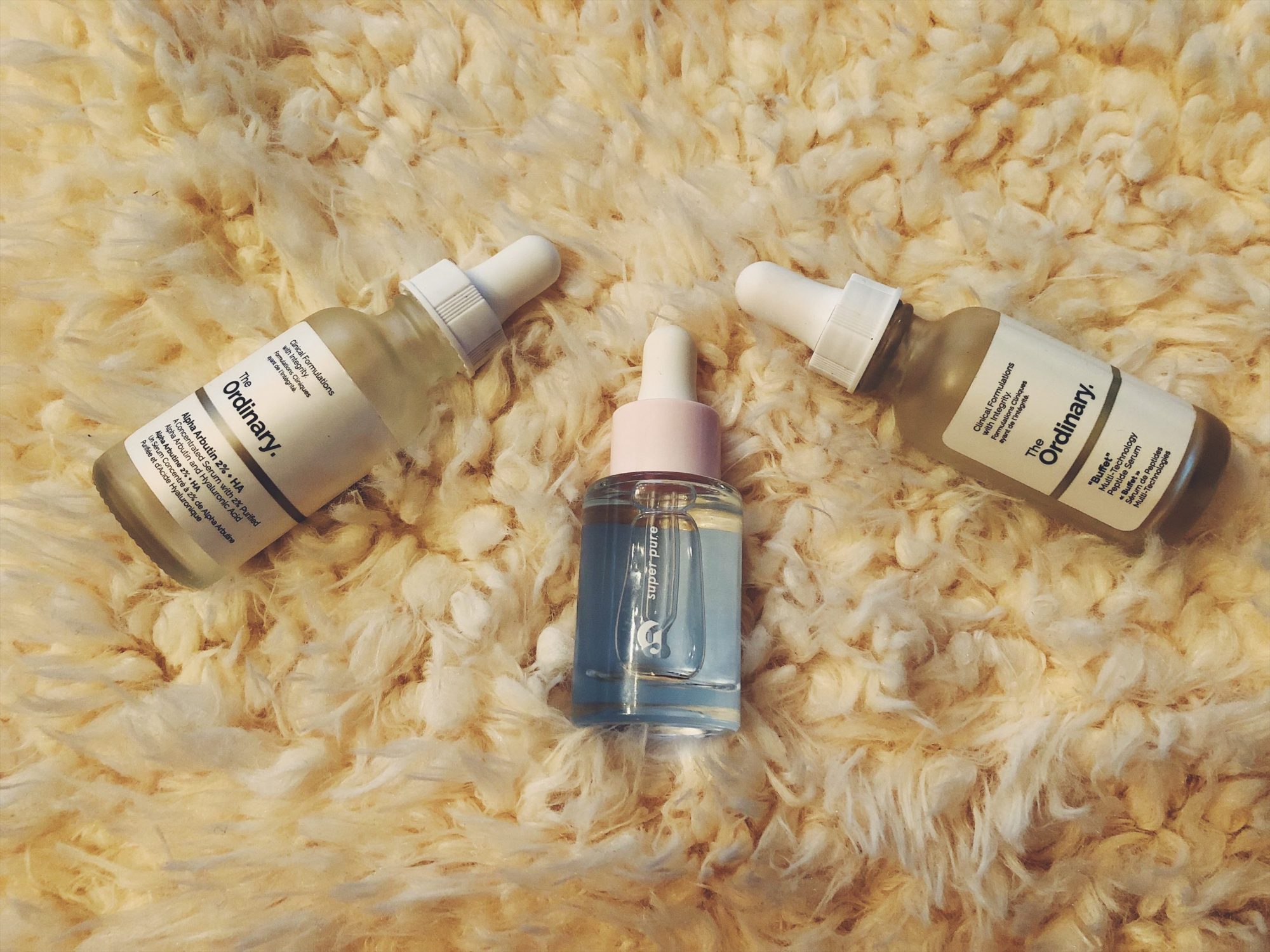 Since I am over the hill as a 20-something, closer to 30 than 21, I have also found myself wanting to incorporate anti-aging products into my regimen. Step six is just as serum-happy as I use The Ordinary's Buffet ($14.80) to attack all my concerns regarding fine lines, skin rejuvenation, and a timeless glow. Full disclosure: I have La Mer in my shopping cart at this very moment. Another cute step I've acquired is applying pure Jamaican castor oil to my eyelashes and eyebrows to promote growth.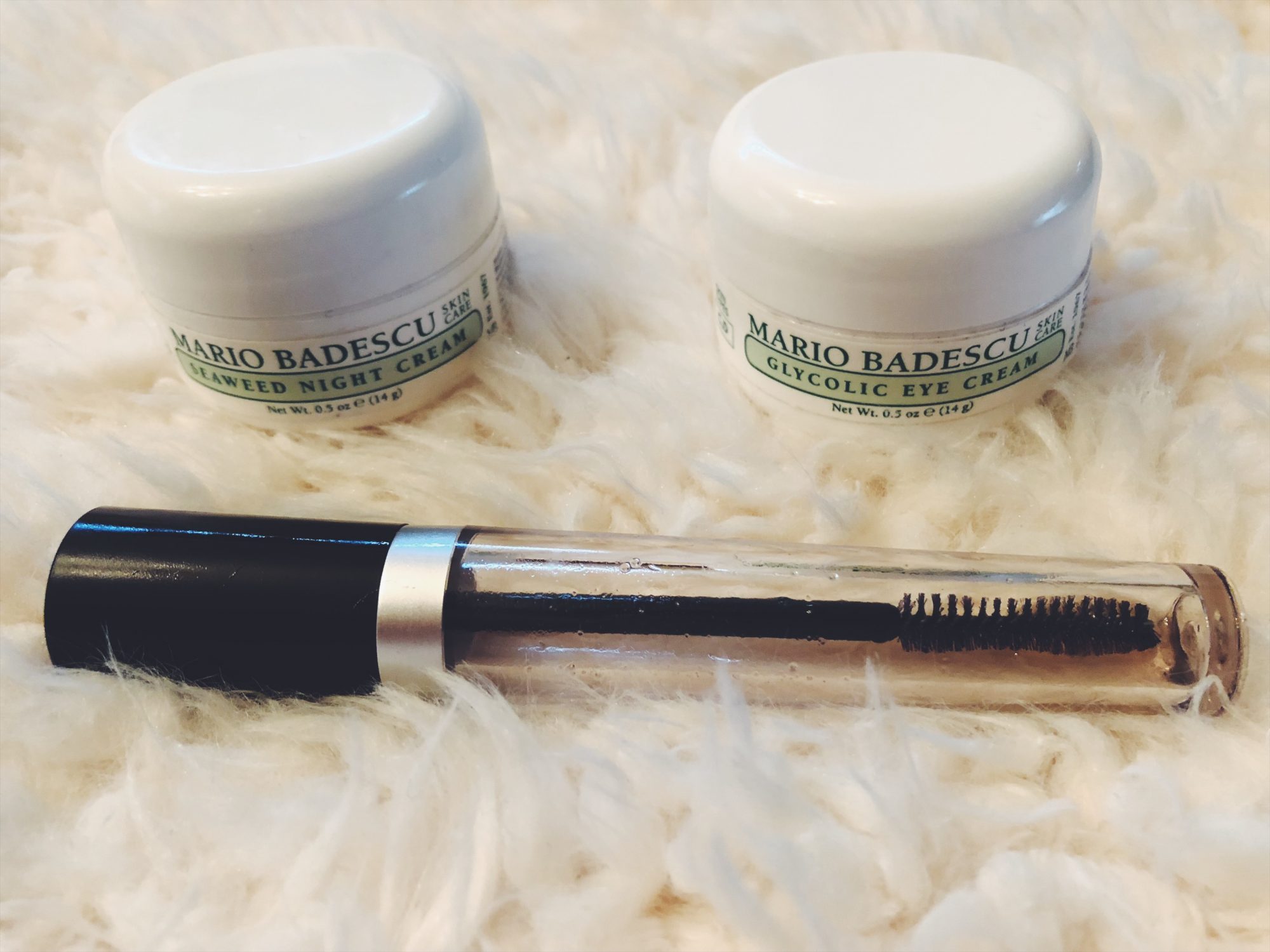 By 10:30 p.m., I end my night with Mario Badescu, viewing his Hyaluronic Eye Cream ($18) and Seaweed Night Cream ($22) as the metaphorical cherry on my fully-loaded skin care sundae. Then, if writing deadlines and homework allow, I let Daria: The Complete Series serve as my nightcap.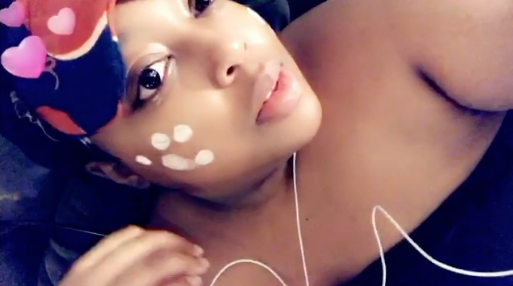 La-la-la-la-laaaaa…
Indulge in beauty-themed voyeurism by reading all of our past Beauty Files, here.