You can admire 4.5 million works of art in the British Museum's next-level virtual tour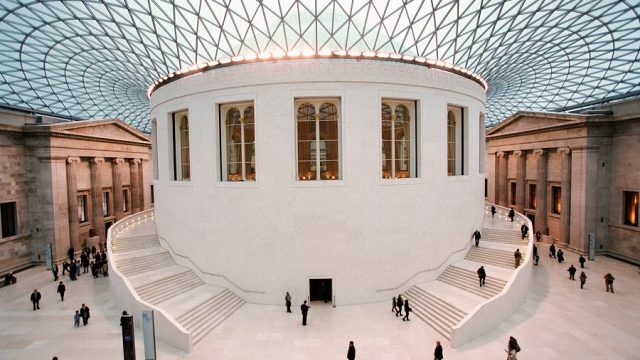 If you've finished your Never Have I Ever Netflix marathon and are waiting for Andrew Lloyd Webber's latest free play, we have new plans for you. Add a little culture to your quarantine with a museum virtual tour—specifically, the completely revamped online collection from London's famous British Museum. You may not be able to view the artwork in person, but this next-level virtual collection lets you get even more up close and personal.
In late April, the British Museum announced that it launched a major upgrade to its online collection. Now, the museum virtual tour has 4.5 million works of art for you to admire (or not admire; you be the art critic). With the "major revamp," the museum's new imagery allows you to zoom in or pan over the art, so you can appreciate the tiniest details. Plus, you won't have a crowd of tourists taking selfies with the art in the way of your view.
With 4.5 million works of art, how do you know where to start? Don't worry, we'll help.
The British Museum is most famous for housing the Rosetta Stone since 1802.
On the Rosetta Stone is a decree by Egypt's ruler, Ptolemy V, and clergy, but it's important because it helped researchers finally decode and understand hieroglyphics, the writing system of ancient Egyptians. See it for yourself as part of the British Museum virtual tour, right here. Or, take a tour of the museum's entire Egyptian sculpture gallery here, which includes both the Rosetta Stone and the famous Statue of Ramesses II, among many other pieces.
Its other online art galleries include "Enlightenment," which includes the Sloane Astrolabe; "Mexico" and its double-headed serpent mosaic; "Greek Vases"; Egyptian mummies; its large collection of prints and drawings; and the British Museum's famous Great Court, which is the largest covered public square in all of Europe.
If you want to take your museum virtual tour even further, you can "walk" through some of the exhibits using Google Arts & Culture. You can also immerse yourself while you explore the online collections by playing the British Museum's audio tours in the background. Each exhibit has a room number, so you can more easily match the audio tour to what you're looking at. Find the ones you want and download them via either Google Play or Apple Music.
It may be a while before we're visiting any museum in person—especially one that requires a plane ride to explore. But museums making their art more accessible to everyone is a great thing, pandemic or not.
As information about the coronavirus pandemic rapidly changes, HelloGiggles is committed to providing accurate and helpful coverage to our readers. As such, some of the information in this story may have changed after publication. For the latest on COVID-19, we encourage you to use online resources from CDC, WHO, and local public health departments, and visit our coronavirus hub.