82 of the #BringBackOurGirls students have been released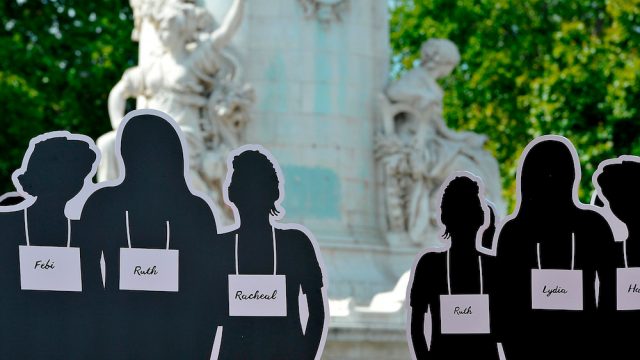 Dozens of girls who were kidnapped from their boarding school by Boko Haram militants were released this weekend in exchange for Boko Haram detainees, according to a statement released by Nigeria's president.
In April 2014, almost 300 students were kidnapped in an act that shocked the world. Social media campaigns like #BringBackOurGirls and #ChibokGirls arose to keep attention on the missing students. Soon after the initial kidnapping, some of the students escaped, and last year, 21 girls were released as part of an International Red Cross operation.
Reports of this weekend's release range from 52-82, but The New York Times reports that even with this release, over 100 girls remain under control of Boko Haram. The girls have been forced to marry their captors and work for the group as servants. They are among thousands of people, including other young women, who have been kidnapped by Boko Haram (which translates to "Western education is forbidden in the Hausa language) in the last eight years of its insurgency in Nigeria.
The released girls were received in the capital, Abuja, by Nigeria's president, Muhammadu Buhari, who told them,
"I cannot express in a few words how happy I am to welcome our dear girls back to freedom."
Many of the students from the group of girls who escaped have been given an education by the New Foundation School, a program of the American University of Nigeria created especially for them — and the girls who were released in October are expected to join them. The program extends to all kidnapped girls, and it is designed to give them the education and freedom that Boko Haram sought to take from them.
Care is taken to help them recover from the trauma, and sometimes brainwashing, that they endured.
In a March 2017 interview with Public Radio International, one of the girls now at New Foundation School said, "When I go back to my community, I want to teach people to read and to encourage them the way that people encourage me. I know, one day, this Boko Haram issue will be over."
Though there are still girls in captivity, another student told PRI that she, too, has hope for the future.
"Today we are in school. Tomorrow, we are going to be better and to change everything that is happening in our community, she said.
These girls are the future of Nigeria and the world. We rejoice at the return of 82 more of them and hope the rest make it home soon.