Brigitte Nielsen is pregnant at 54, and the sexist backlash is unacceptable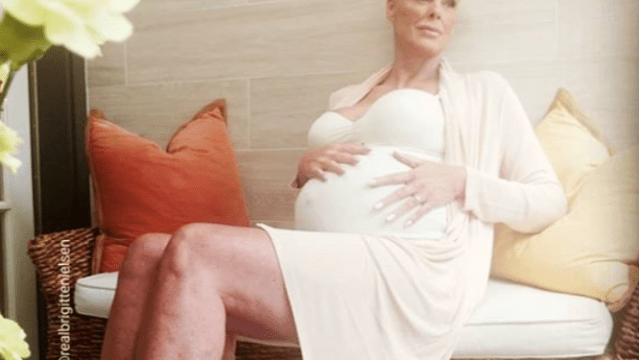 Brigitte Nielsen is pregnant with her fifth child, and some angry commenters are filling her Instagram with vile and sexist feedback (none of it asked for) because the actress and former model is 54 years old. When a woman in the public eye over 50 announces a pregnancy (like when Janet Jackson revealed she was pregnant for the first time at 50), the woman is often subjected to unfair and sexist backlash with comments running the gamut from being "too old" to being "cruel" for having the audacity to get pregnant.
Nielsen — most known for the titular role in Red Sonja and for her marriage to Sylvester Stallone in the late '80s — shared a couple sweet photos on Instagram to announce that she and her husband Mattia Dessi were expecting. Sadly, the comments section included some mean-spirited jabs at her age.
"She should be [ashamed] of herself for this," wrote one commenter. "It's cruel to have a baby when you're so old that they'll probably lose their mom in their teens," said another.
Someone else wrote, "I hate IVF…making dinosaur uterus fertile again." For the record, Nielsen has not revealed how she conceived. The only evidence that IVF is involved is a 2008 Hello! magazine article (via People.com) where she revealed that she wanted "to try IVF."
The comments that she's "so old" or that her kids will "lose their mom," are especially egregious, because men, especially in Hollywood, who father children in their 50s and older aren't constantly subjected to a "he's going to die soon" narrative in the way women are. George Clooney was 56 when his twins were born. Alec Baldwin welcomed a child just this month at age 60. Jeff Goldblum was 63 when he welcomed his first child. Most of those pregnancy announcements came and went and were not inundated with the same kind of sexist vitriol that happens when a woman over 50 becomes pregnant.
As far as biology is concerned, The Cut spoke to an expert in 2016 who said that aside from declining fertility, once you conceive, your body's ability to carry at 50 isn't that different than it was 15 years earlier.
"Physically, nothing changes at 30 or 35 or 40 or 45, Dr. Jacques Moritz, an affiliate associate professor OB-GYN at Weill Cornell told The Cut. "The human body is capable of carrying the baby — physically, there is nothing wrong, and women even into their 50s and 60s can do it, as long as they are healthy.
Mortiz admitted that "after 40, unfortunately many of a woman's eggs are chromosomally abnormal," but as we mentioned before, we have no idea how Nielsen conceived, or whether or not she froze her eggs.
What we know is that a woman is very happy about the addition to her family, and for that, we say congrats.