Inside the bright, bold, and beautiful world of Sara M. Lyons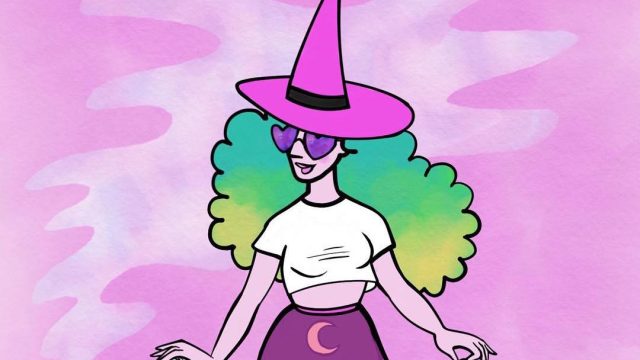 If we had to describe the vibrant world of artist Sara M. Lyons in as few words as possible, it would go something like this: bright, beautiful, unapologetic, and FUN. The Anaheim-based artist creates a world that is as kitschy as it is cute (in the best possible way), allowing others to step into what feels like a cartoon come to life. From her classic "whatever forever" pins to her series of Archie characters as tarot cards, there's always an unexpected turn in t
he world of Sara Lyons, but that's what makes her universe so fun.
With her vibrant neon-green hair and signature cat-eye glasses, Sara is the perfect person to guide you through her wonderful galaxy of illustrations, pins, prints, and murals. With this in mind, we spoke to her about art, her oracle deck, and what the universe has in store…
HelloGiggles: Can you tell us a little bit about what inspired you to become an artist?
Sara M. Lyons: I've always drawn as a hobby.  I also grew up really into comics — starting with Archie and Betty & Veronica when I was a kid and gravitating towards indie stuff as well. In high school, I got in trouble a lot for drawing in my notebooks or doodling in the margins of worksheets, and my classmates would always get me to draw pictures of them, but I never really considered that it could be a career or had a focus on fine art.
I dropped out of community college when I was 19 and kind of drifted in my early twenties because I was unsure of what I wanted to do with myself. So I worked a boring 9-5 office job for years until I lost it during the recession when I was 25.  I was super depressed and had zero direction, I was drinking way too much, and drawing was my only creative outlet.
I got myself my first Wacom tablet and started doing digital illustrations of my online friends, just for fun and as a needed distraction from my depression. People responded to them, so I started doing more personal work and posting it on my Tumblr, and people just kept responding to my work. From there, turning it into a career came really naturally. I was looking for what to do with my life and it turned out it had been in front of me the whole time. For some reason, what I do has resonated with people, and I'm very grateful for that.
HG: Have your pieces always been so bright and bold?
SML: I think so, yes! I draw a lot of inspiration from the cartoons, toys, and comics I grew up with. Beyond Betty & Veronica, my childhood favs — all of which remain favs to this day — included She-Ra Princess of Power, Jem & the Holograms, Sanrio, The Muppets, and the original My Little Pony. As a child of the early '90s, I think I can't help but respond to strong pastels and brights.  Additionally, I've had a big interest in pop art ever since I was a little kid, so that probably informs my color palette as well.
HG: What inspired you to create your take on the Lenormand Oracle deck?
SML: Reading Lenormand came so naturally to me — from the very first time I learned about it a few years ago, I knew I would draw my own deck one day. I really developed my Cute Little Lenormand with a few goals in mind. The first was simply to introduce more of my illustrations into the world. The second was to introduce more people to Lenormand! I hadn't heard of it until I was in my late twenties, and when I started reading spreads it was a revelation. I knew a lot of my followers and fans are on a spiritual path similar to mine, and I wanted to share that feeling of discovery with people who maybe hadn't heard of Lenormand before while also offering a new deck for experienced readers to work with.
That last point speaks to my final goal in creating the deck. I've always ascribed to the belief that magical tools, and oracle cards in particular, are super subjective. The deck that works for one person might not resonate with another. I'm a collector of oracle decks; I have over two dozen decks in my possession, and while I love them all in different ways, I had never found a deck that really felt like ME.  I knew I couldn't be the only person who was dreaming of something pink and pastel and just plain cute. So I made it!
HG: Can you tell us a little bit about the murals you've been working on and what that's been like?
SML: It's a really exciting new phase for me and something I never would have expected of myself. If you had told me even six months ago that this is what I'd be doing, I would never have believed it! But I'm so grateful and I'm having so much fun.
I really just got lucky enough to be invited to be one of several Orange County-based artists to paint a large scale mural at the Anaheim Gardenwalk (the whole thing was facilitated by Artists Republic gallery, which recently relocated to the Gardenwalk). I was really anxious about whether or not it was something I was going to be able to pull off. But once I got started, I was amazed at how much fun I was having and how well it turned out. I think my style lends itself to that medium, and it's been fun seeing how people respond to it.
That first mural led me to be invited to paint a branded mural at the Urban Decay headquarters, which was a total dream come true. I also just did a quick non-commissioned piece on the Hurley backlot just for fun (my husband JOSHR, a very experienced muralist, works there, so we are lucky enough to have access), and I have another Urban Decay wall in the works as well.
HG: What's your favorite hair color you've had?
SML: This is it! It's funny, people always guess I've probably had my hair every color of the rainbow, but the green is the only "fantasy color" I've ever had. I went through a brief black dye phase in my late teens and had a super platinum white-white-white blonde '80s hair metal style in my early twenties (which eventually resulted in hair so damaged I had to go the full Rosemary's Baby cut), but for most of my mid- to late- twenties, I was just my natural light brunette.
Before I made the switch, I was worried I was too old for a wild hair color — then I decided that was ridiculous and I haven't looked back. I've been green for almost three years and I really feel like my truest self this way.
HG: What's your favorite makeup product?
SML: I basically haven't changed my makeup look since I started wearing makeup — it's been a black liquid eyeliner cat-eye since I was 14 years old. I've cycled through several "holy grail" black liquid liners over the years, but my ultimate fav is Urban Decay Razor Sharp liquid eyeliner in Perversion (and I'm not just saying that because I painted that mural — I've been a UD addict for years!).
HG: How would you describe your personal style?
SML: Cartoony, fun, kinda tacky, maybe even a little immature. I very much identify with The Muppets in terms of aesthetic. I feel like it took me until just a few years ago to come to a place where I'm very much confident in my personal style. When I was younger, I had a tendency to take fashion a little too seriously. Now I just like clothes that make me laugh. If it involves fun fur or sparkles, I'm probably attracted to it.
HG: Where do you draw inspiration?
SML: Everywhere!  Comics and cartoons (here's my third Betty & Veronica mention) have always and will always be one of my biggest aesthetic touchstones. I definitely never grew out of them and now I know I never will. Also, constant sources of inspiration are old punk rock, early skateboard graphics, '80s and early '90s Barbie, and concepts of witchcraft and the supernatural — always filtered through a super-cute lens, of course!
HG: What's the message you hope to purvey through your art?
SML: Art brought me out of a very dark place in my life, so with it now, I want to instill a sense of irreverence and fun in the people who look at it. I try not to take my work too seriously, so I hope it inspires people to view the world the same way.
HG: What's next?
SML: Everything! I'm about to start another small mural for Urban Decay, which should be really fun.  I've also got my first solo gallery show opening at Artists Republic Gallery in Anaheim on 5/12 . I've got some pop-ups scheduled in L.A. and Orange County for the first two weekends in May, and I'm currently working on a new enamel pin and an accessories line for … wait for it … Betty & Veronica!
Beyond that, who knows? Every day is a new opportunity and I'm always stumbling into fun new projects! I honestly never have any real idea what's next — and I can't wait to find out.