Brie Larson's job before breaking into Hollywood was incredibly cool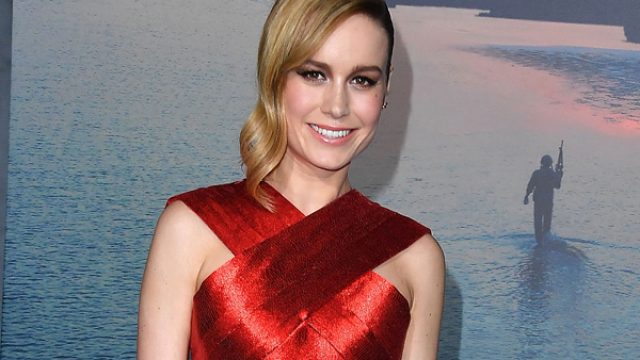 It's official, Brie Larson is a total rockstar! In addition to being a rockstar on screen, Larson's job prior to breaking into Hollywood was equally as cool. Seriously, Larson will have even more street cred after you find out what she did to pay the bills before making it big.
The 27-year-old actress shared an awesome #FlashbackFriday post on Friday and revealed what she did before she was an actress. Yes, Larson did have a somewhat normal gig before becoming an Oscar-winning actress.
Okay, technically it's not exactly "normal." It's not being a waitress or working at a department store. No, the California native was a DJ!
"I used to DJ. It was the 'real' job that floated me while I auditioned for the movies I never got," Brie wrote on the photo. "Even during the filming of 'Short Term 12' I spun records at magazine parties and hotel bars on weekends because I couldn't survive off of SAG minimum."
So what was the Kong: Skull Island star's go-to set list? Well, it was a variety of genres, but she definitely favored vinyl, because she is as cool as you think she is.
"I loved rare foreign covers of Beatles songs, Ye-Ye girls, and soul," she explained. "Drunk dudes would request trap and I'd tell them 'Sorry I only play vinyl.' I was hustling, but I got people dancing and hung with my other DJ friends."
Despite having a long journey before making it in the acting business, Larson doesn't regret those DJ days.
"I'm grateful for where I am now, but want to give a toast to the life I lived before," she added. "To all the dreamers with day jobs, I see you, don't give up. There is beauty in your journey. 🍻#fbf."
In case you think Larson is embellishing the truth about her former DJ days, we have even more proof. There are actual photos that exist outside social media of the actress on her turntable.
Back in 2012, the Room actress was photographed doing her music thing at a Hollywood party. "DJ Brie Larson" as the caption reads performed at the Nylon and Sony X Headphones September TV issue event.
Can you guess who the cover star was for that issue? None other than Glee's Lea Michele! Crazy, right?
Now Larson is the star of the show at launch parties and Hollywood events. That doesn't however mean she'll ever stop loving music and her DJ jamming past. Thank goodness.