Listen to Fellow Swiftie Brie Larson Cover Taylor Swift's "The 1"
The actress actually has an impressive musical background.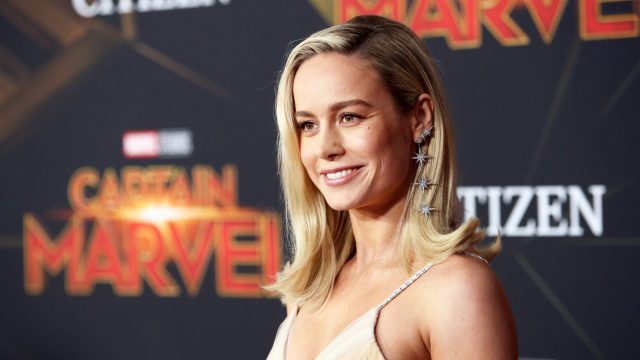 Like many of us, Brie Larson has been listening to Taylor Swift's album Folklore since it was released last week. But unlike our tone-deaf selves, Larson decided to cover the opening track to Swift's album, "The 1," and we're seriously impressed by her pipes. The Oscar-winning actress is clearly multi-talented, proven in her latest Instagram post, in which she plays the electric guitar and sings the catchy Swift song.
Larson has shared her musical talent with her 6.6 million Instagram followers before by posting covers of songs by artists like Kacey Musgraves, Noah Cyrus, and Ariana Grande, to name a few. These at-home jam seasons are typically similar to Larson's most recent post: simply a selfie video of the actress in a casual outfit, strumming either an electric or acoustic guitar, singing sweet melodies. Yesterday, July 29th, Larson captioned her latest singing video, "'the 1' cover by @taylorswift Dedicated to my forever Swiftie friend @jennisennis. ??"
Acting, singing, and guitar-playing—Larson is clearly a triple threat. And it turns out, singing isn't just a quarantine hobby the actress has picked up during the past few months. Although it's not a super well-known fact, Larson actually began her career in the entertainment industry as a singer—and a pretty successful one, at that.
In 2005, at 16-years-old, Larson released her debut album, Finally Out of P.E., a moody punk pop collection of songs about her high school experience. It gets more impressive: Larson wrote nine out of the 13 songs on the album. Oh, and Avril Lavigne, aka punk pop princess of the 2000s, co-wrote one with her. Just before Larson's album was released in 2004, she even toured with another member of early-aughts pop royalty: Jesse McCartney. That's right: Larson opened for McCartney during his Beautiful Soul Tour, singing in malls across America. So, yeah, you can call Brie Larson a professional actress and singer.
After learning of Larson's musical background, hearing her dreamy voice, and listening to her instrumental chops, our fingers are crossed that the actress dives back into the world of music. At least by taking on acting roles that dip into singing, too. But in an ideal scenario, we'd take another Brie Larson album—if her past is any indication, it would probably be damn good.