Brie Larson's rainbow sandals are the official shoe of summer
It's still Pride Month, and it's officially summer, so move over unicorns — because rainbow everything is here to stay. The colorful and vivid motif is one we will never get enough of, whether it's incorporated into our style choices, accessories, or food. We'd like to eat our rainbows and wear them, too, especially when rainbows are represented in sandals à la Brie Larson. Her colorful slides may just be the shoe of summer.
If there's any season that basically requires bold and bright hues, it's summer. And since these sandals can be put on and taken off with minimal effort, they're the easy summer staple we need.
Brie's sandals are like the eccentric older sister of the classic Birkenstock, offering up the effortlessness of the style with a candy-colored twist. With four multicolor straps in green, yellow, orange, and red, these slides are sure to complement whatever you wear. For Brie, that means wearing a matching rainbow bag and a floral jumpsuit.
While these sandals would be easy to dress down or pair with an all-black look for an extra pop, they're also made to pair with other dazzling colors.
The cork sole sandals aren't only #aesthetic, they're also for a good cause. During Pride Month, portions of the proceeds of the rainbow slides go to The Trevor Project, a leading national organization which provides crisis intervention and suicide prevention services to LGBTQ+ youth. So if there's a time to buy these babes, it's now.
Charlotte Stone "Gloria" in Rainbow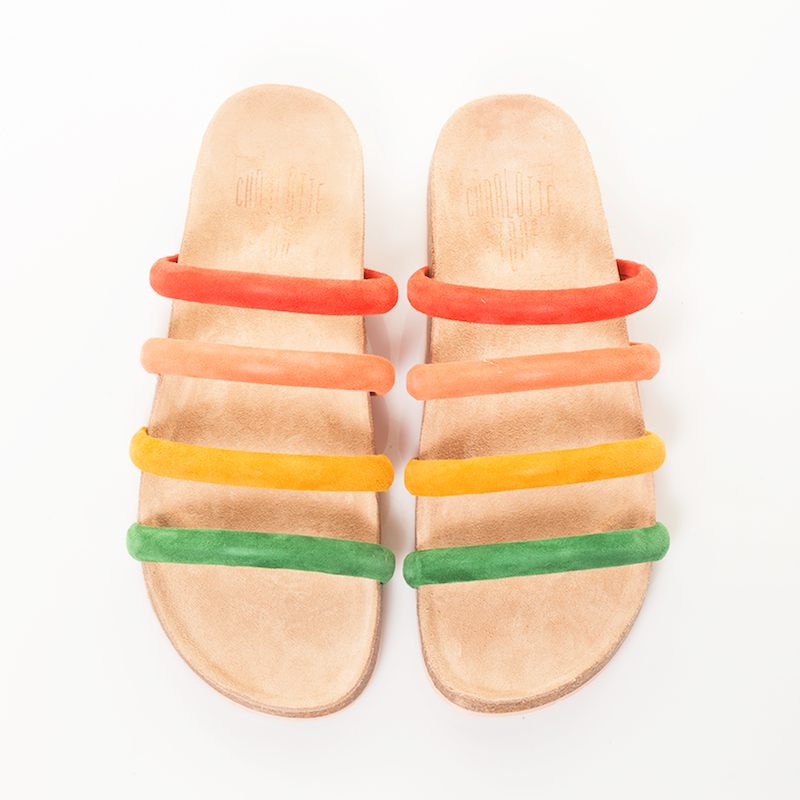 Buy here for $178. 
Taste the rainbow? More like wear the rainbow, thanks to Brie Larson.