Yes, please: Brie Larson is ​~probably~​ going to join the Marvel Cinematic Universe
Ever since Brie Larson came into our lives, we've wondered, "Is there anything this lady can't do?"
Turns out, the answer is "NO." There is nothing that Ms. Larson can't do, whether it be winning Oscars, reminding us of her pop career, or being the absolutely best with her BFF, Jacob Tremblay, she can do it all. And now she's, probably, going to be able to do it all, and add flying to her accomplishments, too.
According to Variety, the word on the Marvel Cinematic Universe street is that Larson is currently the frontrunner to play Captain Marvel in the upcoming movie of the same name. This is a BIG DEAL. It's a big deal because Larson is a BIG DEAL and we are HERE for this. It'll also be a big deal because Captain Marvel will mark the first stand-alone female-led Marvel movie.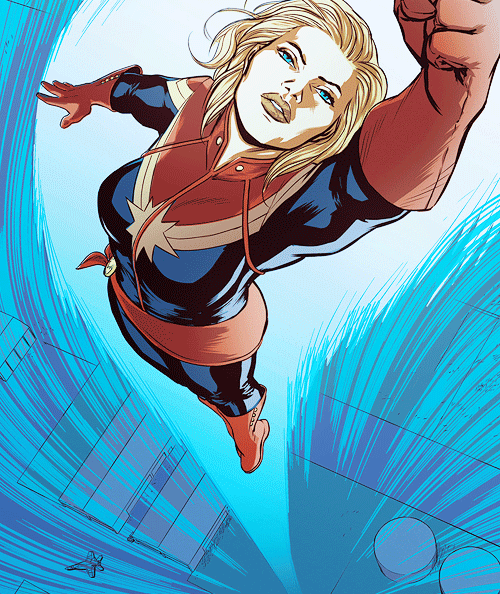 If you need a quick Captain Marvel refresher, she's an air force and NASA pilot who is involved in a nasty accident and gets fused with an alien (A Kree, if we're going to get specific). Soon, she's super strong, has the ability to fly, and can emit energy ~bursts~ from her hands.
Captain Marvel will be full of girl power, with Meg LeFauve (Inside Out) and Nicole Perlman (Guardians of the Galaxy) set to write it, with Marvel head honcho, Kevin Feige, producing.  No director has been set, but the movie is still roughly three years away from hitting theaters, so Marvel's got some time to iron that all out.
There's also plenty of time to get Captain Marvel into any number of the other Marvel movies coming out between now and 2019, like Thor: Ragnarok, Black Panther, Avengers: Infinity War — Part 1, or even Ant Man and the Wasp. All of those are set to bow before Captain Marvel's release date of… March 8th, 2019.
SO FAR AWAY. We'll get through this together.