The first photos of Brie Larson wearing the iconic Captain Marvel suit are here, and she looks fierce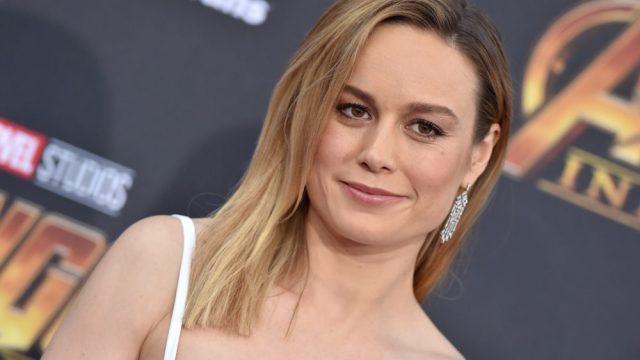 Ever since Marvel Studios announced that Brie Larson would be taking up the Captain Marvel mantle in the studio's first-ever female-led superhero film, we've been counting down the days until March 2019. Larson's superhero debut is still months away, but now, she's officially been photographed in the iconicred, blue, and gold Captain Marvel suit. And the pictures do not disappoint.
Larson appears on the cover of the September 7th issue of Entertainment Weekly, looking fearless as part-Kree, part-human former Air Force pilot Carol Danvers. It's the first time we've seen Larson in the tri-colored Captain Marvel suit; in January, we got our first look at Larson in character, but the photos snapped on set featured her wearing a green and black Kree uniform.
Larson also talked with EW to share some insight about Danvers' personality.
"She can't help but be herself, Larson said in the interview. "She can be aggressive, and she can have a temper, and she can be a little invasive and in your face. She's also quick to jump to things, which makes her amazing in battle because she's the first one out there and doesn't always wait for orders. But the [not] waiting for orders is, to some, a character flaw."
We already know that Captain Marvel will be set in the '90s and that it will focus on an inter-species space war between the Kree and the shape-shifting Skrulls. Due to the earlier timeline, we'll get to see several familiar faces, including the Kree zealot Ronan (Lee Pace), Agent Phil Coulson (Clark Gregg), and Agent Nick Fury (Samuel L. Jackson). And regardless of what happens in this '90s timeline, we already saw Captain Marvel herself get summoned at the end of Avengers: Infinity War, so we know she'll be back.
We can't wait to see Larson bring Captain Marvel to life on the big screen.