Brie Larson just shared the first picture of "Captain Marvel," and this superhero is ready for takeoff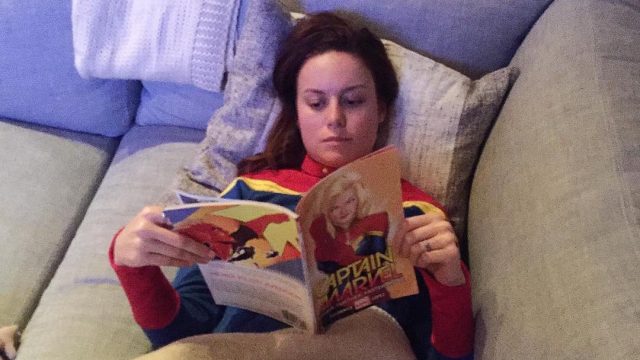 [bightcove videoid=5519659494001]
Finally, after what feels like 16 movies focused on boy heroes (lol, there have actually been 16 movies about boy heroes to date so far, not counting Black Panther which opens in three weeks), Marvel is finally giving us the stand-alone, lady-powered film we deserve: Captain Marvel.
Oscar winner Brie Larson has been tapped to play Captain Marvel — real name: Carol Danvers — in the upcoming movie, that seriously can't get here fast enough. Captain Marvel is slated for release in 2019, which is, yes, still an entire year away. She might show up sooner, in say a little indie movie called Avengers: Infinity War, but we'll just have to wait and see what happens in 100 days (it comes out in 100 days, FYI).
For now, though, we at least have a brand new, near-perfect FIRST look at Larson as Captain Marvel. Yes, you read that right — the first look at Captain Marvel. Larson is currently on the Nellis Air Force Base, in Nevada training for her role in the movie. Because, you know (and if you don't know, you've got two years to read up on Captain Marvel), Danvers is an Air Force pilot…and that's what leads her to acquire her superpowers, via a freak accident in space. Already, Captain Marvel is a pretty great movie. And oh yeah, Captain Marvel can FLY.
Larson has actually been on the base for the last few days, as images of her hanging out with members of the Air Force — along with getting up close and personal with PLANES — have started surfacing on Instagram.
While this is certainly the most exciting thing that will happen in the Marvel Universe today, Captain Marvel is still so far away. The movie's slated for release March 8th, 2019 — and between right now and then, we have Black Panther, Infinity War, and Ant-Man and the Wasp to hold us over. Now just waiting on you, Brie.