The first photos of Brie Larson as Captain Marvel make us wish all superheroes were women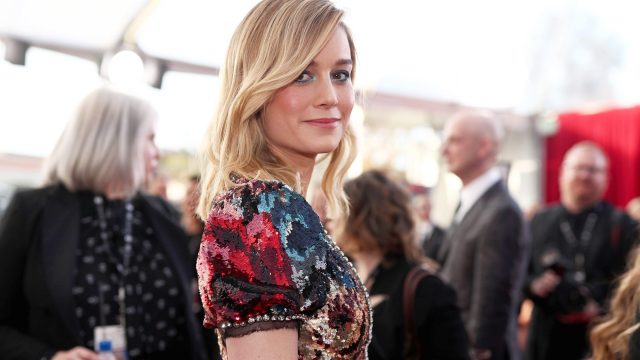 We know we just started 2018, but can we fast-forward to 2019 already? That's when Marvel (finally!) debuts its first woman-superhero standalone movie, Captain Marvel. Starring Oscar winner and feminist badass Brie Larson as the titular supershero, the movie may prove to be the most marvelous (get it?) installment of the Marvel Cinematic Universe to date.
And considering we will have sat through 20 male-led Marvel flicks — *yawn* — by the time Larson's turn hits theaters, can you really blame us for being more than a little impatient?
GREAT news! The wait is over! Well, sort of. The movie might not be here yet, but we got a little something to hold us over until then. The first photos of Brie Larson in her Captain Marvel costume made the rounds on social media this week, and HELLS YES, WE ARE SO PUMPED! Seeing Larson clad in head-to-toe green and black armor makes us wish all superheroes were women. Because, hello? They ARE!
Think we're being dramatic? We don't care. Admit it: Wonder Woman was the movie we all needed last year. And with details of Wonder Woman 2 under wraps until at least until early next year, we want…no. We need this.
Captain Marvel to the rescue!
The on-set image, which appears to have been snapped in between filming scenes, stirred up lots of feelings on social media for more reasons than one. According to readers of the original comic book series, the costume's color scheme does not match Captain Marvel's iconic red, blue, and gold suit — but there's a reason for that, as this is Captain Marvel's *Kree* suit. It's a long story, and clearly, the movie is going there. 
Either way, WE CAN'T FREAKIN' WAIT!
https://twitter.com/udfredirect/status/956607051198861312
Oh, will March 2019 ever get here?