I went to Brie Larson's all women-curated film festival, and it was amazing!
I love living in Los Angeles, mostly because of the movie events. Since moving to Los Angeles four years ago, the Cinefamily Theatre has become a regular hot spot for me. Turns out I'm not the only one!
Brie Larson, aka last year's Best Actress Oscar winner, has always been a fan of Cinefamily. Together, she and Alia Penner, who was already part of the theater, began a subgroup called "Women of Cinefamily." Along with clothing brand, BB Dakota, they aimed to make a film festival curated by women. This last weekend, their dreams were brought to fruition.
The four day festival featured panels, concerts, classic movie screenings, and new indie film screenings. It was truly a magical experience, and the films were one-hundred percent curated by women. 
On Friday night, Brie Larson kicked off the weekend by introducing a documentary called The Hunting Ground. The film highlighted an issue Brie is passionate about: rape on college campuses. On the opposite end of the spectrum, Saturday night screenings included Ladies and Gentlemen, The Fabulous Stains, an obscure 80's film starring a young Diane Lane, which was followed by a live Sky Ferreira concert.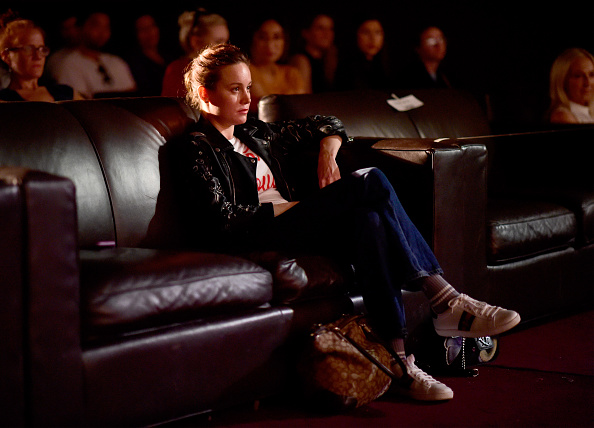 I was lucky enough to attend Saturday's panel!
It featured Rowan Blanchard (from Girl Meets World), Alexi Wasser, (a writer and podcaster), Caroline Goldfarb, (aka @officialseanpenn, an Instagram influencer and podcaster), and Lina Esco, (an actress, filmmaker, activist and founder of the Free the Nipple movement).  Later, I personally spoke to Wasser and Parenthood star Sarah Ramos, whose short film was screened at the festival.
The panel sought to determine social media's role in feminism and the film industry in general. All four women brought intelligence and levity to the discussion. They spoke a lot about being able to reveal themselves through social media.
Alexi Wasser made a special point to say that she had really found herself through her blog and podcast — allowing her to communicate with her audience so directly. I later spoke with Alexi about this online connection, and she told me, "You're speaking directly to your audience and you don't have someone telling you what to be or what to do. You present yourself the way you want to be presented."
The panel spent a lot of time discussing the evolution of the selfie. During the show and tell portion of the panel, Rowan Blanchard, who — I'll remind you — is only fourteen, highlighted late 19th and early 20th century art, illustrating that the selfie is not a new invention.
Blanchard said selfies were not a cry for attention — but that selfies allow young people to present themselves the way they want to be seen, creating a new form of self-expression.
The panelists also touched on issues they've faced as women working in film.
In our interview, Alexi told me, "Primarily, in rooms in Hollywood, you're mainly surrounded by men. They say they love you and your voice. And then the minute you say, 'Here's what I've come up with,' there's a lot of 'Calm down!' and just general misogyny." During the panel, Lina Esco recalled being told by fellow industry artists that she was crazy for wanting to make her documentary about the Free the Nipple movement.
https://www.youtube.com/watch?v=rMYip1_8GTI?feature=oembed
In addition to the lovely panel, the audience was treated to two short films, one directed by Wasser, entitled Love, Alexi, and one directed by Parenthood star Sarah Ramos, entitled Fluffy.
Wasser's film was inspired by a recent breakup. She wanted the piece to express that sometimes, in that heightened emotional state, you're not really mourning the relationship with the other person — you're using the pain of the breakup as a distraction from living your life and focusing on your desired accomplishments.
Love, Alexi is moody, funny, and real. It's truly a feat when a director can make you want to laugh and cry at the same time. It was deeply personal, even featuring a real voice message she almost sent to her ex. Alexi told me, "I wanted to make something vulnerable and raw, revealing private behavior, things people don't usually show; but it must be funny… I like awkward moments and living in the silence. That's what I hoped to accomplish…" 
Ramos's film tackled a similar theme about romantic obsession, but somewhat more humorously. Based on a short story by Ingrid Nelson, the film follows Ramos, a girl obsessed with a guy, to the point that she's ecstatic when she's asked to look after his cat for the weekend. I later spoke to Ramos, who told me, "I hope it makes people laugh and also feel a little sad because they relate to these embarrassing feelings we usually keep hidden." Fluffy is funny and true, and proves great things about Ramos, who plans to direct a feature in the future!
This was Wasser's first time directing a film, and Ramos' second (She co- wrote and co-directed a short film, The Arm, which won a jury prize at Sundance 2012.) Ramos told me, "It felt too dangerous — and like a hassle — to give a script that I'd worked so hard to make specific, to someone else who would change it and make it their own. What if they added jokes I didn't think were funny? Then it became an exciting challenge that made me want to say, "I think can do this well, so why shouldn't I try?" 
As an audience member at the festival, I really walked away understanding the importance of women supporting women, especially in the film industry.
The weekend took on such an open, communal atmosphere, where anyone's opinion was valid. It was inspiring to see so many talented and intelligent women gather together to share their love of film and celebrate their unique perspectives on the world.
Contrary to popular belief, women were a big part of the early film industry. Filmmakers such as Lois Weber and Frances Marion were major figures in early Hollywood. Somewhere along the way, there was a shift and the men took over, telling the majority of the stories. This festival is a reminder that the female perspective is alive and well, always and forever!