Channel Your Inner Duchess This Summer in 17 Bridgerton-Inspired Dresses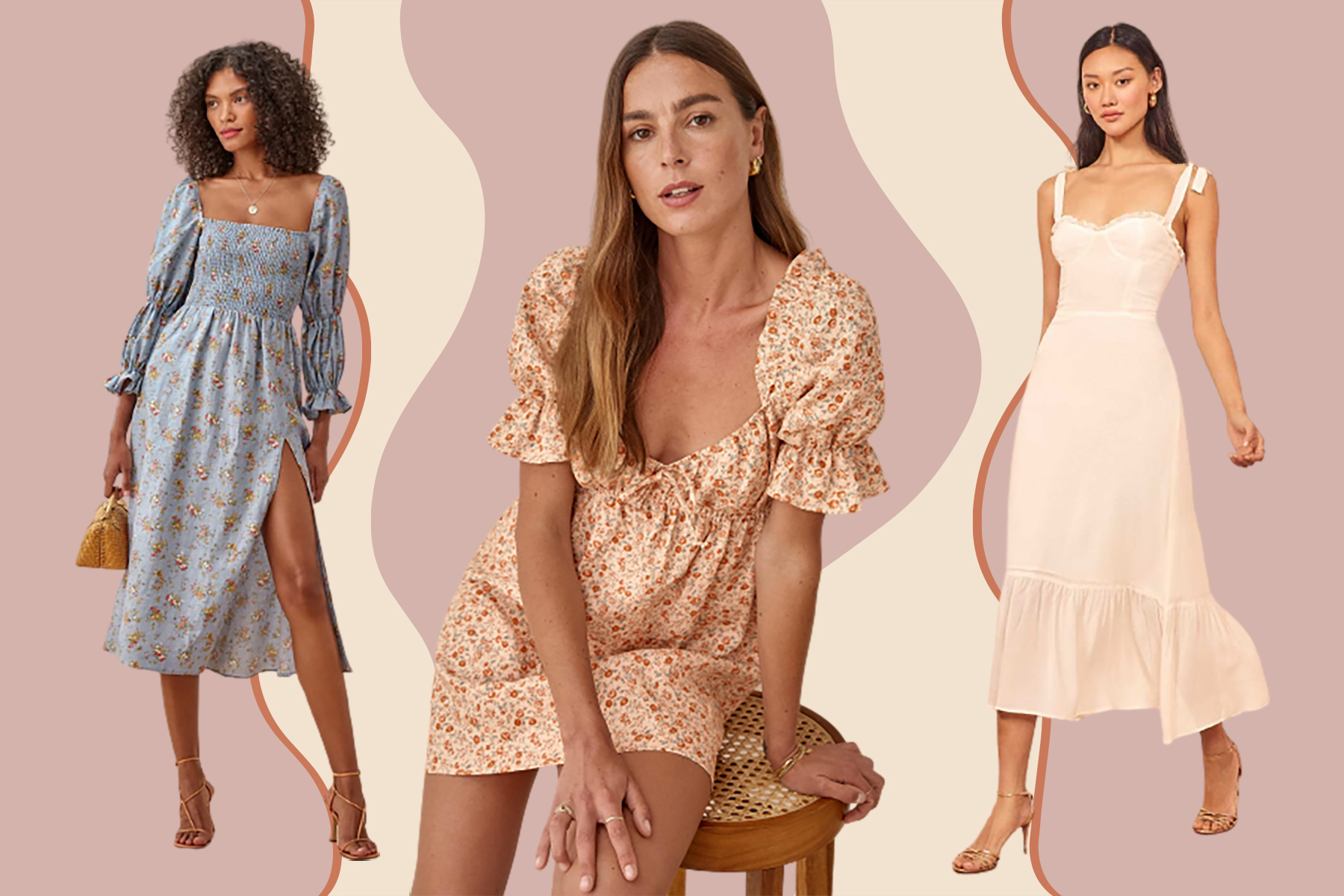 When Netflix dropped the Regency-era drama Bridgerton, the internet was instantly abuzz about the lovely scenery, juicy gossip, sexy scenes (swoon), and the gorgeous costumes. Sparkly tiaras, silk gloves, and elaborately embroidered gowns captivated viewers, and now, consequently, we're all trying to dress like Daphne Bridgerton herself—with a modern twist, of course.
With elements similar to cottagecore, Bridgerton dresses—or Regencycore fashion, as the styles have been dubbed—are all about puff sleeves, dainty floral prints, and tiered skirts. However, Bridgerton dresses also feature over-the-top details like corsets, lace sleeves, and beads—aka, all the romantic vibes one can imagine, dear reader.
This summer, we're eager to ditch our tie-dye lounge sets and slip into something fancier for days spent frolicking and flirting mask-free (after getting vaccinated, obvi.) What better way to embrace a summer filled with romance than by adding Bridgerton-inspired dresses into our weekly wardrobe? We can't think of anything more fitting for summer 2021.
Below, shop 17 Bridgerton dresses, and prepare to twirl your way through sunny days and dreamy nights this summer.
1. Gen Z green dream:
Not only would this cheeky mini dress fit in perfectly with the Bridgerton's color palette inside their grand home, but we can envision it everywhere from the park to cafes to romantic dinners this summer.
2. Double puffs:
With a smocked bodice, double puff sleeves, and a whimsical floral print, this midi dress is so Bridgerton. It's even in Daphne's signature color: pale blue. Plus, the thigh-high slit adds a dash of sexiness that would send Lady Whistledown into a frenzy.
3. For a sweetheart:
A criss-crossed waist on this crisp white midi dress gives way to a busty neckline that the season's diamond would totally wear to show off her serious cleavage. We can see ourselves wearing this Bridgerton dress to brunch, date night, and everything in between.
4. Flirty off-the-shoulder:
Eloise Bridgerton, is that you? We're loving this off-the-shoulder mini dress in sage green, aka the color of the ambitious, curious middle Bridgerton daughter.
5. Flower power:
Dare we say we're as in love with this floral print as we are with the Duke of Hastings? Okay, maybe this dress doesn't make us drool quite as much as Simon does, but the ruffled neckline and back cutout are giving the Duke a run for his money.
6. Flirty straps:
Everyone needs a corset dupe these days, and this Reformation dress fits the bill perfectly. Plus, the bow-tie straps and trumpet skirt make this midi dress ultra romantic. Choose between eleven dreamy prints and colors in this head-turner.
7. Lady lavender:
These sleeves are next level, and we're here for it. Plus, the A-line skirt and buttoned bodice make for a romantic, flattering fit. We can already see ourselves twirling around on date nights this summer in this little number.
8. Strapless summer:
We love a strapless moment, and this breezy maxi dress is serving all the carefree, romantic vibes we're looking for this summer.
9. Beige beau:
We can totally see Daphne playing piano and Eloise writing in her diary at home in this casual Bridgerton dress. (That is, if it were a longer length. But hey—what's the harm in a bit of scandal, dear reader?)
10. Ruffle party:
When it comes to Bridgerton-inspired dresses, no amount of ruffles is too many—and this flirty number from Amazon is exhibit A.
11. Form-fitting:
The sweetheart neckline and whimsical floral print on this dress whisper "elegance" while the the ruched drawstring sides and leggy length scream "sensuality." What could be a better combination?
12. Spaghetti straps:
Everything about this dress has us sold: the tie straps, ruffled neckline and hem, and smocked back bodice. Oh, and the lovely print? Yeah, we'll take this in every color.
13. Comfy 'fit:
Casual, affordable, and flattering—this dress has everything we're looking for in a go-to summer look.
14. Sexy silk:
Can you say sultry? No fabric oozes sex appeal like silk, and this maxi slip dress is 100% silk (aka 100% seductive). Add in the ruffled neckline and you'll be turning heads left and right.
15. Pretty in pink:
Feel pretty in pink in this casual mini that can be dressed up or down easily. Pair it with sneakers for daytime adventures and strappy heels for a night out on the town.
16. Romantic details:
We're suckers for a button trail, especially when it subtly blends into a pretty print like this one. Plus, a bow neckline and puff sleeves? Bury us in this dress, please.
17. Smocked midi:
Before Bridgerton took the internet by storm, one might have called this midi dress "grandma chic," but now, it's simply Regencycore at its finest. Ruffled sleeves and a smocked bodice make this Bridgerton dress super flattering.