Brett Kavanaugh implied he didn't assault anyone because he was a virgin at the time, and, um, what?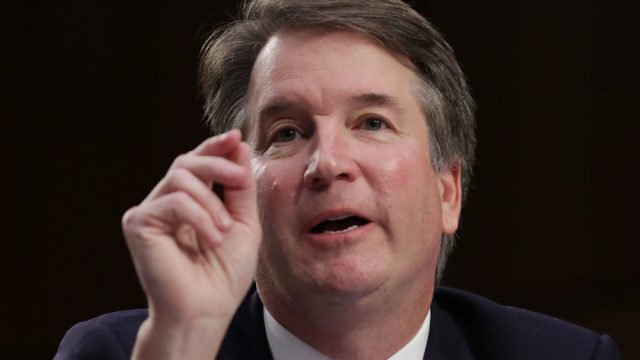 As more women come forward with sexual assault allegations against Supreme Court nominee Brett Kavanaugh, he and his supporters have continually pushed back. Allies of the former judge have repeatedly cast doubt on the narratives told by Christine Blasey Ford and Deborah Ramirez, arguing that since other women say Kavanaugh was always respectful, he must be innocent. And in another attempt to defend himself, Kavanaugh implied that he couldn't have assaulted anyone because he was a "virgin."
Kavanaugh appeared alongside his wife on Fox News last night, September 24th, for an interview with anchor Martha McCallum, in which he pleaded for a "fair process." CNN's Stephen Collinson called the 20-minute, televised interview "unprecedented in the history of the Supreme Court nomination process."
"I never sexually assaulted anyone," he told McCallum. "I did not have sexual intercourse or anything close to sexual intercourse in high school or for many years thereafter. And the girls from the schools I went to and I were friends."
https://www.youtube.com/watch?v=gxEGNt5EwGo?feature=oembed
Kavanaugh's "defense" came in response to a question from McCallum about accusations that he was involved in gang rapes while in high school. According to Vox.com, attorney Michael Avenatti first brought forward these allegations in a series of September 23rd tweets (Avenatti has since made his Twitter account private).
However, it's important to note that neither allegation, from Ford or Ramirez, involves penetration. Ford has claimed that Kavanaugh held her down, groped her, and attempted to remove her clothes before she managed to escape, while Ramirez told The New Yorker that Kavanaugh shoved his penis in her face. Furthermore—and much more importantly—sexual assault does not have to entail penetration to be considered assault. Kavanaugh's logic shows a gross and downright scary misconception of sexual misconduct.
But as some pointed out, Kavanaugh's claims of chastity may play well with his conservative supporters.
To reiterate: Kavanaugh's latest defense does not prove his innocence. Ford, Ramirez, and other accusers who might come forward deserve an investigation and a fair hearing, regardless of whether Kavanaugh was a virgin in high school and college. We'll be watching for updates as this story unfolds, and in the meantime, we will continue to stand by survivors of sexual harassment and assault.