Another woman has accused Brett Kavanaugh of sexual assault—here are the details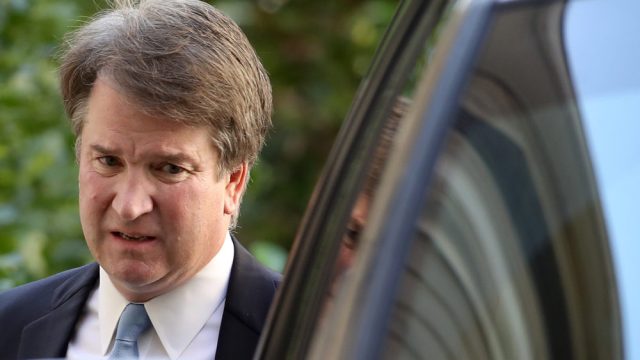 In July, then-anonymous professor and research psychologist Christine Blasey Ford accused Supreme Court nominee Brett Kavanaugh of attempted rape via a letter to her representative. And now, two more women have come forward with accusations against Kavanaugh.
Yesterday, September 23rd, The New Yorker's Jane Mayer and Ronan Farrowreported that 53-year-old Deborah Ramirez claimed that Kavanaugh stuck his penis in her face while she was inebriated during a dorm room party at Yale University when they were both freshmen. She recalled she was lying on the floor, attempting to push the body part away from her as boys around her laughed and told her to "kiss it."
"Brett was laughing, she recalled. "I can still see his face, and his hips coming forward, like when you pull up your pants. Somebody yelled down the hall, 'Brett Kavanaugh just put his penis in Debbie's face.' It was his full name. I don't think it was just 'Brett.' And I remember hearing and being mortified that this was out there.
The New Yorker notes that during his confirmation hearing before the Senate Judiciary Committee, Kavanaugh swore under oath that he had not committed any sexual harassment or assault as a legal adult (he would have been 18 years old at the time of this incident). While at Yale, Kavanaugh was also reportedly a member of an all-male secret society nicknamed "Tit and Clit."
Kavanaugh, who has denied Ford's initial allegations against him, also dismissed Ramirez's claims in a statement to The New Yorker: 
"This alleged event from 35 years ago did not happen," his statement read. "The people who knew me then know that this did not happen, and have said so. This is a smear, plain and simple. I look forward to testifying on Thursday about the truth, and defending my good name—and the reputation for character and integrity I have spent a lifetime building—against these last-minute allegations."
On the September 24th episode of Good Morning America, Farrow noted that other Yale classmates had found Ramirez's claim credible, and he and Mayer had originally contacted Ramirez because Senate Democrats had independently heard of the alleged incident.
After Ramirez's allegations went public, attorney Michael Avenatti tweeted that he was representing a separate client "with credible information" about Kavanaugh and the friend who reportedly assisted in his attempt to assault Ford.
It's unclear what Avenatti's client knows, but the New York Daily News reports that Avenatti referred to gang rapes in an email to Mike Davis, chief counsel for nominations for the Senate Judiciary Committee. Avenatti himself tweeted an email to Davis that suggested allegations of gang rape, writing in the same email that his client had been "victimized" by Kavanaugh.
According to CNN, both Ford and Kavanaugh will testify about the allegations at a hearing before the Senate Judiciary Committee on September 27th. Until then, further details about Ford and Ramirez's allegations are likely to emerge. In the meantime, we stand with Ramirez, Ford, and all those who have experienced sexual assault, harassment, or abuse.