Apparently Brett Kavanaugh liked his female clerks to have a "certain look"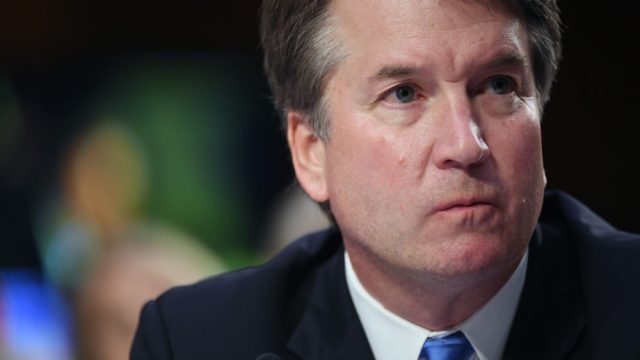 On September 24th, the Senate Judiciary Committee will hold a hearing about sexual assault allegations brought against Supreme Court nominee Brett Kavanaugh by professor and research psychologist Christine Blasey Ford. And now, more unsavory details about Kavanaugh have emerged, with one Yale Law student saying she heard the former judge liked female clerks to have a "certain look."
The woman, who wished to remain anonymous, told HuffPost that she received this advice a few years ago from Yale Law School professors Jed Rubenfeld and Amy Chua (Chua is the author of the now-infamous Tiger Mom book). The woman said she was preparing to interview for clerkships with federal judges and had an interview with Kavanaugh's office. Rubenfeld emphasized that the judge would only hire women with a "certain look"—although he also said he hadn't heard of any other inappropriate behavior from the judge.
"I had mixed feelings," she told HuffPost. "On the one hand, it's a yellow flag; on the other hand, phew, I hadn't heard anything else."
In the same meeting, Rubenfeld also warned her that Judge Alex Kozinski of the U.S. 9th Circuit Court of Appeals often sexually harassed his clerks. (As The Washington Post pointed out, Kozinski resigned in 2017 over sexual harassment allegations, and Kavanaugh was once a clerk for him.) It was this context that tipped her off to Rubenfeld's meaning about Kavanaugh.
"He did not say what the 'certain look' was. I did not ask," the woman told HuffPost. "It was very clear to me that he was talking about physical appearance, because it was phrased as a warning―and because it came after the warning about Judge Kozinski."
false
Rubenfeld's comments about Kavanaugh were not an isolated incident. The Guardian reports that both Rubenfeld and Chua often gave similar advice to female law students, with Chua even advising women how they should dress for interviews with Kavanaugh. One anonymous source told The Guardian that she was so uncomfortable with this that she decided not to interview for a clerkship with the judge.
On one occasion in 2017, Chua reportedly told a group of students that it was "no accident" that Kavanaugh's clerks "looked like models (Chua, for the record, is a staunch Kavanaugh supporter and called him "a mentor to women" in a recent Wall Street Journal op-ed).
The Guardian notes that Rubenfeld is currently under investigation at Yale, partially for his behavior toward female law students.
It should go without saying, but no one should have to base their career decisions on the likelihood of sexual harassment, and no one should have to look like a "model" to get hired. But for these women—and for far too many others—this is a reality. It's also particularly egregious that both Chua and Rubenfeld (and likely countless others) not only knew about but were complicit in the sexist behavior of high-powered judges.
We need to call out misogyny whenever and wherever we see it, period, and we need to ensure that victims feel safe enough to come forward to speak their truths.