Regina King Wore a Breonna Taylor Shirt to the Emmys—and You Can Buy It Now
All profits will be donated to the Breonna Taylor Foundation.
Update, September 20th, 2020, 9:20 p.m. ET: Even without an official red carpet to walk, Regina King still made a powerful statement with her 2020 Emmys look. King wore a Breonna Taylor T-shirt underneath a hot pink blazer to attend the awards show from home.
The shirt, which reads "SAY HER NAME" and features an illustrated image of Taylor's face, is available on phenomenalwoman.us, and all profits from the sales will go to the Breonna Taylor Foundation. Taylor was killed by police while she was sleeping in her home in March, and the foundation was created by her mother, Tamika Palmer.
King, who just won Outstanding Lead Actress in a Limited Series for her role in Watchmen, has raised awareness for the foundation by wearing the shirt before. In August, she and several other celebrities posted pictures wearing the Breonna Taylor shirt to their Instagram feeds.
Original post, August 10th, 2020: It's now been 150 days since Breonna Taylor was killed, and she and her family have yet to receive full justice. Amid various social campaigns fighting to keep Taylor's name from being forgotten and for her killers to be held accountable, a new T-shirt was created to keep the momentum going.
The lifestyle brand Phenomenal partnered with the Breonna Taylor Foundation, which her mother, Tamika Palmer, established, to create a T-shirt that reads, "Arrest the cops who killed Breonna Taylor" in all caps. On the back of the shirt is an illustration of Taylor's face, done by Arlyn García with the brand Grasstaken, along with the words "SAY HER NAME." All profits from the shirts will go to the Breonna Taylor Foundation.
The T-shirt is part of a campaign launched by WNBA players, who have dedicated their season to remembering Taylor and others who have been lost to police brutality and racial violence. The T-shirts can be seen on various players as they warm up for games this year. Various celebrities have also been wearing the shirts and sharing photos on social media to shine more light on the campaign. Shop the T-shirt below to support Taylor's family and the continued fight for justice.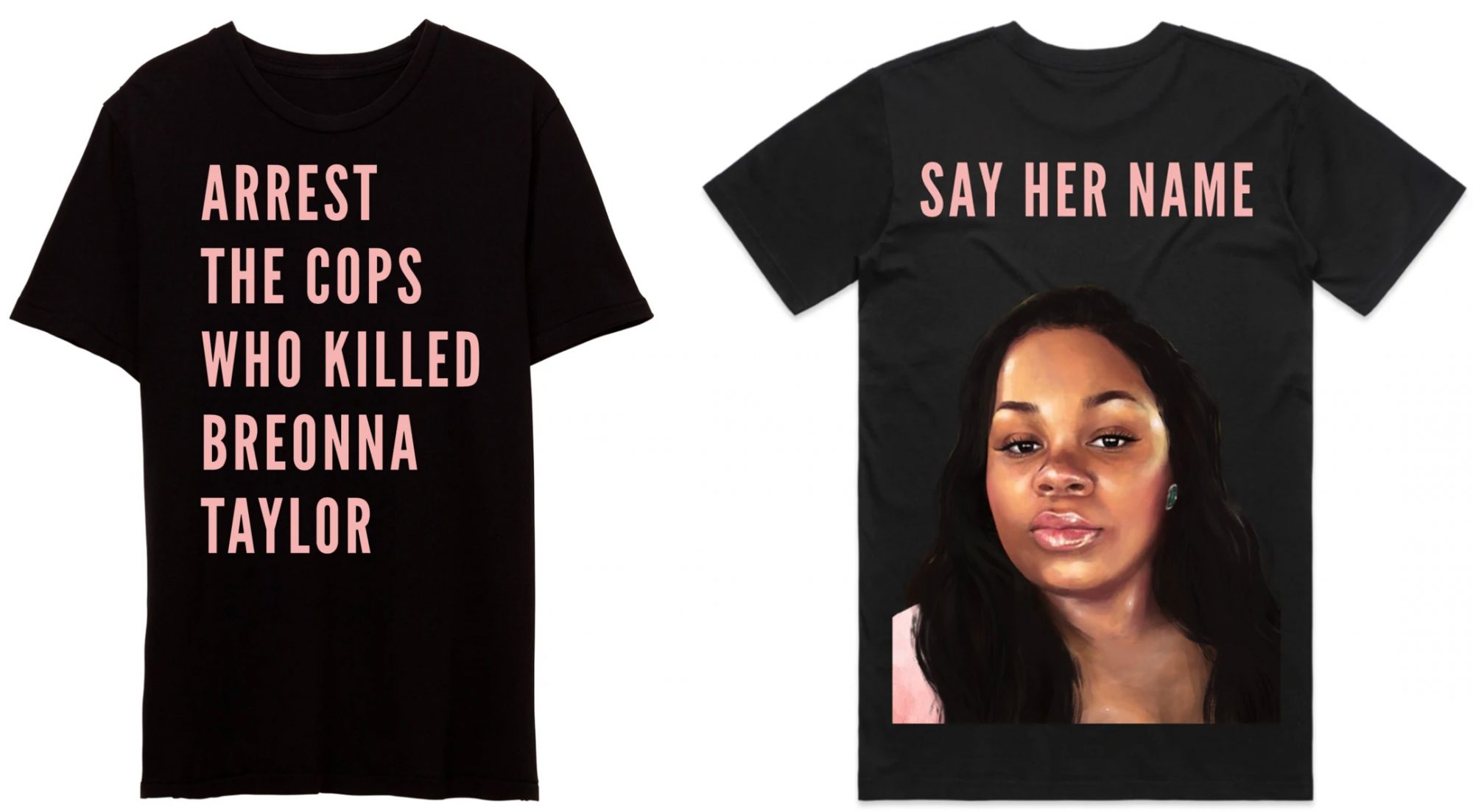 Shop it: Justice For Breonna Taylor T-Shirt, $45, phenomenalwoman.us
Scroll through to see what celebrities have been sporting the shirt to support the cause. Each celeb—including Jessica Alba, Diane Guerrero, Busy Phillips, Regina King, Niecy Nash, Olivia Wilde, and many, many more—shared the same message about seeking justice for Taylor's death, though many added a personal message to the caption.
"Today I explained this t shirt to my 3 yr old daughter. I didn't sugarcoat the tragedy of it," Wilde wrote in her caption. "She should know what kind of world she is here to reimagine. Her innocent horror and confusion should be all of ours."
Donate to the official GoFundMe page for Taylor's family and find more ways to demand justice here.