Betsy Brandt, aka Marie Schrader from Breaking Bad, said she still can't watch this one intense scene from the show, and we totally get it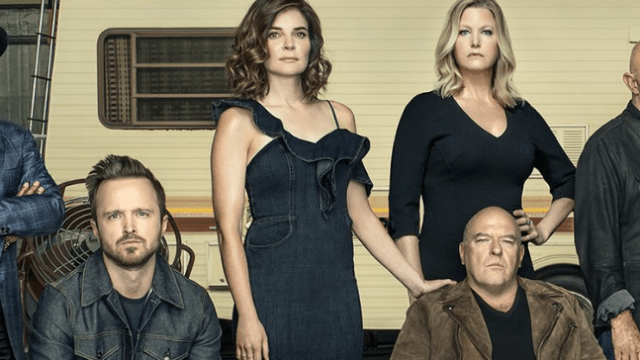 If you can believe it, it's been 10 years since Breaking Bad first hit the airwaves. To commemorate a decade since the birth of the greatest television drama that ever was, the cast and creator reunited for an interview with Entertainment Weekly. During the hour-long Breaking Bad reunion interview, one of the most shocking and emotional revelations is that Betsy Brandt (who played Marie Schrader) still refuses to watch the final season scene where her television husband, Hank (played by Dean Norris), is shot in the desert while Bryan Cranston's Walter White does nothing.
Brandt told The Hollywood Reporter in 2013 that she won't watch that scene, and now — five years later — the actress elaborated on why she can't bring herself to do it. Brandt at first told EW interview that she refused to read Hank's death scene when they sent her the script: "I said, 'If I don't read it, does that mean it won't happen?'"
Then, with tears in her eyes as she sat next to Norris, Brandt revealed why she still won't watch that traumatic moment in the series.
"I still have not seen that scene, because I…just can't…watch them drag you, Brandt said. "And I just can't…I just can't. And I get that it's pretend. It's not like I text like Marie all day and expect you guys to show up at my house wearing purple…It was so fun to be a part of that relationship, because they were, you know, flawed, maybe, but such good people — and to be part of the love. And I just thought, 'Hank should be in the world,' you know? The world is better off with some people in it, and he's one of them. Like, he should've been in it. And I still, I just — I can't watch it.
[tempo-video id="5802748000001″ account="219646971″]
You can also watch the entire hour-long Breaking Bad reunion interview at PeopleTV here.