8 breakfast bowl recipes that will wake you up without any caffeine at all
It's painfully easy to get into a "blah" breakfast routine, especially if you're just grabbing a granola bar from the pantry and heading out the door. But it's so important to eat a solid morning meal. The good news: There are plenty of breakfast bowl recipes that will blow your mind and give you an energizing, satisfying start to the day — no caffeine needed.
We know, we know. Coffee is your lifeblood, but these healthy breakfast bowls will have you reconsidering those daily Starbucks runs in no time. Plus, your breakfast will look so good, you'll definitely take the time to 'gram that meal and make all your pals jealous.
Get ready, because your breakfast bowl will now be the definition of #breakfastgoals, and it's a game changer for your mornings.
1Loaded Oatmeal Breakfast Bowl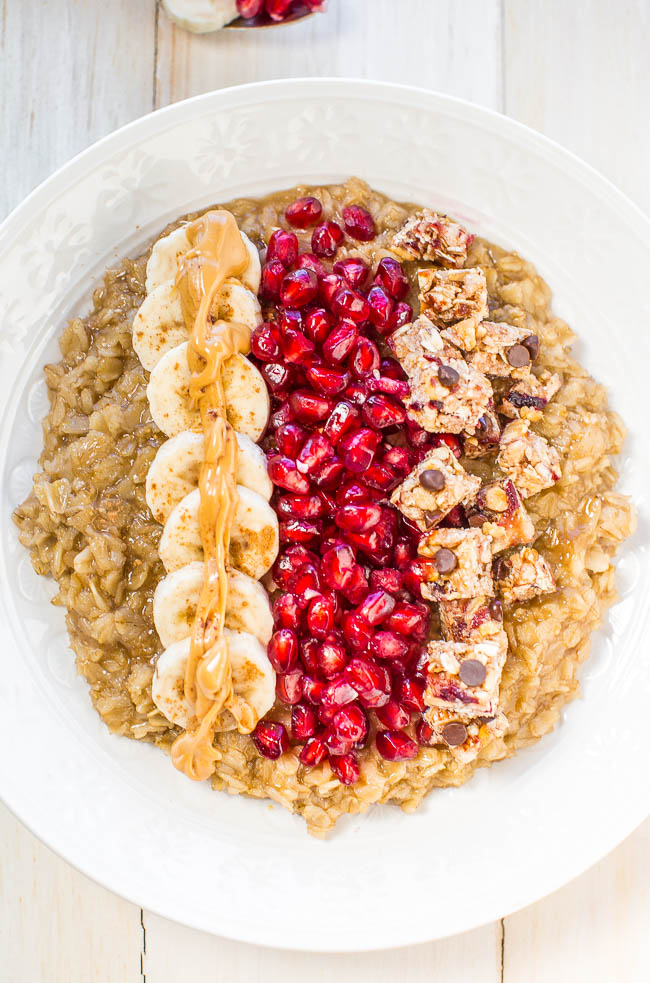 This gorgeous oatmeal breakfast bowl by Averie Cooks is the warm and decadent breakfast your body needs, and it's ready in 10 minutes, tops. With plain oatmeal as the base, you just add banana slices drizzled with melted peanut butter and a touch of cinnamon and/or brown sugar, fruit of your choice (it's pictured with pomegranate!), and a chopped up Quaker Chewy Granola Bar with chocolate and strawberries. Are you swooning yet?
2Breakfast Hash Bowl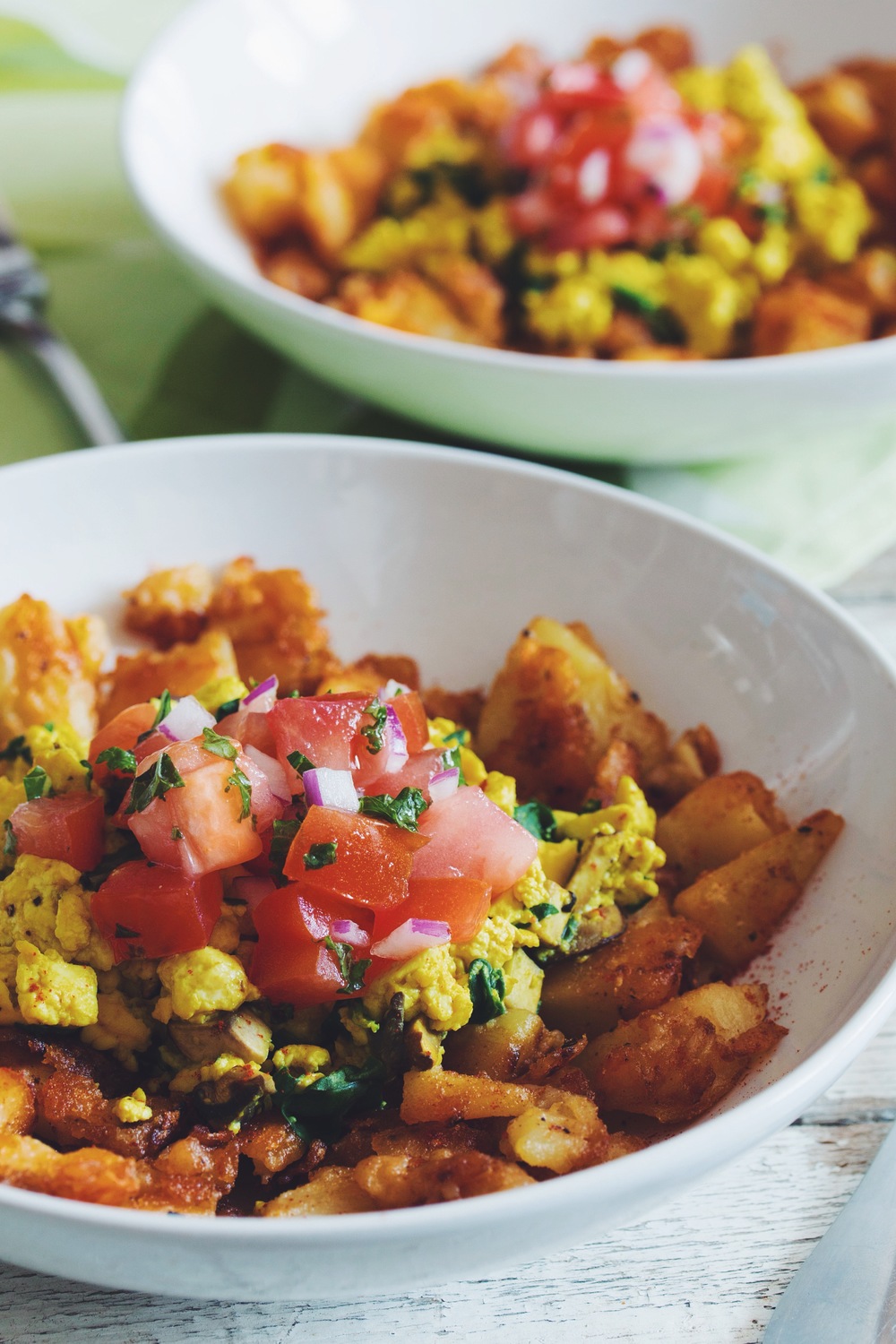 If what you crave in the morning is a greasy spoon diner breakfast, look no further than this breakfast hash bowl by Hot For Food. It's a homemade (read: much lighter!) take on a classic diner breakfast, and it's totally vegan-friendly, thanks to the tofu scramble instead of eggs and meats. If you prefer a savory (but still meatless!) breakfast over a sweet one, this is the breakfast bowl recipe for you.
3Acaí Coconut Bowl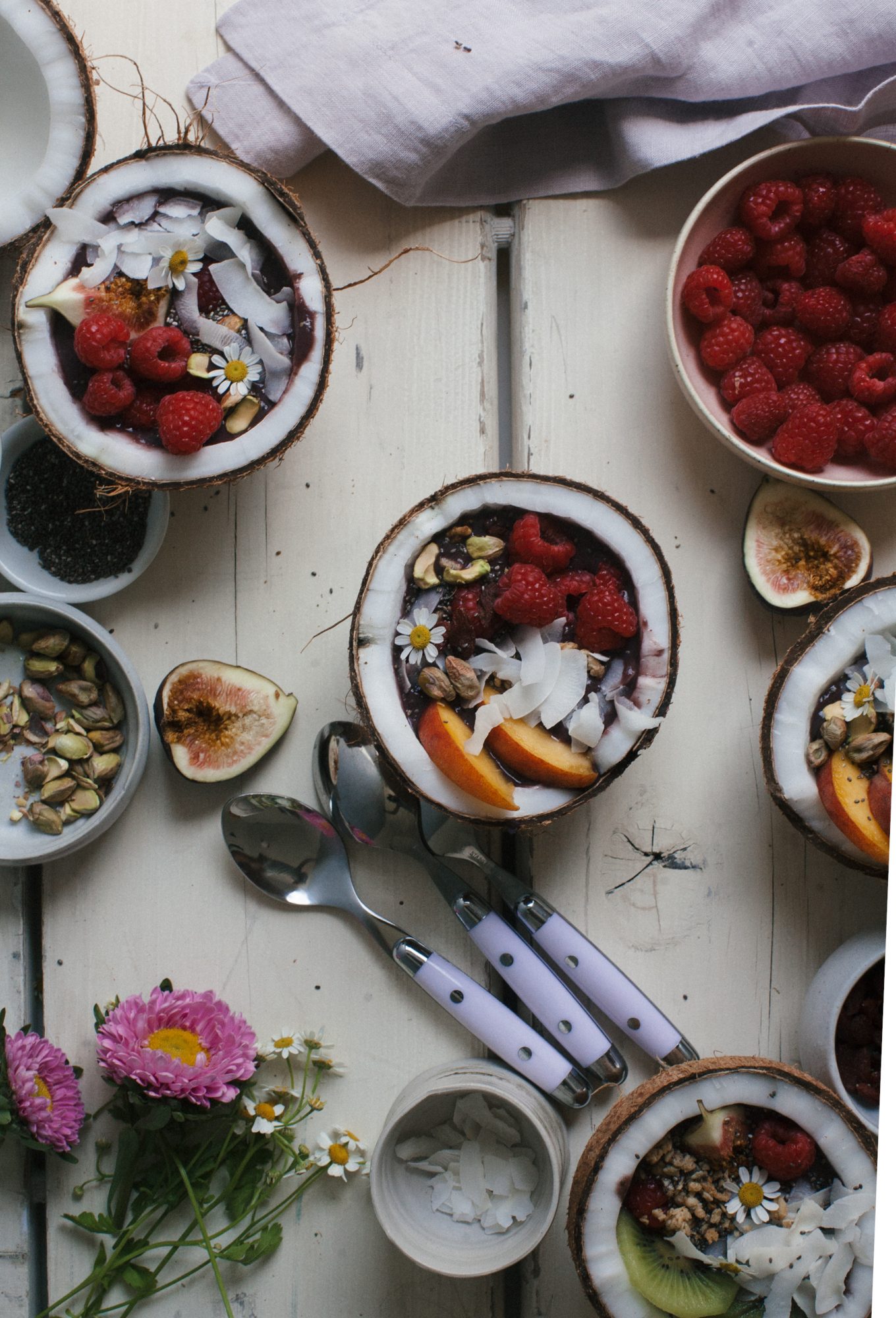 Acaí is definitely one of those buzzy ingredients that people can't get enough of, and with good reason…it's effing delicious. Plus, it's so good for you: Acaí berries contain antioxidants, fiber, and heart-healthy fats, providing you the nutrients you need to power through the day, no caffeine necessary. These acaí coconut bowls from A Cozy Kitchen are like a tropical dream, so you can feel like you're on vacation in paradise on a regular old weekday morning in your kitchen. You can wear your bikini if you want. Do you, dude.
4Savory Winter Breakfast Bowl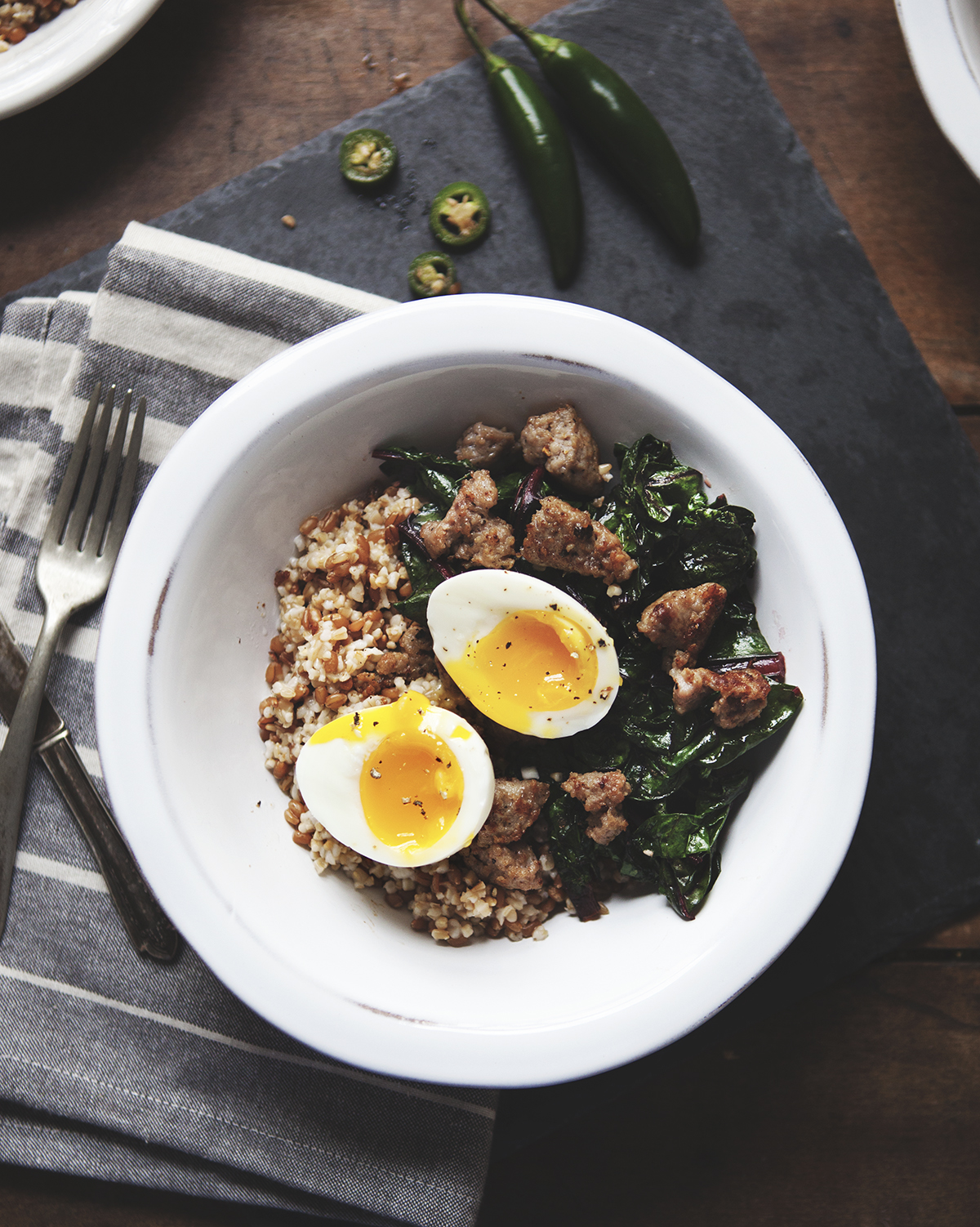 We hate to break it to you, but we must: Winter is coming, which means you might want to switch up your breakfast game a bit by opting for heartier, more filling fare. Enter this savory winter breakfast bowl by A Better Happier St. Sebastian, which provides so much flavor and unique texture, you'll probably want to eat it for lunch too. Steel cut oats paired with breakfast sausage, hard-boiled eggs, Swiss chard, and Serrano peppers for a spicy kick make this the comfort food your body needs for those bleak, dreary winter days when you (unfortunately) must go outside and face the world.
5Apple Cinnamon Quinoa Breakfast Bowl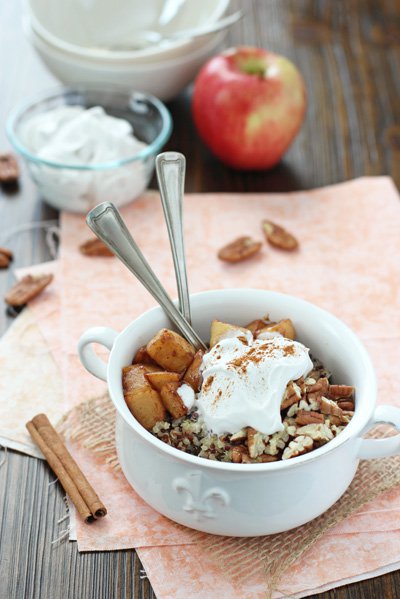 But before we jump right into winter, let's enjoy the comforts of fall with this apple cinnamon quinoa breakfast bowl by Cook Nourish Bliss. It's the perfect breakfast for those early chilly fall mornings, and it'll provide all the nourishment you need thanks to the quinoa as a base. Plus, the hint of sweetness from the apples, coconut sugar, coconut milk, and cinnamon will keep you going no matter what the day brings, so you won't be going to grab that second latte before noon even hits. Genius.
6Hummus Breakfast Bowl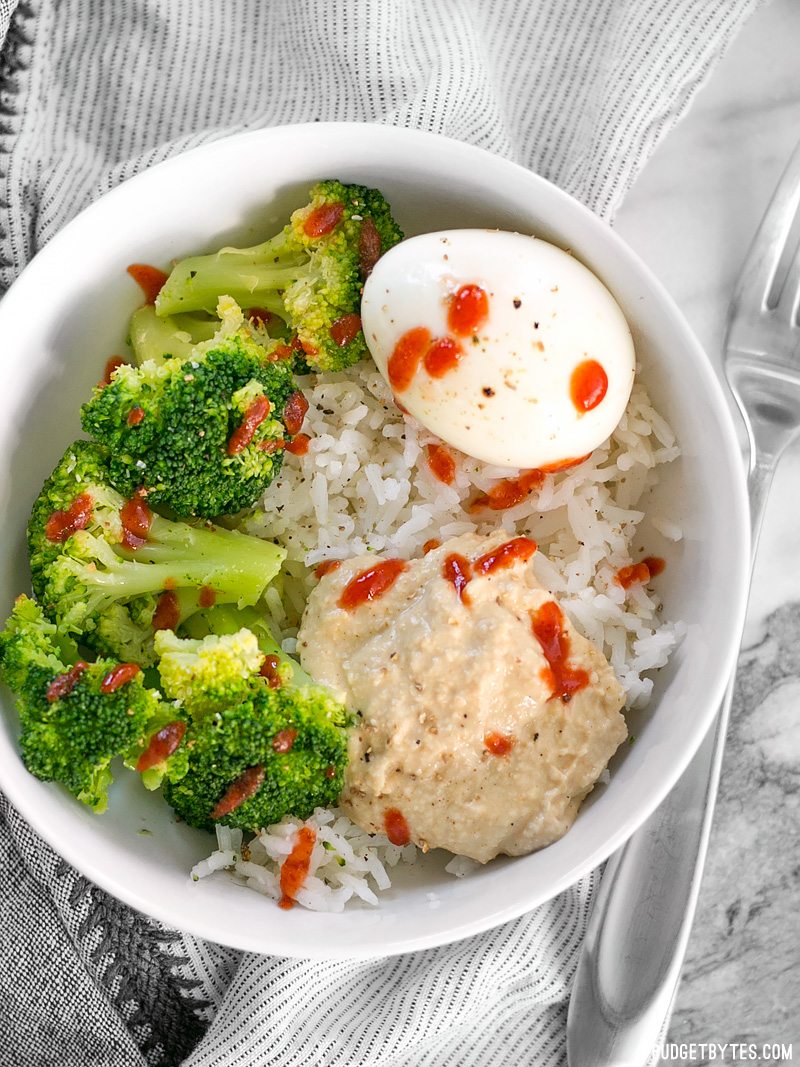 Good news: Your favorite game-day snack just got elevated to the most important meal of the day thanks to these hummus breakfast bowls by Budget Bytes. They're the easiest (and tastiest) way to get all your veggies in before you've even begun your morning commute, plus the fiber and protein from the rice and soft-boiled egg will make you feel like you can tackle anything (yes, even your overly cheerful cubemate and the guy next to you on the train who insists on taking over your entire seat). We all need that in the mornings, right?
7Spiced Apple and Pear Winter Smoothie Bowl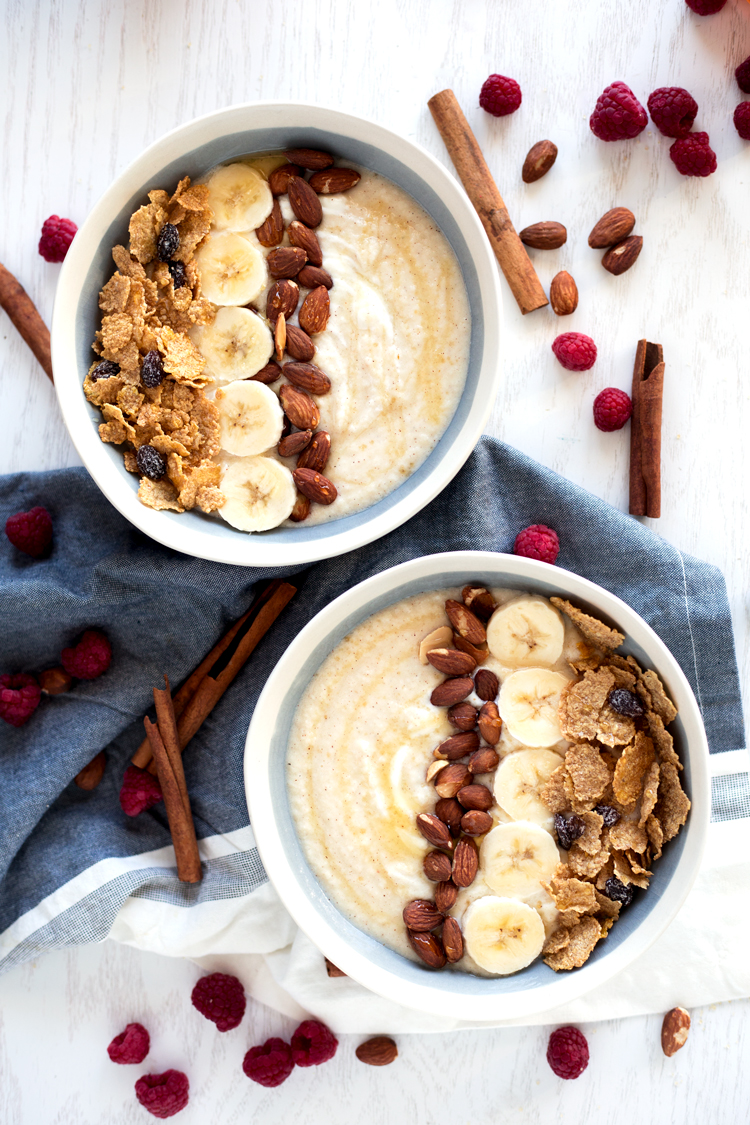 This Insta-worthy spiced apple and pear winter smoothie bowl by A Simple Pantry doesn't just look incredible — it tastes so good, you'll be giving thanks to your food processor. And you can whip it up in 5 minutes, simply by dicing up your apples, bananas, and pears and throwing them in with some vanilla Greek yogurt and a hint of cinnamon. Then, you top it all with some almonds, Raisin Bran, and a drizzle of honey, and you've got the most bangin' breakfast ever made.
8Tex-Mex Breakfast Bowl
This Tex-Mex breakfast bowl recipe from Cookie and Kate takes a little bit of prep, so it's perfect for a lazy Sunday morning spent in the kitchen in your pajamas. But fear not: It's so good, you'll never be clamoring for a sad, greasy take-out burrito ever again. This bowl will keep you happy and well-fueled all damn morning.