This honest mom posted a photo of her "breastfeeding reality"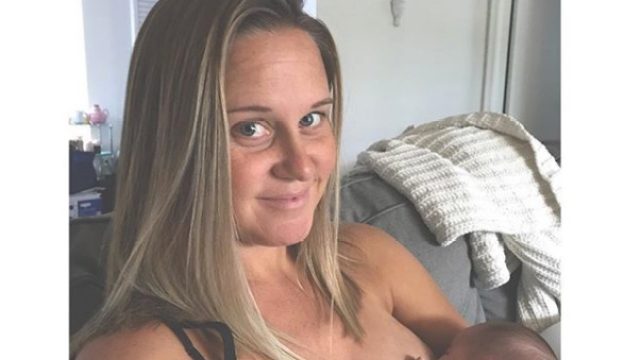 August is National Breastfeeding Month, and mamas everywhere have been posting heart-stoppingly sweet nursing photos across social media. Based on the loving images, it's easy to assume breastfeeding is always a joyous bonding experience between mother and child. But one mom's selfie shows a different breastfeeding reality.
Brave mom and photographer, Angela Burzo, took to Instagram to share a really raw, really honest breastfeeding moment.
We often hear and see how beautiful breastfeeding your young one can be, but we don't hear enough about the breastfeeding challenges and struggles faced by so many new moms. However Angela's honest selfie might be sparking change. The emotional photo shows Angela nursing her newborn daughter, Aylee, with a pained expression and tears streaming down her face.
"This is my reality right now," she wrote.
"This is real & as much as I want to stay strong and be the soldier I feel I can be I cannot hide the struggle that is BREASTFEEDING. Whether she is not latching on properly, whether I am not producing enough milk to keep up with her demand, whether my nipples might not be adequate, whether we confused her with having to give her a bottle after pumping…whatever it may be it has been an emotional & painful struggle."
Her post has received more than 4,000 likes and hundreds of comments so far.
"You're not alone! Breastfeeding is different for each baby. I used to cry whenever I tried to breastfeeding my son. My son couldn't latch on, so he bit me so hard instead. I used to cried not only because of the pain but mostly disappointed in myself!!" wrote one mom.
Another chimed in with, "Never feel like you are failing, never feel guilty for using a bottle, never feel that you are alone. You are amazing, and you've got this."
While breastfeeding is beautiful and natural and all these other wonderful things, it's also hard! If there's one thing Angela's post reminds us, it's that motherhood isn't perfectly imperfect and there's no one right way to do it. Sometimes acknowledging the difficult parts is hugely necessary to keep our sanity.
Our favorite part of this whole situation is that SO many moms have rallied around Angela — clearly her pic struck a cord. Thanks for your honesty, lady!