This brand sells "Hocus Pocus"-themed bath products, and all our Halloween dreams just came true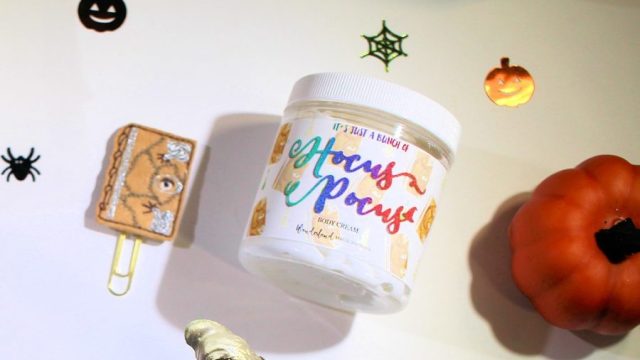 Pumpkin spice lattes are back, which means that Halloween is just around the corner. And if you, like us, think the best part about fall and Halloween is watching and re-watching the Bette Midler and Sarah Jessica Parker classic, Hocus Pocus, we've got some news you're going to love. You can now bring the magic of Hocus Pocus to your daily bath routine with some Sanderson sisters themed bath products. OMG.
The geniuses over at Wonderland Magic Bath Company have introduced six fall-tastic beauty products that you'll love as much as Max loves Allison.
They're offering shower frosting, body cream, and body scrub in two different fragrances.
The first is, "It's just a Bunch of Hocus Pocus," which, per the website, "smells like fresh from the oven apple cider donuts. Crisp, juicy apples blended with warm cake and hints of cinnamon and caramel." Ooooh, amazing.
The second is "Sanderson Sistas," which is "a mixture of spices and three scents: (strongest) cranberry, apple and pumpkin." Delish. We cannot wait to get ourselves a few of these.
If you're looking for even more autumn and Halloween-themed bath goodies, Wonderland Magic Bath Company has got you covered there as well.
They're currently offering products in the scents "Boo to You" (marshmallow candy), "Poison Apple" (caramel apple), "Pumpkin Stack" (blueberry pumpkin), "Autumn on Main St" (pumpkin spice latte), "Pumpkin Cupcake" (self-explanatory), and "Sleepy Hollow" (Pumpkin pecan waffles).
Wow.
Honestly, what we really want this fall is a Hocus Pocus sequel. Sarah Jessica Parker already said she was in! And Bette Midler dressed up as her Hocus Pocus character for Halloween last year, so it's safe to say she's still as obsessed with the film as we are! HOLLYWOOD, why hasn't this happened yet? What spell do we have to utter to get the ball rolling here?!
In the meantime, these bath products will have to keep us happy.