A brand new Bloomin' Onion was released this month, and it's intense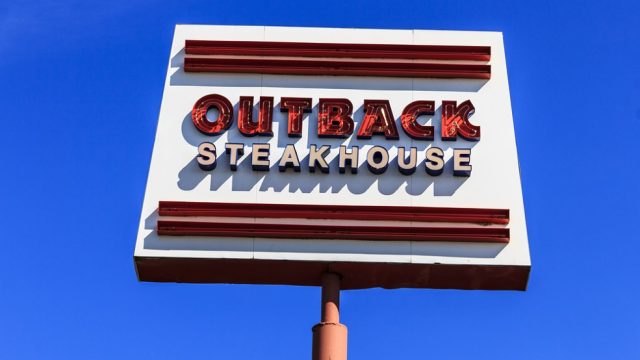 Outback Steakhouse is best known for one thing — the Bloomin' Onion. And this year, the restaurant's famous appetizer is getting a pretty big makeover for March. Oh yes — Outback released the 3-Point Bloomin' Onion which is topped with a bunch of tasty snacks.
If you guessed that one of those snacks would be steak, you're correct.
Now, before you pass judgment (since we're guessing there are a few Bloomin' Onion elitists who believe in the staple solely in its classic form) hear us out. The appetizer is also topped with cheese fries and bacon. So, it's really got something for all of the six people you're supposed to share it with.
We love that Darren Rovell, a writer for ESPN, was the one who broke the news about the calories. It's important to know, but something we just don't want to hear at the moment.
But, it does make sense. The 3-Point Bloomin' Onion is meant to celebrate March Madness, which is probably why the sports guys would get a heads up on such tasty news.
This isn't the only sports-related promotion that Outback is doing this year. Paying close attention to the Monster Energy NASCAR Cup Series race, they're giving a free (standard) Bloomin' Onion away the Monday after every race that driver Kevin Harvick finishes in the top ten.
But, let's get back to the 3-pointer. While it's probably not the greatest idea to order this menu item multiple times, it's totally worth trying at least once. Since it's doubtful that it'll expand past being a promo item, you won't want to miss out.
Who knows? This fried onion could one day be as seasonally elusive as the Shamrock Shake.