Braided brows are the new trend taking over Instagram, and now we're just being trolled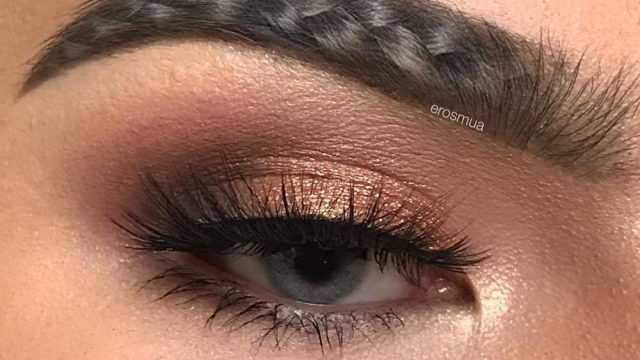 Move over, squiggle brows. There's a new extremely extra sheriff in town, and it's the braided brow. Yes, you read that correctly. Wavy brow, squiggle brow, curvy brow — whatever you wanna call it, the trend is so last week. Braided brows are the new viral brow movement taking over Instagram, and patient zero is a 17-year-old makeup artist called Eros (@erosmua).
Eros apparently attempted braiding his actual eyebrows before busting out the Photoshop. He made sure to disclaim that it was "totally a joke" and for his followers to not take it seriously. Clearly, the makeup community is into it, and what's makeup artistry without a little fun?
Eros is the originator of the trend.
One cool thing is how so many in the makeup artist community give credit to other creators, tagging Eros and others who've inspired their recreations. In a time when major companies constantly rip off the work of smaller, independent artists, it's good to see how people in the community support each other.
Most people sharing the trend doctored their images digitally, but some artists used makeup to hand-paint or draw on their version of the braids. Dipbrow Pomade by Anastasia Beverly Hills seems to be the most popular product used. The results are definitely something else.
Check out some of the creations that…caught our eye:
The evolution of brows: Instagram, wavy, and braided.
https://www.instagram.com/p/BYs1coaABwh
Plum lewks.
Nice compliment to a cat-eye.
If you're gonna try and draw them on, this is a great how-to tutorial.
https://www.instagram.com/p/BYpGSU5nFm1
A subtle arch.
https://www.instagram.com/p/BYqDADPha7P
Electrifying contrast.
Makes a nice frame for a serious lash.
Gorgeous and opulent details. Brow status: snatched.
Go big.
https://www.instagram.com/p/BYmYDm1HAgM
Frame your frames.
https://www.instagram.com/p/BYnpzzuhPAW
You gotta hand it to this guy for going there.
https://www.instagram.com/p/BYqXFYOgvOt
Painted, Photoshopped, or painstakingly plaited — are you going to try this trend?