How The Brady Bunch helped me grieve the loss of my father
In November, fans of The Brady Bunch were delighted to see the six Brady kids reunited. Christopher Knight, who portrayed middle son Peter Brady, posted a photo on Instagram of all six Brady siblings standing in front of the iconic Brady home—the first time in years that all six actors were seen together. It was a hint at exciting news to come: The actors are all going to appear on the upcoming HGTV show A Very Brady Renovation.
To me, this announcement was such a clear reminder that The Brady Bunch is an integral part of pop culture. It's a show that everyone knows, regardless of which generation they belong to; people can recite all the characters' names with ease and quote "Marcia, Marcia, Marcia," even if they haven't seen every episode. The Brady Bunch has been the theme of blockbuster Super Bowl commercials as recently as 2015, been referenced in countless films, inspired a slew of parodies in the '90s, and influenced many successful people in entertainment.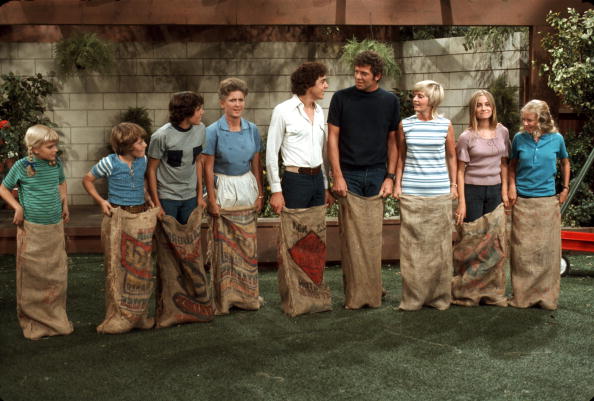 I wasn't born until years after The Brady Bunch filmed its last episode, but I feel a strong personal connection to it. I remember watching a rerun for the first time and being so intrigued by how the Brady kids could come together to help one another. I grew to love the Brady Bunch TV movies even more than the original series. My family got our first VCR when I was in the fourth grade, and The Brady Girls Get Married was the first film I ever recorded. I watched it over and over again that year, giggling uncontrollably and pining over Wally each time—even though he was marrying Marcia Brady instead of me. Looking back on it, I still feel those same waves of exuberant joy that it first gave me.
https://www.youtube.com/watch?v=NcWbVma0dAc?feature=oembed
The Brady Girls Get Married continued to rock my world throughout fourth grade—the same year that my dad became suicidal.
I was perplexed by my father's talk of suicide, which he didn't hide from me. I remember writing "cheer up" cards and giving him drawings that I thought would make him feel better. When it got so bad that he was hospitalized, I was extremely frightened and I didn't know how to deal with the pain.
But I found my laughter again when I pressed play on my VHS tape of The Brady Girls Get Married. It went further than offering me an escape from the pain; it provided true comfort. The idealism and joy in that movie infused those days with a kind of hope that I needed.
After months of hoping for a miracle, my dad committed suicide on the first day of my summer break. Fourth grade had ended, and so had life as I knew it.
After my father's passing, there were some movies that brought up such difficult memories and feelings for me, I couldn't watch them again after my dad died. But I could always turn to The Brady Girls Get Married or a Brady Bunch rerun for an instant dose of happiness.
The first Christmas after my father passed, the Bradys once again reared their powerful heads and lifted my spirits when I watched A Very Brady Christmas for the first time. I was able to feel excited about Christmas even while I struggled through a difficult holiday season. I kept turning to the Bradys for comfort as I grew up—whether I was watching reruns, another one of their TV movies, or the '90s feature films that so lovingly parodied the show.
I sought the Bradys' support as I battled post-traumatic stress disorder.
It was a complex, long healing process that was made easier by comedies like The Brady Girls Get Married. Knowing where to turn to for comfort—even if it's to pop culture—is an important part of healing. I believe that sometimes entertainment can save us—or at least soothe the soul for a while, until you figure out the rest.
I'm now out of that dark place, building and living the life I want to have. As a travel writer, I often make my home in different hotel rooms for days at a time, and I always feel a sense of home when I find reruns of the show. Recently, I rose before dawn while visiting the Upper Cumberland area of Tennessee, savored breakfast in my hotel room, and watched the kind-hearted antics of the Bradys. It put me in a good mood, making already lovely days better.
The Brady Bunch and its TV movie sequels have a depth that shouldn't be overlooked. I think that's partly why it is still beloved by fans who first watched it in completely different decades. Whether Carol and Mike were helping Cindy through the pain of being bullied or helping Marcia contact her crush Davy Jones, that fictional family showed a level of care I—and other fans—couldn't ignore. While the feuds between Marcia and Jan have been largely referenced in pop culture, they were ultimately sisters who were so connected that they shared a wedding day.
The show tackled tough issues so calmly—and I think that's why it was such a safe zone for so many kids.
Mike didn't freak out when he found out Greg was a smoker. When Bobby idolized a killer, hey, they dealt with that in a loving way, too, and he ultimately understood why it was wrong.
Multiple generations gravitate towards the sincerity, sweetness, and genuine funniness of The Brady Bunch. I'm overjoyed that the cast is reuniting for a new HGTV show, and hope that, after that, they will do a reunion movie where we can discover what the Bradys and their spouses are doing now. Until then, I'll put on The Brady Girls Get Married and lose myself in the story for a while. I'll always need that comfort in my life.
If you or someone you care about is struggling and experiencing suicidal thoughts, you can call the National Suicide Prevention Lifeline at 1-800-273-8255 to speak with someone who can help. You can also chat with a counselor online here. All services are free and available 24/7. Additionally, here are ways you can help loved ones struggling with depression.