Meet Bradie Tennell, the Team USA figure skater everyone's talking about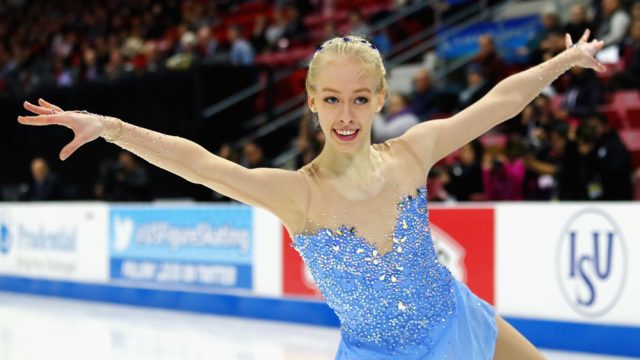 Three months ago you may not have known Bradie Tennell's name. But as one of the few female figure skaters to ever win a medal at her first-ever Grand Prix debut, she's set to become a star at the 2018 Winter Olympics in Pyeongchang.
The Grand Prix is a pre-Olympic skating competition that includes some of the best of the best national and international figure skaters. And 20-year-old Tennell found out she had been selected to participate in the competition the same weekend the competition was scheduled to start. And she won a bronze medal.
Less than two months later, Tennell was added to a list of Olympic contenders before scoring the U.S. national title spot, which has officially catapulted her to the Olympic games in Pyeongchang…where she will compete in her first Olympics just a week after her 20th birthday.
Tennell told NBC Olympics that the whole experience has been surreal, saying, "There are moments where it'll hit me and I'll be like, 'Wow, three months ago I was a nobody and now I'm a U.S. champion. It's a great feeling."  
Tennell was apparently still teaching her figure skating students up until February 2nd. How's that for a real-life Cinderella story?
https://www.youtube.com/watch?v=4vFOcOPq2O0?feature=oembed
Tennell's routines are fast-becoming crowd-favorites, often featuring unique popular music. Her free skate routine features music from Disney's 2015 live-action Cinderella movie, and the song for her short program, called "Taegukgi," is from a blockbuster Korean War film and is known as the Korean version of America's "Stars and Stripes."
"I'm hoping it's received well, Tennell said of her musical choice. "I certainly love the music and I hope I can do it justice.
We're excited to watch Tennell compete and are wishing the newly-minted figure skating star the best of luck!