Why are bra sizes SO inconsistent at Victoria's Secret? Turns out, there may be a lot of reasons.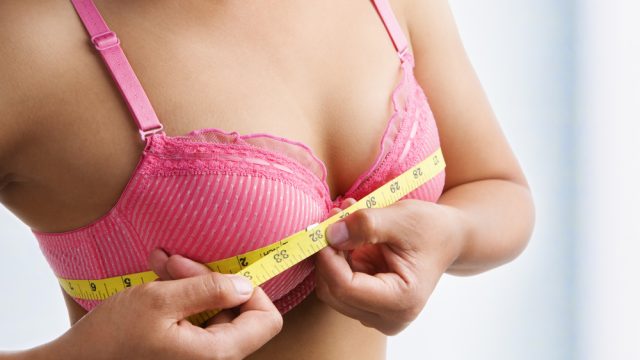 If you've ever had problems fitting into your bra, or finding the right size, you're not the only one. In fact, it has been estimated that about two-thirds of women are wearing the wrong bra size. Collectively, that's a lot of discomfort.
One of the main suspects in the "Case of the Uncomfortable Bra"just so happens to be lingerie superstore Victoria's Secret. Countless women have complained about the fit of their bras and have especially focused on the brand's inaccurate sizing. "When I was a preteen, I was able to shop at Victoria's Secret – although I can honestly say none of the bras fit me," bra-fitter Erica Windle, co-owner of a lingerie boutique called A Sophisticated Pair, tells us. "They frequently added inches to my ribcage, leaving me in 34s or even 36s when I should have been wearing 30s. Eventually, my bust expanded to the point where the only size which offered any kind of cup coverage was a 38D, and they happily sold it to me despite copious fit issues."
So, what's the real deal with ill-fitting bras at Victoria's Secret? Is it a matter of not being able to accommodate a wide range of sizes?
"I'm a 38H, and without fail, a girl at Victoria's Secret will try and get me into a 38DD and I'm like SWEETIE. They are gonna try and sell you the sizes they have, even if there's NO WAY you can fit into them," writes Redditor Kitkatness. "I had to get past my mental block of ANYTHING OVER DD IS MASSIVE that was instilled in me by places like VS, when really, it's all relative to cup and band size."
To get the other side of the story, we reached out to Andrea Park, a NY-based writer who worked for Victoria's Secret as a senior in high school. In addition to having her own problems with the company's sizing, Andrea revealed that many of her customers faced bra-related setbacks. "I remember one time this pre-teen came in to get fitted and right away I knew she wasn't going to fit in any of our bras. I was 17, so I really didn't even know what to do," Andrea tells HelloGiggles. "I lied and told her she was a 38B (that was the widest band we had with the smallest cup), but in reality she was an AA or A cup with a wider band. She came out of the fitting room crying and I felt so bad and she and her mom told me VS needed to stock bras for 'real people.'"
Andrea isn't the only one who talks about the limited size options at Victoria's Secret. We spoke to Courtney Killpack, a Certified Bra Fit Specialist who won a regional All Star in Lingerie award when she worked at Nordstrom. "Victoria's Secret bra size ranges from 30-40 band sizes and AA-DDD cup sizes. This isn't a wide range of sizes," Courtney reveals. "I would say more than half of my clients I fit are DDD+ cup size. There are cup sizes that come in F, FF, G, GG, H, HH, I, J, K; and band sizes that go from 26-44! There's over 19 cup sizes, and VS only carries seven. And there's over 10 band sizes, and VS only carries six."
Are Victoria's Secret bra sizes completely inaccurate simply because they don't carry a wide size variety? 
To accommodate for their limited range of bra sizes, Andrea states, "They give sizes that I believe have bands that are too wide and cups that are too small. I think they do this because then they can basically sell bras within a certain range and not make too many different sizes." Interestingly enough, Victoria's Secret standards revealed that Andrea should be wearing a bra size 32B or 34B. However, when she visited a lingerie boutique, they found her to be a 28DD, a size that gives her much more support.
When we asked Jenny Altman – style, fashion, and bra expert – about the issues surrounding Victoria's Secret sizing, she brought something called sister sizing to our attention. "Most women need to go down a band size and up a cup size for a good fit. BUT…since [Victoria's Secret] doesn't offer a huge assortment of sizes and still wants you to wear their product, they do a lot of 'sister sizing' (which is a size off in band/cup and is a close match but not a perfect match)," Altman explains. "As a result of Victoria's Secret working as a 'fitter', I have seen so many women wearing band sizes 2-3 times larger than they should and a 2-3 times smaller cup size. So if a woman would be properly fit as a 32G (which they don't sell) they would fit her in a 36DD (which they do sell)."
On top of that, Victoria's Secret may be incorrectly finding your bra size.
"A few years ago, I wrote a blog with accompanying video discussing the sizing technique on their website at the time, which was to take the band measurement under the arms rather than at the ribcage, and I heard from a lot of people who weighed in with varying stories. It seems that Victoria's Secret does have some ethical fitters, but the most common complaint I have heard is that, one way or another, they size people up in the band in order to fit them into their products," Erica tells us. "Some customers have been told by VS fitters that overflow was 'sexy' or how the bra was made to fit. In fact, some of the negative feedback I received from fitters at VS indicated they thought I needed to try on bras in VS in a 36DD (at the time, I was wearing a US 30K/UK 30H) … It was a disaster."
Courtney also tells us, based on her own experience as a customer, "Some of their inexperienced fitters measure you over your clothes! Which adds 2-3 inches to your measurements, this is the least accurate way of finding someone's bra size! It's hit and miss at VS when it comes to getting help, you could get a fitter who just started that day and has no experience or clue how a bra should fit."
Altman has also looked into this aspect of the Victoria's Secret experience, telling us, "I have never worked for VS, so I can't speak to their employee 'training', but I have walked into many VS stores and have never had a proper fitting. One day I went into three VS stores in NYC to see what the experience would be like. Two of the stores fit me OVER my down parka. The first said I was a 34D. The second store said I was a 36D. The third store, which did fit me over just my sweater in the fitting room area, said I was a 34B. I am a 30B. Luckily I know my size, because if I had followed their advice my bra would be floating up to my chin."
In general, many bra stores – Victoria's Secret included – do not accommodate women with larger bra sizes.
"As a 32F I'm sick and tired of being labelled 'plus size' by lingerie stores. I end up having to try to find a size that fits amongst racks of bras that have more resemblance to a barrage balloon than intimate fashions! I'm a size 10, I just have ample bosoms and hate how hard it can be to find bras that fit me," comments KirstyM, on a The Lingerie Addict piece. The post was dedicated to companies that sell bras for plus-size and full-bust women. It was created because the writer, Cora Harrington, received countless emails asking about bras for larger sizes – ones that aren't bland or beige.
Another commenter, Susan, adds, "If 36 D is really the AVERAGE size why is it so hard to find bras a little bigger, until F at least? Either this information is wrong or the manufacturers are completely ignoring the reality. If 36D is the average there must be plenty of women a bit bigger … And since Calvin Klein is American why do they stop at D or DD? That doesn't really reflect the reality of American women's sizing, and this is an American brand? Same thing with Victorias Secret. Why do they sell nothing for larger busts? This doesn't make sense."
Clancy Burke, who worked at Victoria's Secret in 2014, tells HelloGiggles, "I think that it's definitely harder for larger-chested women to shop at Victoria's Secret. One thing I didn't know before working at Victoria's Secret is that Victoria's Secret charges extra to women with bigger boobs. DD-sized bras (and up) cost more than all other bras, which is absolutely absurd. It's almost like these women are being penalized for having a little extra skin."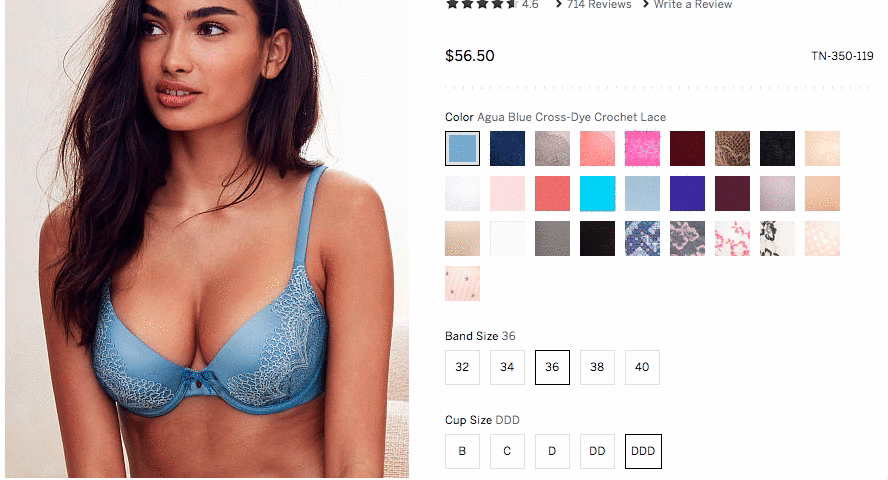 While Victoria's Secret claims they follow industry guidelines, the company also states that they apply "sexy sophistication" to sizing standards. 
With these complaints in mind, I went right to the source and asked a Victoria's Secret customer service representative, via the Live Chat feature on their website, to help me with sizing. In addition to being super evasive, they did not answer any of my questions. Mainly, I wanted to know why their technique differed from other companies' and was told to either use their Bra Fit Tool or meet with a bra specialist in their store.
I also asked about the wording on the FAQ section of the Victoria's Secret website. It reads, "Most brands, including Victoria's Secret, follow industry guidelines; so your bra size—particularly, the Band size—should be consistent from one manufacturer to the next. Victoria's Secret applies sexy sophistication to those sizing standards; so, our levels of padding and coverage may differ from other retailers."
What is "sexy sophistication"? 
I wanted to know what "applies sexy sophistication" means because it makes it sound as though they are altering industry guidelines in some way. The response: "The Brand Victoria's Secret is just that 'sexy and sophisticated.' We are best at bras and we have a huge variety of bras to choose from. Our bra specialist will get you sized based in your true size." 
At this point, I'm not sure that would help.
When all is said and done, what can we do about it?
Jenny Altman gave HelloGiggles the lowdown on the bra sizing world. She explained that all bra brands employ their own sizing methods – especially based on whether they are an American or a European company. "Just like with jeans, we are different sizes in different brands, so whichever brand you want to shop, you need to know your correct size in THAT brand," Altman asserts. "Size is just a number/letter – DO NOT get hung up on your size. Make sure you are well fit and supported regardless of that number/letter." She adds that – because of childbirth, weight loss/gain, or starting a new workout – our breast size can change on a yearly or even monthly basis.
To help all bra shoppers be their own advocate when figuring out what size makes them feel amazing, Jenny has some amazing advice: "When you put on a bra in the fitting room, make sure your band is parallel across the back and not riding up (a sign that the bra band is too big). You should only be able to slip a finger or two under the band. Make sure you are not billowing over the cups (a sign that the cup is too small). Also make sure your breasts are each fully encapsulated in each cup and that the wire is not digging into the breast tissue under your arm. All of these things will teach you to make sure the bra is properly fitting which is important at a place like VS where you can't really rely on employees to ensure you have the best fit. Don't get taken in by a pretty color or sexy fabric, fit comes first."
We couldn't agree more. Fit comes first.