The boys at this high school wore dresses to support the female students at their school and protest the dress code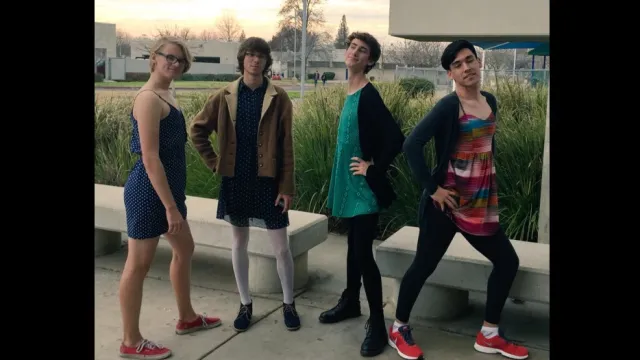 What do you do to protest a totally bonkers, outdated, and sexist dress code? Gender-swap your clothes, of course.
Recently, the dress code at Buchanan High School in Clovis, California was contested after a 4-3 vote by the Clovis Unified School District (CUSD) against changes to the 1975 dress code that would have allowed boys to have long hair and wear earrings. "[M]ale haircuts may not fall below the mid-point of a standard stand up shirt collar and earlobes must be visible," the dress code reads.
The changes were proposed last summer after student William Pleasant published an open letter stating that he was prevented from enrolling in school due to his hair. ". . . I have been harassed, punished and been denied my education repeatedly for simply being a man with long hair," he wrote in the Fresno Bee. ". . .I want to know why girls can have short or long hair but men are forced to have short hair."
In fact, the dress code even violates a California law that protects gender expression. "We were shocked that [the school has] decided not to comply with the law. At this point, we haven't ruled out any potential strategies including a lawsuit, and we are currently evaluating our next steps," American Civil Liberties Union attorney Abré Conner said in a statement.
Meanwhile, the students at Buchanan were already taking steps.
An online petition started by junior Rei Bioco has garnered over 3200 of the needed 4000 signatures. "In one day, we gathered one thousand votes," Bioco told BuzzFeed. But the protesting wasn't only online. Several boys showed up for class in dresses, while several girls dressed in collared shirts and button-downs.
"The reason we switched gender norms for the day was to make the statement that what we wear does not define us as students," senior Emma Sledd told The Fresno Bee. "Our district's dress code should not favor or discriminate any gender. We believe everyone should be able to express themselves equally. A boy with long hair is no less of a hard worker than a girl with long hair."
Although no male students have been written up for wearing dresses, two female students were punished for wearing shirts that read "dress code sucks." However, one of the students who was written up, Sophia Brodish, told BuzzFeed that though she had to change her shirt, she was given an opportunity to talk with her teachers about the issue.
"On Monday, most of us had meetings with our school faculty and we discussed the events that took place and how we should approach them," Brodish said. "We hope to help our school board see and listen to our goal, which is to have a gender-neutral dress code."
Said district spokeswoman Kelly Avants, according to BuzzFeed: