This Boy Meets World reunion will make your '90s-loving heart skip a beat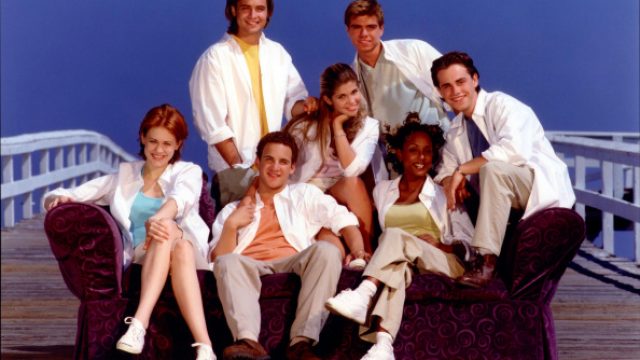 Did somebody say '90s TV show reunion?! Yup, and the nostalgia is strong with this one. On Saturday, July 28th, two of our favorite Boy Meets World stars reunited, and there's a photo to prove it. Ben Savage attended Matthew Lawrence's engagement party in Los Angeles, E! News reports. And they looked as dapper as ever.
"Congratulations on your engagement @matthewlawrence," Savage wrote on Instagram. "So happy for you and @cherylburke."
Now, we know this isn't the first (or even the biggest) Boy Meets World reunion that's happened in recent years. When Disney rebooted the iconic show with a twist as Girl Meets World in 2014, it brought pretty much the whole gang back together. Girl Meets World starred Ben Savage and Danielle Fishel as iconic couple Corey and Topanga. Through the years, the show gifted us with appearances from everyone's favorite Boy Meets World actors: Rider Strong (Shawn), Will Friedle (Eric), Matthew Lawrence (Jack), Maitland Ward (Rachel), Lee Norris (Minkus), Trina McGee (Angela), Blake Clark (Chet), and Anthony Tyler Quinn (Mr. Turner). Oh, and of course, William Daniels came back as Mr. Feeny. Because it wouldn't be a Boy Meets World reboot without him.
We dare you to look at this picture of Corey and Jack — we mean, Ben and Matthew — and not start singing the Boy Meets World theme song.
The Boy Meets World cast loves reboots, reunions, and throwbacks of all kinds.
On Friday, August 24th, a few weeks after Lawrence's engagement party, the core four reunited at Chicago Comic Con.
Friedle especially loves a good throwback.
Just look at this epic #tbt he posted earlier this year.
https://www.instagram.com/p/BjLQAnDj8VC
This one too. Fee-hee-hee-ney!
If you're not following Friedle on Instagram, remedy that ASAP. His feed is a treasure trove of Boy Meets World nostalgia.
https://www.instagram.com/p/BhklYpVDTDX
Seriously. He runs the #1 Boy Meets World fan account, and we love it.
https://www.instagram.com/p/Bg9zno9jbdR
It's always special when a TV cast actually gets along IRL. We're glad to see that all these years later, the Boy Meets World gang still loves and supports one another. Here's to the next reunion! We're sure it'll happen sooner rather than later.