16 different ways to style your box braids, from triangular parts to double buns and more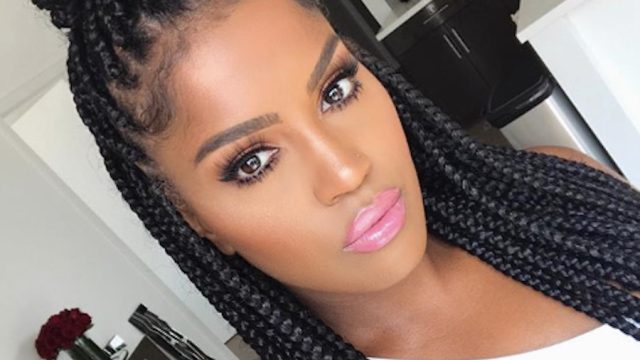 One of the most stress-free ways to rock your natural hair is with a protective style. One of my personal favorites: box braids. Contrary to popular belief, box braids are great for any occasion. They're low-maintenance and super versatile. Whether you're going into the office, on vacation, or to an event, they're the perfect protective style. If you're planning to get box braids this fall, we found 16 different ways to rock the look. From triangular parts to double buns to shoulder-length braids, you can style them to your heart's desire.
1Half-up-half-down with a top-knot
https://www.instagram.com/p/BWlidCOByir
The half-up-half-down box braid style is popular for a good reason. It's super simple to style, but adding a top-knot gives it some spunk.
2Half-up-half-down with double buns
https://www.instagram.com/p/BnShyC7htFG
Spice up your box braids with Scary Spice vibes.
3Triangular parts
https://www.instagram.com/p/Bm3JX0UFdOM
Box braids are named after the box parts that typically make up their foundation, but triangular parts add a playful twist to the style.
4Swooped
https://www.instagram.com/p/Bk2amh7ARwW
If you don't like for your braids to dangle onto your face, swooping them to the side is a perfect way to avoid it. Plus, it gives your braids some flair.
5Half-braided ponytail
https://www.instagram.com/p/BnjmBlLFTlX
The half-braided ponytail is the "business in the front, party in the back" style. Throw on metallic strings to give it some personality.
6Side-parted/flipped-over
https://www.instagram.com/p/BnC4tRAgBar
The flipped-over or side-parted style should be at the top of your list when it comes to box braids.
7Center-parted
https://www.instagram.com/p/Bnjm-arh3yu
There's something about the center-parted style that makes box braids look effortless and glamorous at the same time. This style is perfect for any occasion.
8Super long box braids
https://www.instagram.com/p/BnSqbYyFlUY
This is the perfect excuse to play with length, and your Rapunzel-like braids will most definitely turn heads.
9Ombré
https://www.instagram.com/p/Bnj5YEmDaHt
If you're not the type of person who plays with color for your natural hair, this style is the perfect opportunity. Since colorful ombré hair is on-trend, why not try a purple and pink combo like the the box braids shown above?
10Add a head wrap
https://www.instagram.com/p/BnlqVmfD8vo
Head wraps are great on their own, but they can also dress up styles like box braids. They especially come in handy when it's time to get your braids redone.
11High bun
https://www.instagram.com/p/BngiXsLFGwj
If you're looking for a an elegant twist for a special occasion, a high bun is the way to go.
12Box braids and cornrows combo
https://www.instagram.com/p/BndOrPXjXWD
If you've been debating between box braids and/or cornrows, guess what? You can get both. The box braids and cornrows combo will stand out in a crowd.
13Add trinkets
https://www.instagram.com/p/BnlOpkYD2U0
Whether it's metallic string twisted into your braids or small clasps like the one in the image above, colorful trinkets will add spunk to your braids. Best of all? These small trinkets will only run you a few bucks.
14Jumbo box braids
https://www.instagram.com/p/Bh_4Pt0DWNR
In my opinion, the bigger the box braids, the better. They take less time to put in and take out. Let's not forgot how cute this style looked in Poetic Justice.
15Short bob
https://www.instagram.com/p/BnMH4Bdjn8A
Your box braids don't have to be super long. Short box braids give the style some edge, and the best part is that the hairstyle isn't as high maintenance as an actual bob.
16Boho chic box braids
https://www.instagram.com/p/BfpbVcWnC9V
The relaxed, imperfect look of these box braids is easygoing but stylish nonetheless.