What is the Oscar-nominated "Boss Baby" about? Well, obviously it's about babies and puppies trying to take over the world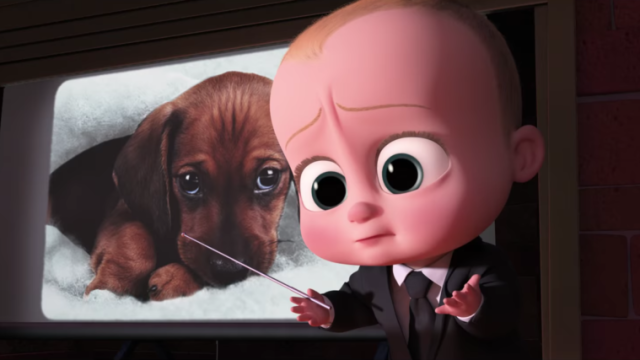 Every once in a while, a movie comes along that has the power to unite us all, and bring the world closer together. And the Oscars are all about honoring those films that made an impact. But every once in a while, a movie gets nominated for an Oscar that maybe…takes people by surprise. So, that in mind, what is the Oscar-nominated The Boss Baby about? Honestly, for a kids animated movie, it's totally entertaining, and definitely something you'll want to see.
Basically, The Boss Baby is about — you guessed it — a literal boss baby. Voiced by Alec Baldwin, the lead baby himself, the movie follows young Tim Templeton as he gets a younger brother in the title character. The boss baby isn't interested in becoming a part of the family, though, but rather in completing his mission assigned to him by Baby Corp. Yes, the movie is about a literal baby who can talk being sent to a family in order to take down the world's biggest threat to the cuteness of babies: puppies.
Okay, well, maybe "love" is too strong a word. But basically, Tim and his 'lil bro have to work through all the typical sibling rivalry stuff to eventually save the world, and themselves.
https://www.youtube.com/watch?v=Ud8j5GaqH3c?feature=oembed
Again, that's probably an overstatement and I'm just being cheesy because I love this movie, but I don't think I'm too off base here. After all, The Boss Baby was nominated for an Oscar for Best Animated Feature, a category with winners like Zootopia, Frozen, and Inside Out. Seriously, just because a movie is geared towards kids doesn't mean that it isn't worthy of adult attention.
The Boss Baby is currently streaming, so you can be the judge.