Boomer Phelps' (aka, Michael Phelps' tiny baby) gold booties are all we can think about, really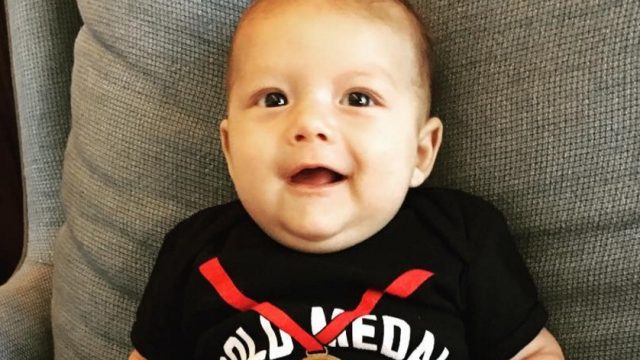 Personally, I'm no athlete, but I enjoy following the Rio 2016 summer Olympics as much as the next person. While it's fascinating to discuss scores, wins, and losses, I for one am equally — if not more so —excited about Olympics-themed apparel. That's why I was so excited to see that Michael Phelps' son, Boomer Phelps, is cheering on his dad from the sidelines with a totally adorable U.S.A. themed outfit.
Here's wearing gold shoes here, too:
Look at those little gold boots! Sure, actually winning a gold medal likely feels more exciting than laying your eyes on those adorable baby shoes, but I think the margin of difference has to be pretty darn small. Between those little gold booties and his American flag pants, what could be cuter? Oh, wait. Boomer is, of course, also wearing a shirt that proclaims him as part of "team daddy," in case there was any doubt who he would be rooting for.
Here's lil' Boomer with Dad:
And with Mama:
We love you, Boomer!
To be fair, I tend to go crazy for babies in any kind of themed outfit. A baby that looks like Senator Bernie Sanders? Check. A group of babies dressed as Pokémon? Double check. A baby decked out in patriotic gear as his dad breaks yet another record while representing his country with pride? As of now, it seems like Boomer has a monopoly on that one.