A bookstore in New York revised their "shithole countries" display to say something much more inclusive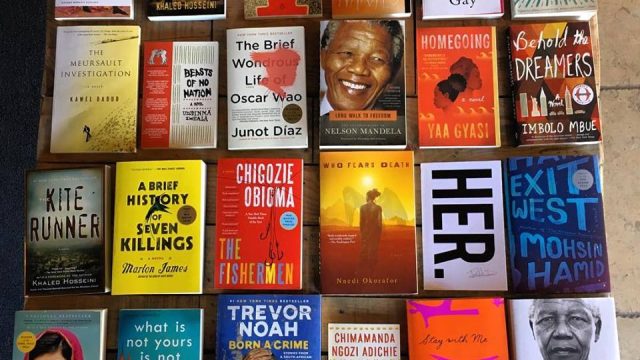 On Thursday, January 11th, president Donald Trump made a remark about "shithole countries" during a meeting in the Oval Office. Soon after, a bookstore in Kingston, New York created a book display alluding to the "shithole countries" comment. With the intention of standing in solidarity with immigrants, Rough Draft Bar & Books set up a table featuring books written by diverse authors. The table included a sign that read: "WRITERS FROM S##THOLE COUNTRIES."
Rough Draft's book table featured selections like What Is Not Yours Is Not Yours by Helen Oyeyemi, who was born in Nigeria. And I Am Malala by Malala Yousafzai, who was born in Pakistan. It also included books by Chimamanda Ngozi Adichie, Roxane Gay, and Junot Diaz. Photos of the "Writers from Shithole Countries" display quickly went viral. But though the table intended to highlight diverse authors and storytelling, it received a lot of backlash.
Many people called out the bookstore for using Trump's racist wording in the first place. So on Saturday, January 13th, Rough Draft removed the sign and replaced it with one that reads: "E Pluribus Unum." The Latin phrase means "out of many, one." The motto is part of U.S. iconography and is featured on several U.S. currencies.
Rough Draft posted a picture of the revised sign with a lengthy explanation and apology.
"When we opened Rough Draft, we decided we would always try to speak out about issues important to us, and always in a positive way. This week, when we heard disparaging remarks made about other countries, we got angry. And our reaction was to make a defiant, tongue-in-cheek statement that we felt demonstrated solidarity with immigrants from these countries and others, and alliance with those who feel America is great because of the countless immigrants who have come before us and who add to our strengths today. And while many of you expressed approval, we also heard from some of you that the language, even used sarcastically, was still hurtful and inappropriate. For that, we apologize."
On Twitter, people were talking about the issues with reappropriating racial slurs, while also calling out "performative allyship," as journalist Stacy-Marie Ishmael noted.
false
Rough Draft pledged to donate 100 percent of profits from the book table.
They will also donate 10 percent of their total store sales from MLK weekend. The proceeds will go to the International Rescue Committee, which provides humanitarian relief as well as aid to refugees around the world. We commend Rough Draft for staying true to their mission: speaking out about what's important.