12 novels and plays to read (or give as gifts) this holiday season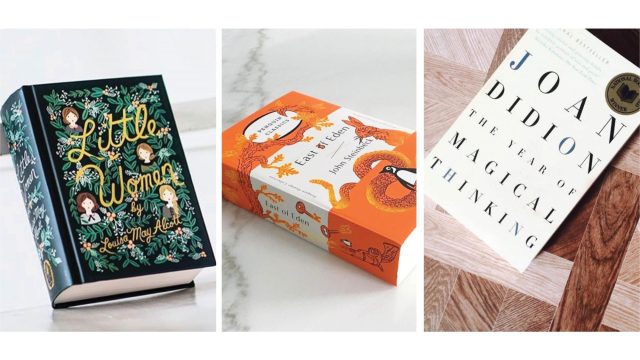 There is no cozier season than winter, and there is no cozier activity than reading (well, arguably). For many, the holiday season conjures up feelings of love, warmth, family, and the triumph of little kindnesses. Now that December has finally arrived, there's no time like the present to gift yourself (or a loved one!) the precious present of a mental escape via an enrapturing novel.
We've crafted together a holiday reading list filled with classic holiday novels, books about reflection, and stories of family trials and triumphs. Whether written by a classic novelist like Charles Dickens or penned by a modern marvel like Joan Didion, we promise these picks are all very worth your blanket-covered, tea-drinking, novel-consuming time.
1. A Christmas Carol by Charles Dickens
https://www.instagram.com/p/BNertt1A_Gh
We figured we'd kick this list off with a classic. You've probably seen the movie (we're guessing the Jim Carrey one rather than the original from '38), but why not give the original book by Dickens a go? Published in 1843, it's sure to transport you to a different era altogether.
2. My Life on the Road by Gloria Steinem
Though this isn't a holiday-based story, the end of the year can feel quite nostalgic, so we felt that Steinem's memoir about her days as a traveler and change-maker was fitting for this list. It's packed with wonderful female insight — this is the woman who originally said, "A woman without a man is like a fish without a bicycle," after all.
3. Little Women by Louisa May Alcott 
If you haven't read this classic yet (or want to re-read it), there's no better time like the present. Alcott delves into matters of a heroine's individual identity, a quiet call for virtue over wealth, and beautiful relationships between family members.
4. Nutcracker by E. T. A. Hoffmann 
Maybe you've seen the play (who wasn't dragged to this in a frilly dress at the age of 6?) but have you read the novel? Written in 1816, the story begins on Christmas Eve and whisks you away — alongside Marie — into a magical holiday drama.
5. East of Eden – John Steinbeck
This novel is a beautiful embodiment of the battle between good and evil. Based on the biblical story of Cain and Abel, this tale is filled with twisted family histories, dark moments, and triumphant characters. A perfect ending to a year filled with ups and downs.
6. To Kill a Mockingbird by Harper Lee 
https://www.instagram.com/p/BNYo-9fgkvZ
Regardless of how you felt about reading this novel in 9th grade English class, we highly suggest a re-read. The calls for justice, kindness, and empathy will no doubt ring particularly poignant at the end of such a tumultuous year.
7. Pride and Prejudice by Jane Austen 
https://www.instagram.com/p/BNctdCtDaBK
Maybe it's just us, but winter arrives with a bit of magic in the air and we just can't help but to dream a little bit more. Thus, we suggest reading this classic Austen novel and dreaming about your perfect Mr. (or Mrs.!) Darcy, who also respects you for all you are and lets you be the independent woman you need to be.
8. The Year of Magical Thinking by Joan Didion 
If you haven't read any Joan Didion, you have got to read some Joan Didion. Granted, this is a tough one to start out on as it covers the year in her life after her husband's death and is noted as one of the most acclaimed novels on mourning. But, it is filled to the brim with life lessons and epiphanies that will fill your heart with truth.
9. Holidays on Ice by David Sedaris 
https://www.instagram.com/p/BNHrUeBjR47
America's favorite humorist penned the world's funniest essay collection on the season that is simultaneously the very best and very worst. If you need a good holiday laugh, look no further.
10. Wuthering Heights by Emily Brontë 
Spoiler alert: This is a very sad novel. But it's also a novel all about true love and never-ending passion. In the movie The Proposal, Sandra Bullock's character says she reads this novel every Christmas, and if you're the right kind of person, you just might start that tradition yourself.
11. Travels with Charley by John Steinbeck 
One of Steinbeck's lesser-known works, this novel is about his travels across America in a tiny little camper truck with his beloved dog Charley. He meets all sorts of people and surveys the cultural and political landscape of America, and what he learns is interesting to compare to our current situation in America.
12. A Doll's House by Henrik Ibsen 
https://www.instagram.com/p/BNR0dYwgs3e
Not only does this classic play feature a fitting Christmas scene, but it also packs a feminist punch. These are a few of our faaaaavorite things… ?
 No go forth, cozy up, and read to your heart's content.