9 quirky books every cat lover needs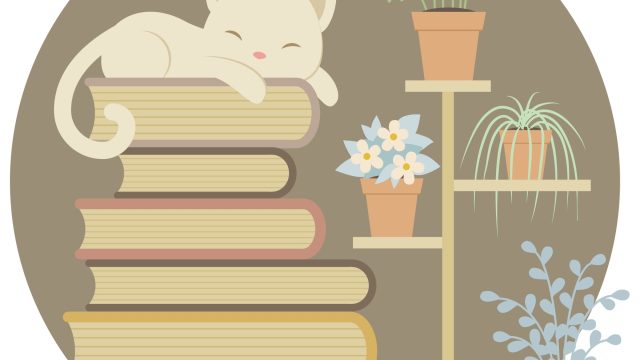 Whether they are cuddling up next to you on the couch while reading, chasing their favorite toy around the room, or helpfully sitting on your laptop, cats are the best.
Cat memes and viral videos are easy to track down, but what are cat-loving bookworms going to dig their claws into? Whether it's poetry, literature, arts & crafts or humor, this list of nine must-have books for cat lovers has you covered.
1. Catification by Jackson Galaxy
Fans of Galaxy and his Animal Planet show, My Cat From Hell, will know the key to a happy cat is a cat-ified home. Catification has tons of cool suggestions to make your space more cat friendly; including ramps, climbing poles, litter box covers, and outdoor catios. Most suggestions are budget friendly, and the book includes thrift store hunting ideas and Ikea hacks. Get some bonus catification ideas from the sequel, Catify to Satisfy.
2. Crafting with Cat Hair: Cute Handicrafts to Make with Your Cat  by Kaori Tsutaya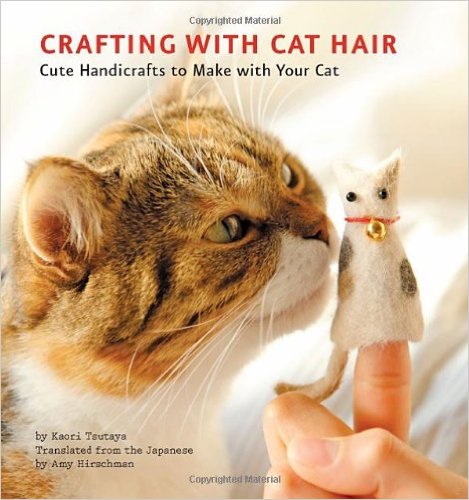 Every bit as quirky as the title implies, Crafting with Cat Fur has many suggestions on what to do with that leftover cat fur that basically rules your life. Don't worry, there are instructions on how to wash and hang dry that shed fur before crafting it into cute little knick knacks such as finger puppets, pin cushions, and much more. It might sound weird at first, but Tsutaya has some really cute ideas. Promise. 
3. How To Tell If Your Cat Is Plotting To Kill You by Matthew Inman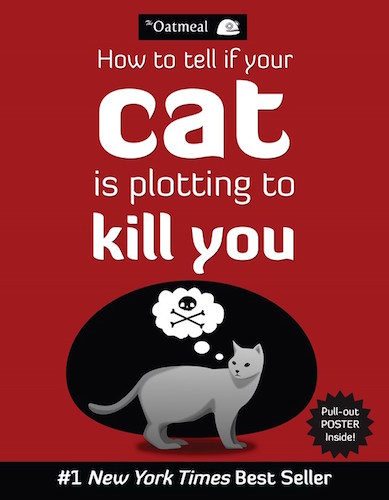 Whether this will classify as a tome of humor or a survival manual, may depend entirely on your cat. But, this collection of cat jokes is curated from The Oatmeal's best cat humor. The fun text and illustrations include guides like how to pet a cat, walking the dog versus walking the cat, and of course, how to tell if your cat is plotting to kill you.
4. How to Speak Cat: A Guide to Decoding Cat Language by Aline Alexander Newman and Gary Weitzman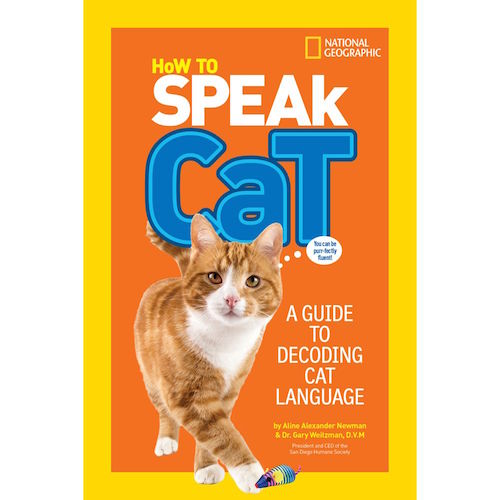 How To Speak Cat provides all the information needed to read and interpret a cat's body language. Each behavior gets its own page and features a photo and explanation of the cat's intended communication. For example, rolling over to expose their stomach? A sign of feeling safe. Published by National Geographic, How to Speak Cat packs a visual, easy-to-read resource into a slim volume, and even includes quizzes.
5. I Could Pee on This: And Other Poems by Cats by Francesco Marciuliano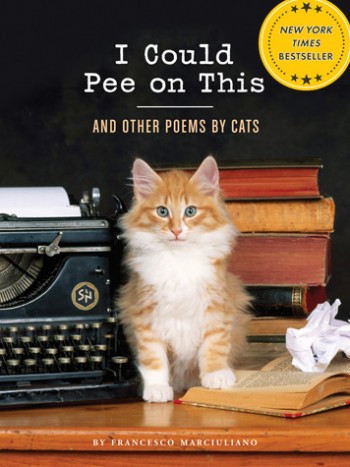 Poets, fear not: There is even a cat book for you, and it's written from the perspective of cats themselves. It's everything cats would want to tell us if they could write. Marciuliano has channeled cat energy for hilarious poetic takes on closed doors, Christmas trees, leashes, and much more. 
6. A Street Cat Named Bob: And How He Saved My Life by James Bowen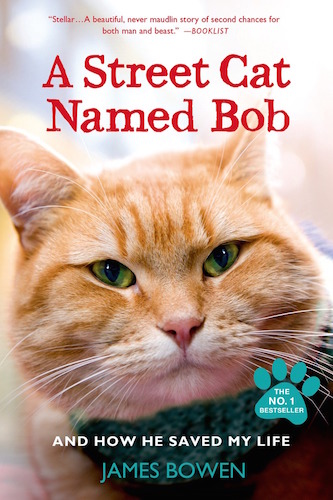 A Street Cat Named Bob tracks the relationship between London street musician James and the cat Bob, who he rescued. Or Bob rescued James. Or both. One of those tear-jerker stories of human and animal companions, Bowen reminds us of the emotional intelligence of animals and their ability to lift up their human counterparts.
7. Cat Sense: How the New Feline Science Can Make You a Better Friend to Your Pet by John Bradshaw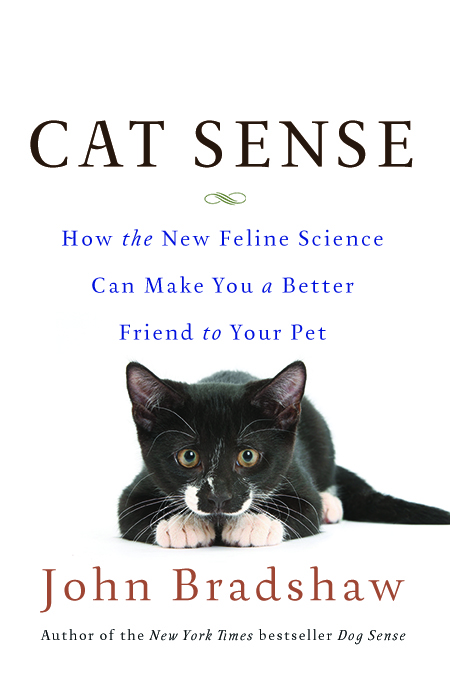 Bradshaw has taken an extensive tour of the modern cat. He explores cat personality, the drama of cats living with each other, and the evolution of the cat alongside humans and the challenges that poses. Cat Sense provides tons of research into how to make our furry friends' lives more comfortable.
8. Playtime for Cats: Activities and Games for Felines by Helena Dbalý and Stefanie Sigl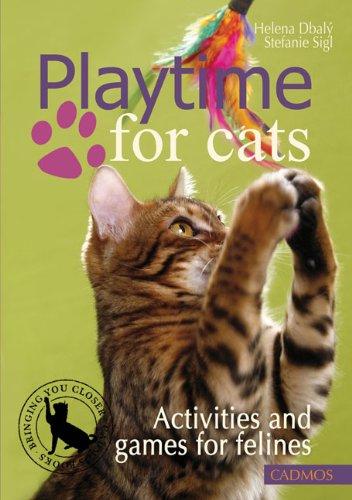 Cats love to play, not to mention it's good for their well-being. Playtime for Cats is chock full of fun activities to invigorate a cat's natural sense of hunting and play. Not to mention, most of the ideas — such as bringing in rocks from the outdoors, building obstacle courses, and more — are easy to make with household items. If you're the DIY type and this book doesn't have enough ideas, also check out Make Your Own Cat Toys.
9. Creative Cats Coloring Book by Creative Haven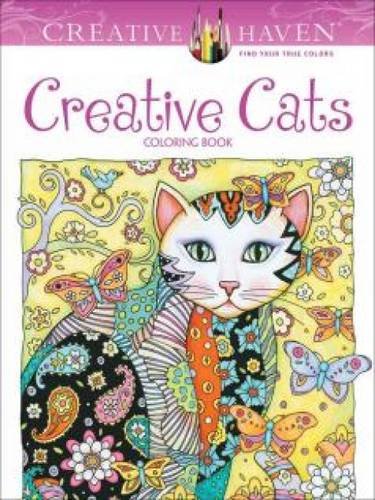 If you're anything like me and find cats to be relaxing, this Creative Cats Coloring Book for adults will be right up your alley. Full of intricately detailed drawings with cats center stage, break out the colored pencils for hours of stress-free cat fun. As a bonus, cats will love helping with the pencils and making sure someone holds down your page.