15 books you should read before they become movies in 2018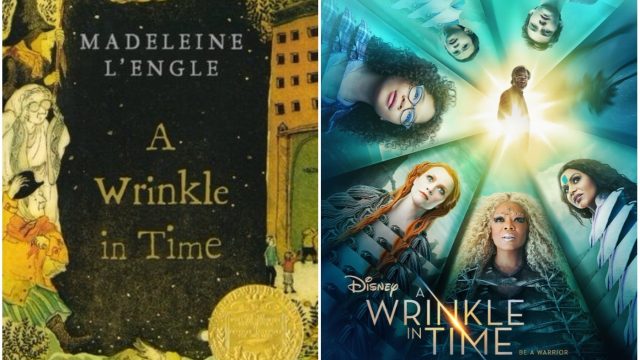 As we gear up for awards season, we have nothing but movies on the brain. The 2018 Golden Globes, hosted by Seth Meyers, are this Sunday, January 7th. And the 2018 Oscars, Critics' Choice Awards, and SAG Awards aren't too far off either. But while we can't wait to see which films of the past year take home top honors, we're also looking ahead to this year's box office releases. Especially the books becoming movies in 2018.
There's nothing quite like seeing one of your favorite books, whether it's a fast-paced fiction tale or a touching nonfiction story, come to life on the big screen.
Sure, everyone always says the book is better than the movie. And a lot of times, we're inclined to agree. But there's still something special about seeing the characters you love on paper spring to life before your very eyes. Plus, you can have long discussions after about how the movie differed from the book.
Read these incredible books becoming movies in 2018!
It all comes down to this. The Death Cure marks the conclusion the Maze Runner series, and this is the most action-packed of the films yet. The trials may be over, but Thomas, played by Dylan O'Brien, remembers more than WICKED thinks. It's one thing to read about Thomas's fight to save his friends, but seeing it is definitely another.
2Fifty Shades Freed by E.L. James, in theaters February 9th
Christian put a ring on it. You know you're gonna see it.
3Annihilation by Jeff VanderMeer, in theaters February 23rd
https://www.instagram.com/p/BcpRV6SjWMX
Natalie Portman, Gina Rodriguez, Tessa Thompson, Jennifer Jason Leigh, AND Oscar Isaac? Sold. Annihilation is a mind-bending thriller about a group of women who venture into Area X. The land has been cut off from civilization for decades, but they're on a mission to observe their surroundings, find the biologist's (Portman) missing husband, and try not to disappear into the site themselves.
4Every Day by David Levithan, in theaters February 23rd
Every day, "A" wakes up in a different body, set to lead a different life. One day, A wakes up in the body of a boy named Justin. When A meets Justin's girlfriend, Rhiannon, everything changes. We're calling it: You're going to fall head over heels in love with actress Angourie Rice, who plays Rhiannon.
5Red Sparrow by Jason Matthews, in theaters March 2nd
Jennifer Lawrence as a ballerina AND a spy? Here. For. It. In Red Sparrow, she plays a dancer who, after getting injured, turns to a life of espionage. She becomes a Sparrow, a young woman who uses her mind and her body as a weapon.
6A Wrinkle in Time by Madeleine L'Engle, in theaters March 9th
You Liked all of Reese Witherspoon's Instagram pics from set, you watched the imaginative trailers on repeat, and you shrieked at the cast on the cover of Time. Now, you just have to wait two more months to see the movie we're all impatiently waiting for.
The movie version of Becky Albertalli's book is called Love, Simon. It tells the story of a teenager who hasn't come out to his family or friends yet, but is forced to when one of his classmates finds out he's gay.
8Ready Player One by Ernest Cline, in theaters March 30th
Set nearly 30 years in the distant-but-not-too-distant future, Ready Player One is an action-packed science-fiction adventure directed by Steven Spielberg. Wade Watts, played by Tye Sheridan, escapes life by entering the OASIS, a virtual reality world within his headset. He's on a quest to be the first to find a hidden object within the world. If he succeeds, he'll inherit half a trillion dollars and control of the OASIS. But what starts out as a game quickly becomes more real than he ever expected it to.
We don't know too much yet about the film version of Where'd You Go, Bernadette, one of our favorite books in recent years. But we DO know that it stars Cate Blanchett, Kristen Wiig, Troian Bellisario, and Judy Greer.
10Crazy Rich Asians by Kevin Kwan, in theaters August 17th
Rachel can't wait to spend the summer with Nicholas's family. That is, until she realizes that he's filthy rich, and that she doesn't quite belong in his world. Crazy Rich Asians is another one of our favorite books in recent years, and we can't wait to see the love story between Rachel and Nicholas come to life.
11Boy Erased by Garrard Conley, in theaters September 28th
https://www.instagram.com/p/BMfke5Ah9Iq
Boy Erased isn't a fiction novel — it's a memoir about Garrard Conley's life growing up as the gay son of a Baptist pastor in Arkansas. At age 19, when he was outed to his parents, they forced him to attend conversion therapy. Starring Nicole Kidman, Russell Crowe, Lucas Hedges, and Troye Sivan, this one's going to stick with you for a long time.
Neil Armstrong passed away in 2012, but his legacy will live on forever — even on film. Ryan Gosling will play Armstrong, the first person to walk on the Moon, in a biopic directed by La La Land's Damien Chazelle. Claire Foy will play Armstrong's wife, Janet. And speaking of Claire Foy…
https://www.instagram.com/p/BdkFAGlFyCG
Claire Foy is stepping up to the plate to play Lisbeth Salander in the next book-turned-movie of the Millennium series. Salander is back in The Girl in the Spider's Web. This time, she's hacking the NSA in Washington, D.C. That's our girl.
You know the story of The Nutcracker. Or, do you? This live-action film adaptation is called The Nutcracker and the Four Realms. It reveals the darker side of the beloved story. But there are still plenty of familiar characters: Clara, played by Mackenzie Foy, is guided the Sugar Plum Fairy, played by Kiera Knightley.
15Mary Poppins by P.L. Travers, in theaters December 25th
We can't believe we have to wait almost an entire year to see Emily Blunt and Lin-Manuel Miranda in Mary Poppins Returns. But we know it's going to be totally worth it.