Reading books became my lifeline while I relearned how to walk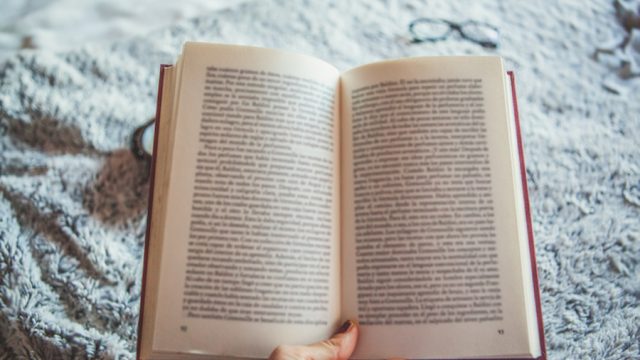 November 1st is National Author's Day.
"It's fine. It's fine. It's fine."
I repeated the mantra like a rosary, as if the words alone could save me, as if the more I repeated them, the truer they would become. A safety net of sentences I wove to protect me from what I was going through. With each repetition, I rose higher than the pain.
"Words save our lives, sometimes," Neil Gaiman wrote.
The trees were slowly changing outside the window—small yellow leaves floating softly down from their homes to make a new one on the ground below. I watched from inside in my wheelchair. My eyes were huge in my pale face, observing the squirrels run across the dewy grass. In the evening, I watched streams of orange light slowly move across the yard to illuminate the trees—transitioning from orange, to deep crimson, then purple, then darkness.
One month earlier, I had been hit by a truck. It clipped my motorcycle and threw me across the road, breaking both bones in my right leg, tearing my leg open. An accident that left me on the side of the highway surrounded by red ribbons of blood, but alive.
https://www.instagram.com/p/Ba36e1Ll7F0
After I left the hospital, I could only lie on my back or sit in my wheelchair. So I read.
I read Neil Gaiman's The Graveyard Book and Wild by Cheryl Strayed and Philip Pullman's His Dark Materials series. I read anything that would take me away from my broken body, anything that would take me to a place where I could walk through a graveyard or ride a ship through rough waters or see another city in the Northern Lights.
Every afternoon, I'd change my bandages. I'd struggle out of my wheelchair and lower myself slowly to the floor. I'd open every bottle of medicine I needed, lining them up in a row. I only touched them with my right hand—I had to keep my left sterilized to clean the wound with a square of soft white gauze.
"It's fine. It's fine. It's fine. It's fine." I said. Over and over and over again. Soon it ran into a chant, "Isfineisfineisfineisfine," as I laid out the surgical gloves, wound-cleaning ointments, tweezers, and scissors before cutting open my bandages.
The little plastic strings of stitches hung above my knee, like little bows lining my skin. A gift from the truck that had hit me. They ran round my leg, holding my skin together where it had been forced open. First I'd sterilize, then pump a bottle filled with red gel. Soap. Rinse. Pat dry. Words: "It's fine."
https://www.instagram.com/p/BYixX6yFxTh
I'd crawl back into my wheelchair and open Carlos Ruiz Zafón's The Shadow of the Wind and walk around his Cemetery of Forgotten Books. But in real life, I was so afraid of falling. If I felt even the slightest bit of pain in my leg, I'd research crushed calcaneus bones and tibial plateau fractures, then calculate whether I could afford another x-ray. Then I'd read David Grann's The Lost City of Z and trek with Percy Fawcett through the jungle.
Words became my daylight. The more I read, the brighter my life became. Books added weight to my pain, submerging it into stories that had become my world until I forgot the pain was there. The wound on my leg slowly knitted itself, the bone fragment floating outside my knee fused with my tibia, and words laced my spirit back together.
"Stories can conquer fear, you know. They can make the heart bigger," wrote Ben Okri. My heart was huge then, filled with words I'd gobbled up because I was starving.
One day, I could start walking with crutches. I hobbled around the house, having lost so much muscle that I could barely balance on one leg, even with the crutches. My tiny right leg looked like nothing more than two bones stacked on top of one another, wrapped in skin. I started cycling on a small, stationary bike to build up strength for five, 10, and finally 15 minutes at a time.
I'd tell myself, "It's fine. It's fine," as I cycled through Africa, reading The Poisonwood Bible, and down the streets of Pagford in The Casual Vacancy. Sweat poured down my body as doctors' phrases—"permanent damage," "we're not sure how this will affect you longterm"—got lost in the paragraphs before me.
Soon my feet started to touch the floor and I felt the weight of my body on my leg again. I could touch the grass with my toes, so I'd sit in the sunshine and read All the Light We Cannot See. "We rise again in the grass," Anthony Doerr wrote, "In the flowers. In songs."
https://www.instagram.com/p/BYI0cZzFnuz
With a lopsided gait, I walked around and around the yard behind my house. Left, right, left, right. It was easy compared to crossing the jungle with Percy Fawcett, after all.
Months of rehabilitation went by. At night, I dreamed about the accident. I'd wake up, thinking I was back on that stretch of highway softly bleeding. I'd open a book, wrap myself up in words, and fall back asleep.
One year later, I'm walking down the street. Only I know the places where my body has healed.  The highway and the pain is long forgotten, evaporating into the past until all that's left are the books that helped me through. I'm fine.